Handy's Shamrock
Management theory - Handy's Shamrock Organisation
The advantage of a flexible organisation is that it can react quickly to a change in its external environment. Since the 1990s, firms have examined their value chain and tried to reduce their workforce to a multi-skilled core, which is concerned with the creation or delivery of a product or service. All other supporting, non-central functions are outsourced wherever possible to the periphery.
Charles Handy suggested, however, that organisations do not consist of just the Core and the Periphery, since the periphery can be subdivided. He calls this a shamrock organisation: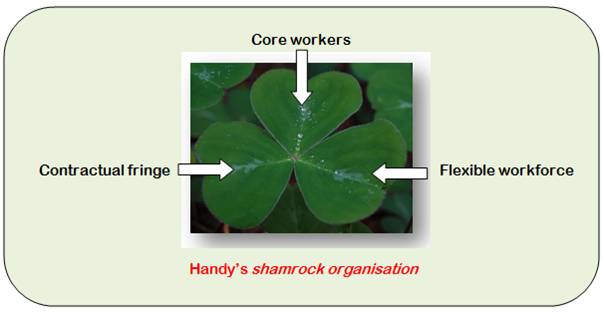 The first leaf of the shamrock represents the multi-skilled core of professional technicians and managers, essential to the continuity of the business
The second leaf Handy calls the contractual fringe, because non central activities are contracted out to firms specialising in activities such as marketing, computing, communications and research
The third leaf consists of a flexible workforce made up of part-time, temporary and seasonal workers.
For more details on Charles Handy and his work, follow the previous link.

Co-operative Future Travel
Read the case study Future Travel Virtual Call Centre (you can do this in the window below or follow the previous link to read the article in a separate window) and then consider answers to the questions below.

Question 1
Define the terms:
Question 2
Explain the benefits of virtual call centres for the Future Travel and its employees.
Question 3
Using Handy's Shamrock Theory analyse the advantages and disadvantages of homeworking and teleworking arrangements for firms.


1

Flexible workforce

Using a flexible workforce enable a business to:
2

Learning organisation

What is meant by the term a 'learning organisation'?
3

Knowledge management

Which of the following is the best definition of a firm that uses 'knowledge management'?