Changing employment patterns and practices
Corporate organisations are changing rapidly and in apparently contradictory ways. It is recognised that the most important asset of any organisation is its people. This is because value is added to goods and services by the quality of the individuals producing or supplying them. Excellent employees are aware of the need to respond to customer needs. Well developed human capital is recognised to be as important as up-to-date capital plant.
However, increasingly firms are looking at ways to reduce their human resource cost base to remain competitive, especially with the rise of lower cost firms in the developing world particularly from Asia. Since the 1990s, some of the following trends have taken place in an attempt to reduce and rationalise human resources in an organisation:
Downsizing
Disposal of peripheral activities, perhaps through management buyouts (MBOs)
Outsourcing of support activities to allow concentration on primary (core) activities concerned with the creation or delivery of a product or service.
See: Michael Porter's Value Chain analysis in Competitive Advantage (1985)
Project based management and team working
The creation of a more flexible workforce
Flexible workforces
In recent years there has been a changing pattern to employment and this has helped employers to develop a more flexible working pattern among their employees. These trends are:
Increasing self-employment - this area is increasing in many countries
Reduction in full-time employment - firms now use fewer full time employees and tend to offer more short-term contracts
Part-time working - there has been a growth in the level of part-time employment. This may be a lifestyle choice on the part of many, but firms have encouraged this trend as part-time employment offers more flexibility
Contractors - many firms now use contractors and consultants for a wide range of task. This has led to many previous employees setting up as self-employed contractors.
Temporary employment - increasing numbers of employees have been on temporary working contracts. Again these are used by firms to ensure flexibility - we look at this in more detail below.
Firms like flexible workforces as it enables them to adapt their employee levels to meet fluctuations in demand and to try to maintain their competitive advantage in the face of external changes. To achieve greater flexibility, firms are using more part-time, temporary and external contractors, which allow them to increase or decrease their work teams as required. It may also provide more flexibility to the employees themselves who may work from home, select their own working hours and days.
Shifting social attitudes to work-life balance and improved communications technology have already brought forms of flexible working to 45 per cent of British companies, according to the CBI employment trends survey 2009, with 24 per cent more considering similar changes.
In his 1989 book The Age of Unreason, Charles Handy examined a time when life and the work environment was shaped by us, and for us. Handy foresaw new organisations emerging as well as new working patterns, such as teleworking, outsourcing, and portfolio working. He believed these new working patterns will be reflected in changing patterns of business, with a mix of small enterprises and large conglomerates which will create temporary alliances to deliver particular projects.

"I like less the story that a frog if put in cold water will not bestir itself if that water is heated up slowly and gradually and will in the end let itself be boiled alive, too comfortable with continuity to realize that continuous change at some point may become intolerable and demand a change in behaviour."
Charles Handy - The Age of Unreason
Handy suggested three new forms of organisation:
the Shamrock organisation
the Federal organisation
the Triple I organisation
Organisations are increasingly using fewer core staff as these are the most expensive of their available human resources. Full time employees have access to a range of benefits such as pensions, sickness benefit. The Shamrock organisation is based around a core of essential executives and employees, supported by outside contractors and part-time workers.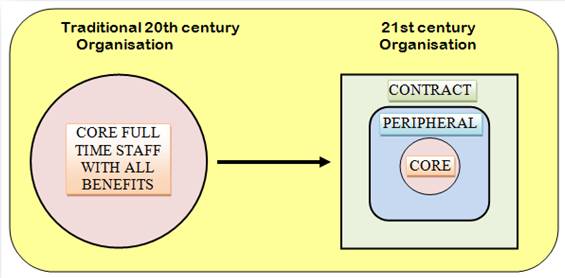 The Federal organisation is a decentralised set-up in which the centre's (HQ's) powers are delegated to regional and outlying organisations. The function of the centre becomes one of co-ordination and advice.
The Triple I organisation represents 'Information, Intelligence and Ideas'. This organisation resembles a university set-up and will seek to add value from knowledge rather than goods and services in a traditional sense.
Technological advances have made Handy's ideas easier to implement and support. Advances in communications and group networks have allowed the office environment to be replicated in part in external locations, including the home. As a result employees can be more mobile.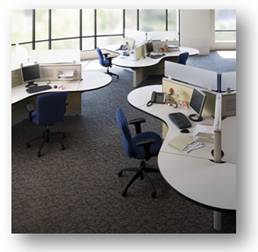 One example of the use of new ideas and technology is hot desking. Hot desking optimises space by allocating workstations according to need. It is used in places where not all the employees are in the office at the same time, or not in the office for very long at all, which means actual personal offices would be often vacant, consuming valuable space and resources. Employees do not have their own desks in the conventional sense.
With the growth of mobile employees or remote working, hot desking can also include the routing of voice and other messaging services to any location where the user is able to log in to their secure corporate network. Organisations like Microsoft offer software that is able to deliver applications to desktops without installing the application, creating a virtual workstation wherever the employee happens to be.
Part-time employment
Part-time employment provides flexibility benefits for both firms and for employees. For firms part-time employees are cheaper to hire and often do not have additional responsibility allowances and benefits that are awarded to full-time staff. They may not have the same level of job security (although the law has been updated in many countries to improve the situation) and tend to be easier to replace when they leave.
However, part-time employees may be less motivated and loyal to the business and are probably less willing to volunteer to work additional time when required to cope with unexpected demand patterns. Part-time staff do not tend to stay with employees for as long as full-time staff.
The Organisation for Economic Co-operation and Development (OECD), formed in 1948, is an international economic organisation with 31 members that offers a forum for member governments to consult and co-operate with each other in order to develop and refine economic and social policy. The population of the OECD countries exceeds one billion.
The OECD's purpose is to stimulate economic progress and world trade and it produces a range of economic and employment data to support its work
This data below shows that part time employment is increasing across the OECD rising from 11.94% of employees in 2000 to 15.51% in 2008. There has been an increase in part time employment in all but one year from 2000 to 2008. Women represent a far larger percentage of part time employees than men (just under a ratio of 3:1).

Temporary employment
A job may be considered temporary if employer and employee agree that its end is determined by objective conditions such as a specific date, the completion of a task or the return of another employee who has been temporarily replaced (usually stated in a work contract of limited duration).
Typical cases are people:
with seasonal employment.
engaged by an agency or employment exchange and hired to a third party to perform a specific task (unless there is a written work contract of unlimited duration).
with specific training contracts.
The significance of temporary working can be clearly seen in chart below, which gives a comparison of temporary working in selected EU countries in 2009.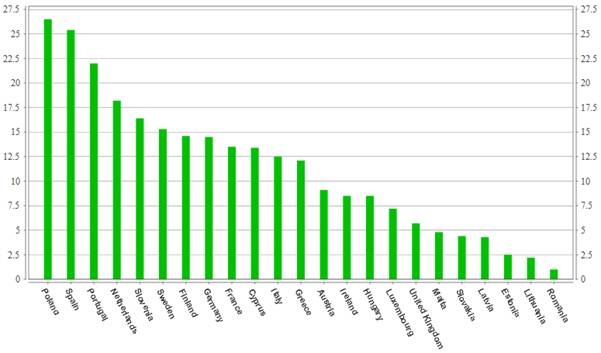 As can be seen from the chart, Portugal and Spain have over a quarter of their workforce in temporary employment. The EU average is 13.5%, which is still a significant number.
Flexitime arrangements
Flexitime covers any variations in working hours from the standard 9.00 a.m. to 5.00 p.m. working day, in the form of:
Flexible working hours
Term-time working
Job sharing
Employments breaks and sabbaticals
Annualised hours
Staff will have some say in the selection of their hours which allows them more freedom to concentrate on their out of work commitments, such as child care.
Advantages:
Recruitment and retention of qualified staff who may not be able to work traditional hours
Equality of opportunity for people who would otherwise be prevented from entering the workforce
Work patterns which can accommodate variations in customer demand patterns
Success in tackling skills shortages
Reduces absenteeism and lateness
Creates a better sense of personal responsibility
Improves efficiency in core time and reduces overtime levels
Disadvantages:
Scheduling work rotas is more time consuming for managers
Can encourage time watching
Full time employees may be resentful
Possible communications difficulties when staff are not there or sharing roles
Portfolio working
Portfolio working will contribute more to a better work/life balance. It is to a method of employment that is not dependant on any one client or company where individuals are paid for a number of different skills, products or services that they offer, often from their own home office using the internet. So a freelance or self-employed person could be called a portfolio worker if they have a variety of clients to whom they offer different services, or a person who works part time at two, three or more different organisations. The term portfolio working also includes people who work for an organisation part-time, but have their own business as well.
Portfolio working increases the flexibility and mobility of a firm's human resources, but may cause problems for the worker who may not be able to rely on a constant source of income resulting in cash flow crises. Indeed, portfolio worker may find it difficult to access dome financial services, such as applying for mortgages, because they cannot guarantee that they can make regular payments.
Teleworking (telecommuting) / Homeworking

Telecommute and Telework
To Telecommute is to periodically or regularly perform work for one's employer from home or another remote location.
To Telework is to perform all of one's work either from home or another remote location, either for an employer or through self-employment.
If a person working at a distance from their colleagues or base, using communications technology to do their work, they are a teleworker, whatever job they do, and whether they are employed, self employed, or an independent professional.
Advantages for the individual
In most cases the teleworker also works from home. Teleworking improves the output of employees, both in quality and quantity, whilst improving the work-life balance of the individual. It helps to rejuvenate local communities and reduce the waste and pollution of commuting. So at every level, individual, business, industry, society or even the whole economy, it brings benefits. Some of these are highly quantifiable, such as cost savings, whilst others, such as the quality of life, may be less tangible but are certainly no less important.
The individual teleworker is able to eliminate or reduce the inconvenience of commuting saving a significant amount of wasted time and money as well as reducing stress. Being able to pick up the children from school, shop outside peak hours and take a more active role in the local community are other possibilities.
However one of the key benefits of working from home is that people find it much more productive than going in to a conventional workplace. Teleworkers are able to work in surroundings they have chosen without the interruptions often found in the open plan offices of today. With broadband communications and electronic communications they are able to achieve many tasks that have conventionally been done at the office desk and now with web conferencing technology they can have video meetings without having to travel.
Benefits for the employer
Whilst teleworking and other forms of flexible working are often viewed as 'family friendly' rather than 'business friendly' in fact they are both. There is strong research evidence to show that remote and flexible workers are more productive, more reliable and more loyal than their office based counterparts. They have a better work-life balance, waste less time and money on unnecessary travel and have a reduced 'carbon footprint'. In difficult economic times employers are looking for ways to reduce the cost of the workforce and increase efficiency. Encouraging telework does both by reducing the amount of office space required, whilst increasing the output from employees.
The number of Americans who worked from home or remotely at least one day per month for their employer increased from approximately 12.4 million in 2006 to 17.2 million in 2008.
The rise in the number of telecommuters represents a two-year increase of 39 percent, and an increase of 74 percent since 2005. In 2005, the number of employees allowed to work from home or remotely at least one day per month by their employer was approximately 9.9 million.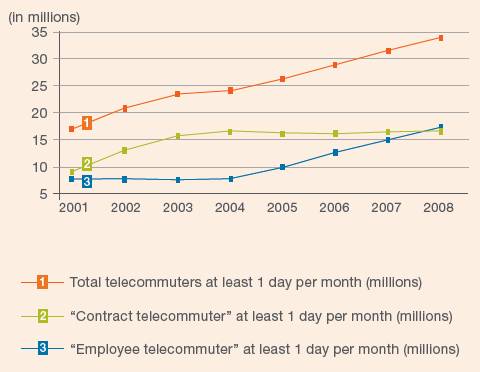 Source: http://www.worldatwork.org/

What are the factors drive the increasing trend in telecommuter numbers?