Topic pack - introduction
Welcome to this Triple A Learning topic pack for human resources. The pack has a wide range of materials including notes, questions, activities and simulations.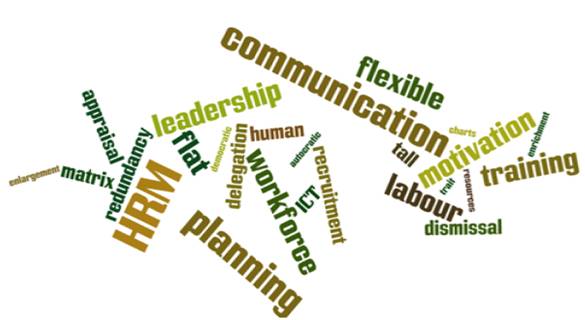 A few words about Navigation
So that you can move to the next page in these notes more easily, each page has navigation tools in a bar at the top and the bottom. These tools are shown below.
The pack is split into a series of sections and to access each section, the easiest way is to use the table of contents on the left-hand side of the page. To return to the full table of contents, please click on the 'home button' at any stage.
Higher level extension material
Some of the material in this pack relates to the higher level extension topics in the Business and Management guide. This material is marked by icons as follows:

This icon indicates the start of the higher level extension material.

This icon indicates either:
The higher level extension material continues on the next page or
The higher level extension material continues from the previous page

This icon indicates the end of the higher level extension material.




To start viewing the contents of the pack, please click on the right arrow at the top or bottom of the page.
Terms and definitions
One of the key things you need to be sure to know are the definitions of all key business terms. In this section we give you explanations and definitions as well as some flash cards, crosswords and word searches to help you practice them.


If you would prefer to view this interaction in a new web window, then please follow the link below:




Click on the right arrow at the top or bottom of the page to start looking at the definitions.
Aims of the business and management course
The aims of the business and management course at HL and SL are to:
promote the importance of exploring business issues from different cultural perspectives
encourage a holistic view of the world of business
enable the student to develop the capacity to think critically about individual and organisational behaviour
enhance the student's ability to make informed business decisions
enable the student to appreciate the nature and significance of change in a local, regional and global context
promote awareness of social, cultural and ethical factors in the actions of organisations and individuals in those organisations
appreciate the social and ethical responsibilities associated with businesses operating in international markets.
Assessment Objectives
Having followed the business and management course at HL or SL, students will be expected to:
demonstrate knowledge and understanding of business terminology, concepts, principles and theories
make business decisions by identifying the issue(s), selecting and interpreting data, applying appropriate tools and techniques, and recommending suitable solutions
analyse and evaluate business decisions using a variety of sources
evaluate business strategies and/or practices showing evidence of critical thinking
apply skills and knowledge learned in the subject to hypothetical and real business situations
communicate business ideas and information effectively and accurately using appropriate formats and tools.
In addition to the above, students at HL will be expected to:
synthesize knowledge in order to develop a framework for business decision-making.
Topic Two Structure
Topic two has six core sub-topics and two HL extensions

2.1 Human Resource Planning - Notes
Introduction
Labour is one of the four factors of production described in topic one on the nature of business. There are two key aspects to human resource planning:
Having the right number of people in the right place at the right time (supply of labour)
Ensuring that the quality of those people is suited to their roles and responsibilities
By the end of this section you should be able to:

Identify the constraints and opportunities provided by demographic change
Discuss the significance of changes in labour mobility
Compare present human resources with future requirements and evaluate strategies for developing future human resources
Describe methods of recruitment, appraisal, training and dismissal
Discuss advantages and disadvantages of different methods of recruitment, appraisal and training

Describe reasons for changes in the work patterns and practices and consequences for employers and employees
Analyse the impact on the firm of legal employment rights
Examine how recruitment, appraisal, training, dismissal and redundancies enable the firm to achieve workforce planning targets
Analyse reasons for changes in the work patterns and practices and consequences for employers and employees
Human resource planning
Firms need a workforce to produce their goods and services, but the number of employees required will vary over time with changing demand patterns, which in turn are influenced by a dynamic external environment. The success of a firm will be influenced by their ability to plan their workforce requirements. However, it takes time to recruit and train the right people for the job, so firms need to forecast requirements. This forecasting is the basis of workforce planning (or human resource planning).
In most organisations, the responsibility for workforce planning lies with the personnel (human resources) department.
There are often seen to be two sides to human resource management - a soft side (motivation etc) and a hard side (the quantitative aspects of workforce or human resource planning). These are summarised in the table below:
Supply of human resources
The supply of labour varies between countries and regions within countries and is affected by demographic change.
The process of workforce planning will be constrained by the availability of labour. The supply of labour dictates the future availability of workers. So what determines the supply of labour? We can split these into national determinants and local determinants.
National determinants
Economists define the supply of labour as a stock, which increase or decreases according to a number of factors:
The birth rate: the ratio of live births in an area to the population of that area; expressed per 1000 population per year
The death rate: the ratio of deaths in an area to the population of that area; expressed per 1000 per year
Note: The ratio of birth rate to death rate (the net birth rate) affects the supply of labour because those countries with a high net birth rate, such as many developing and emerging economies, will in the long run have a larger supply of labour.
India, for instance, has witnessed a five-fold increase in population over the last 100 years and is expected to surpass China's population by 2050.
Net immigration rate: the difference between the number of persons entering and leaving a country during the year per 1,000 persons. An excess of persons entering a country is referred to as net immigration; an excess of persons leaving the country as net emigration. The more mobile labour is internationally, the greater the potential supply of labour. This is an increasingly important factor given the reduction in barriers in areas like the European Union, where there is complete freedom of movement for people and goods.
The retirement age: retirement is the point where a person stops employment completely. Retirement may be a legal requirement at a certain age. However this varies from country to country although it is generally between 55 and 70. In some countries this age is different for males and females and varies between professions. For example in France, the retirement age for teachers in France is thirty eight years after employment began, but it is at the age of 50 for train engineers on the national railway. It is also possible for employees to take early retirement. If the retirement age is raised this will increase the supply of labour.
At the moment there are four working-age people for every person over 65 in the 27-nation EU. That ratio will drop to two for every person over 65 by 2060. The EU is presently urging governments to increase the age of retirement across the community.
Education participation: developing economies have imposed minimum school leaving ages; typically 16, and have seen increasing participation rates in higher and continuing education. As more people are accepted into university, the lower the supply of labour.
The supply of labour is affected by additional factors such as the ratio of part-time to full-time employees, the willingness of women to enter, or re-enter,the workforce after having children and the occupational and geographical mobility of labour (the ability, or willingness, of individuals to move between different jobs and regions).
Local determinants
The supply of labour for an individual firm will be affected by the factors affecting a country or region, but will also be influenced by competition between firms in the area and the costs of living in that area.
Labour mobility: Are employees prepared to move into and out of the area? This may be influenced by the attractiveness of the region in terms of location, climate, infrastructure, communications and beauty. The higher the level of mobility, the greater the potential supply of labour.
Local income levels: Higher income levels will attract people to an area and may lead to a greater supply of labour. However, firms in high cost regions may find it difficult to attract employees, especially for poorly paid jobs.
Workforce Planning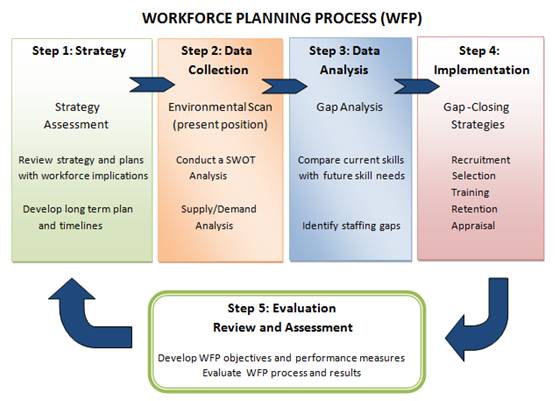 The Workforce Planning Cycle has similarities to the formal decision making framework covered in Topic 1. Each cycle provides the firm with knowledge and additional experience of the process. Manpower planning is a continuous process as the external environment is dynamic and the underlying conditions of demand and supply alter constantly.
A number of business tools can be used to assist the process such as Ansoff's matrix, a decision making framework and SWOT, PEST and Gap analysis. The decision making is strategic and is likely to involve several functions or departments in addition to the HRM department. For example, the finance department will be required to ensure suitable funding is available for recruitment and training (and redundancy packages). Operations will be involved as the processes may be automated or outsourced.
Workforce planning is one of the core activities of human resource management. It is carried out on both a short and long term basis. It involves several processes: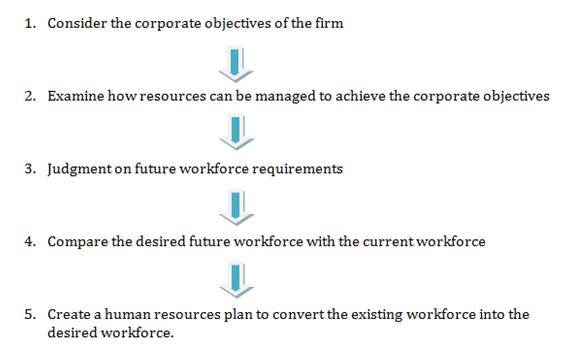 The firm's strategic plan is the starting point for the workforce plan. The firm will need to put together a workforce which provides departments with the resources to meet their short and long term objectives and to provide the firm with competitive advantage. Goals included in corporate plans could include growth and increased market share. This would have significant implications for employee requirements.
Judgment on future workforce requirements. The firm needs to forecast the number of employees required. The skills needed across the organisation, and in which parts of the organisation particular employees are needed.
Assessment of the current workforce. The firm needs to identify how many people they currently employ and their skills, strengths and weaknesses, age, length of service and possible retirement. The firm then needs to impose historical data to identify trends such as labour turnover and average length of service to establish to what extent the current workforce will meet future requirements if it evolves in a predictable manner.
The firm's demand for additional labour will be affected by other considerations:
The flexibility of the existing workforce in terms of the range of skills they possess - can employees be redeployed to other departments or functions?
The extent to which the existing workforce can be trained or retrained to provide the skills required in the future.
The demand for labour is a 'derived' from the demand for a firm's good and services. Changes in demand patterns will influence the demand for labour.
Changes in the external environment, such as recession, increased competition, changing tastes and fashions.
Employee loyalty affecting labour turning.
Once estimates for future workforce requirements and skill levels are agreed, the firm will have to create plans to meet the requirements. In practice this is likely to focus on how to fill the workforce. This will involve consideration of:
The availability of a certain type of labour within the market.
What rivals might want from the pool of labour available.
Additional costs, such as housing which might influence the ability to attract employees.
Trends within the population, such as an increase in participation rates of women in the workforce, especially on a full-time basis.
Employment and other related laws.
Government policies.
Future unemployment trends reflecting levels of immobility of labour.
Other factors will apply if the firm is seeking a contracting workforce in all, or some, areas. This will require an investigation of:
'Natural wastage' opportunities, such as voluntary redundancy or early retirement.
Involuntary redundancies.
De-layering and the creation of flatter management structures
More flexible working conditions, such as job-sharing homeworking
Greater emphasis on a small core of permanent workers and more peripheral self-employed or short-term contract employees.
It is NOT always possible to find the right people in the correct numbers and so an employer might consider:
Outsourcing some output to sub-contractors
Hiring externally recruited labour
Encouraging recruitment by offering training, sponsorship or special development programmes
Retraining current employees
Adopting more mechanisation
Paying more to those currently working at the company
Spreading the work around the current workforce
Recruitment and selection
We have already noted the importance of getting the right people in the right place at the right time to the ability of a business to meet its strategic plans. To get the correct people and skills a business needs to:
Determine human resource requirements
Attract suitable candidates for the vacancies
Select the most suitable applicants
Train and develop those who come to work for the business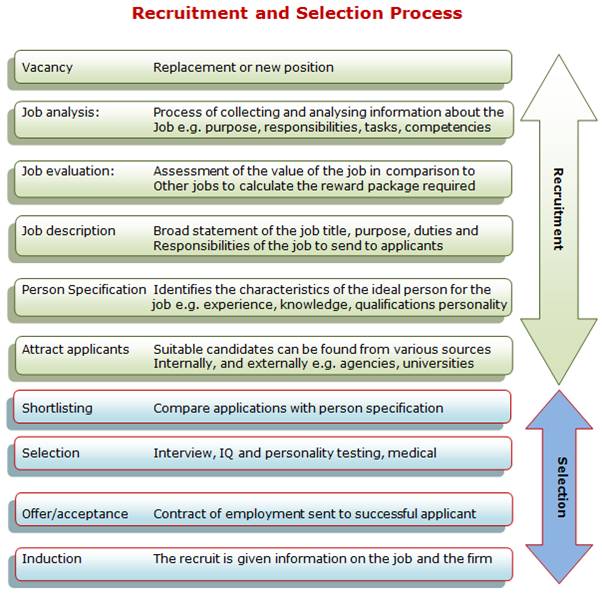 Recruitment
Vacancies occur for a number of reasons:
An individual leaves the firm to join another organisation
An individual retires
An individual is promoted
New products or technologies require an employee with new skills
Growth of the firm
Having established the nature and reason for a vacancy, the firm will:
Draw up a job analysis detailing the specific nature of the responsibilities, tasks, duties, accountability, competencies and training required for that post. This will provide the foundations for the recruitment process
Prepare a job evaluation which is an assessment of the value of the job in relation to other jobs, so that the rewards and remuneration can reflect its value and attract appropriate candidates.
Develop a job description, which is a broad description of the job, its title, purpose, tasks, authority and performance targets.
Prepare a personnel profile (or job/person specification), which defines the individual qualities of the individual needed e.g. qualifications, experience, personality, skills. These can be classified in a number of ways, such as 'essential' and 'desirable' and can be used to create a short list of applicants and as a checklist by the interviewers.
Many organisations base their person specification on the Rodgers seven-point plan: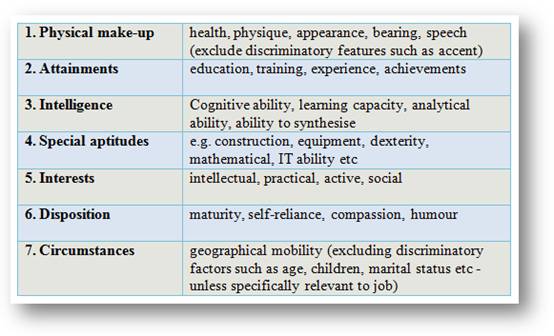 Decide on the best way of obtaining the right person. This might be by external recruitment, or internal by redeploying an existing employee, or by replacing the function with a machine or by outsourcing to another company.
Decide on the route for attracting qualified applicants by selecting the appropriate media for advertising the vacancy, such as local or national paper, radio, notice board, employment agency. This will vary according to the perceived importance of the vacancy.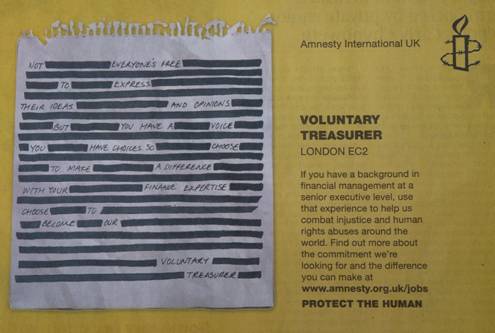 Decide on the interview and selection procedure appropriate for the position.
Decide on any testing and review procedures.
Make certain all the relevant legal obligations have been met e.g. discrimination acts, holiday entitlements and so on. It is not acceptable in many countries, for example, to state a preference for male or female, unless something specific about the vacancy requires a particular gender.
Once a vacancy is advertised, the firm will need to specify the nature and accepted method of the application. This usually consists of a combination of the following:
Application form - this is a standardised form that focuses on information the firm sees as relevant. It can be customised to include details deemed necessary for the specific post or generalised to all applications to the organisation. As all candidates fill in the same details, comparison between them is easier, but the format often restricts candidates from including non standard information or from developing particular areas of strength.

The form should be accompanied by details of the job and clear information about the application and selection procedure. It should:

be realistic and appropriate to the level of the job
use clear language
be readable and easily completed
not request detailed personal information unless relevant to the job

Curriculum vitae (CV) or resume - this is a 'story' of the candidate's life to date. It normally starts with personal details such as address, nationality and gender and then includes information such as educational and professional qualifications, employment history, publications and a career 'vision' A resume tends to be shorter than a CV.
Letter of application - The purpose of a covering letter is to provide a candidate with a less formalised way to introduce themselves, their qualifications and the reasons for their interest in a particular position. Styles can vary according to the nature of the vacancy and the circumstances of the application. It states why the firm should consider the candidate for the post and may develop aspects of the CV.
Selection
The selection process will vary according to the nature and the seniority of the vacant post; the more senior the post, the more formal and potentially lengthy the process. Other factors will influence the nature of the selection process such as location, the size of the business, the resources available, the supply situation in the labour market, the style of management and the corporate culture issues relevant to recruitment and selection.
Once the firm has received completed application forms and/or CVs, the HR team will assess the applicants against the criteria set out in the person specification.
The most common selection process is to:
Prepare a reduced list, or shortlist, of candidates for interview or some other formal selection procedure. If there are many applications, a long list of candidates may be selected and then this is reduced by initial screening, so the firm is left with a shortlist.
Call for references from previous employees, educational institutions or from personal connections. These are written statements from individuals who have knowledge of the strengths and weaknesses and comment on candidate skills, aptitudes, personality, motivation and loyalty. As referees are normally selected by the candidate they tend to be positive.
Invite for interview candidates who have favourable references.
The firm will have in mind their ideal candidate, but must be careful not to break any employment laws related to sexual and racial discrimination in the selection of shortlist.
The Interview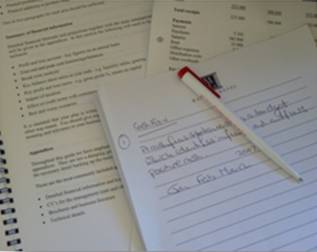 Interviewing is still the most common form of selection. This may be done by individual managers or by a panel. Candidates may be interviewed just once or go through several stages of interviews with a number of interested parties. Shortlists may be reduced further at each stage and the final interviews may be conducted with only two or three candidates.
Interviews are designed to provide the applicant and the firm the opportunity to meet and develop their understanding of each other. This should be a two-way process. More information is provided by the firm about the vacancy, the organisation and reward structure and the applicants will have the opportunity to clarify aspects of the job description. The firm will be able to ask more probing questions of the candidate and examine their performance under pressure.
Interviews are better if they are structured and allow every candidate the same opportunities, reducing the possibilities of bias in questions asked. The Rodgers seven-point plan used to draw up the person specification can also be used as a checklist for preparing the questions to be asked.
Research shows that interviewing is not a particularly effective or reliable form of selection. Interviewers may be influenced by a range of personal characteristics that do not necessarily impact on the performance of the job. For example, the accents of the candidates may be falsely linked to negative or positive characteristic as may the attractiveness or otherwise of the interviewee. Consequently, a number of other selection techniques have been developed to support the selection process.
Testing
Interviews are often combined with some of the following activities:
Achievement tests - tests what the candidate knows and can do.
Aptitude tests - examine the potential of the candidate to perform specific tasks required by the job e.g. using computer software applications.
Psychometric tests - assessment of the candidate's personality, attitudes and character to predict whether he or she would fit into a team, respond to the pressures of the job and be prepared to accept or seek responsibility, e.g. is the candidate a team player or loner, extrovert or introvert, passive or assertive? These are more often applied to senior posts.
Intelligence tests - whether the candidate has the mental abilities required for the job, such as literacy and numeracy skills.
Group situational tests - observation of candidates performing tasks as members of a team.
Assessment centres
These centres are designed to test the performance of candidates over a prolonged time period. Candidates are put through a range of tests, exercises, interviews, group activities and role plays often lasting several days. Research shows that this is an effective way to get close to recreating the demands of a job and, therefore selecting the appropriate person. However, this assessment is time consuming and expensive as it involves a team of recruiters. Therefore, it is usually restricted to more senior posts.
Contract of employment
At the end of the selection process, the successful candidate is offered a contract of employment. This may be subject to a successful medical. The terms and conditions laid out in the contract usually cover the following:
Job title
Date of commencement
Job role and specification
Hours of work
Remuneration e.g. pay and bonus entitlement
Holiday and sick pay entitlement
Pension scheme and entitlements
Disciplinary procedures
Grievance procedures
Notice requirements from both sides - employer and employee
Signatures of both parties
Induction
A good induction period should minimise the disruption caused by a new arrival. The process is designed to introduce new employee into the organisation, by outlining aspects like the history, mission, vision and the culture of the business, more specific information about the nature and responsibilities of the job including health and safety issues and to find out practical aspects of the business e.g. location of photocopies, restrooms, dining facilities etc.
The inductee will meet colleagues and other new employees and it is likely to have some social occasions built in. New employees may be allocated a support mentor for the first few weeks.
Staff may also be supplied with vehicles, uniforms and equipment during induction and contracts of employment may be finalised.
Internal and external recruitment
There are two ways in which an organisation can update its skills base and fill employment gaps by:
recruiting from existing workforce pool by redeployment or promotion, or
by adding to the existing pool by bringing in 'new blood'.
Both methods have their advantages and disadvantages, and so it is common for organisations to employ a combination of the two.
Internal recruitment or development
Internal recruitment means that a job vacancy is filled from within the business by promoting, re-skilling or redeploying an existing employee rather than employing externally. This route will be selected if the business decides they already have the right people with the right skills to do the job.
Advantages
Knowledge of the strengths and weaknesses of the employee
Uses in-house resources and builds on skills and expertise of existing staff
Retains valuable employees and avoids recruitment costs while ensuring a return on any investment in training and development
By providing opportunities for development and promotion for existing staff, motivation in the organisation may be improved
A shorter induction period as the employee already knows and understands the business
Cost-effective - it is generally quicker and cheaper
Disadvantages
Limited number of applicants
External candidates might be better suited or qualified for the job
Creates another vacancy
The organisation may become resistant to change
Fewer ideas brought into the organisation and innovative solutions lost
Internal recruitment methods can restrict the pool to people who are culturally similar to, or reflect the personal preferences of, current employees
Internal factions may support different candidates and cause conflict
May cause discontent amongst those overlooked for promotion
This internal route might take longer to deliver the expected results, as personnel will have to be selected, trained and tested. However, this need not be a deterrent. Discovering exactly what is wanted and developing the individual or individuals to the required level of understanding will ensure that what is created will be as the company wanted.
Internal recruitment can be effective when nurturing employees into senior position and can reduce recruitment costs. However, this is not a very diverse method of recruitment and the firm risk losing out on interesting and innovative perspectives from external candidates.
External recruitment
This is when a company accepts that it is lacking in a certain range of skills and attempts to rectify this by advertising for a new employee with the abilities they need. By bringing in this 'new blood' it is hoped that the stock of talents held within the company will improve and that a transfer of skills will begin. That is, the new employee will implant some of their skills in existing employees. As such any competitor advantage should be addressed. The company hopes that by increasing its stock of talents it will regain any losses in its competitive advantage and be able to provide customers with what they expect.
Recruitment may be from a specialist source or by adverts placed in relevant publications. Someone might even be 'poached' from a rival who appears to have an advantage in that its skills base is more developed (this is often called 'headhunting'). The latter would, of course, have several advantages to the company acquiring the new employee.
Advantages
Greater choice and experience
Avoids the risk of creating resentment by promoting 'favourites' from the inside
Outsiders bring in fresh ideas, skills and knowledge
Forces internal staff to 'compete' and update their skills, education, etc
Helps to facilitate change in culture
New blood' and a more dynamic workforce
Easier because of the internet
Disadvantages
New appointee may not fit the existing culture within the organisation
May affect the morale of internal staff who have been overlooked
Require a longer period of induction and orientation
Time consuming and, therefore, expensive
May take longer to fill the vacancy
May create resentment from existing employees not considered by the firm
Greater risk of making a mistake and employing an unsuitable person
Many organisations seek to fill a vacant position internally in the first instance, and then follow through with an external campaign if no suitable inside staff are identified. To avoid resentment among existing staff, the organisation must be clear and consistent in communicating the corporate recruitment policy as it relates to sourcing suitable staff.

The major disadvantage in an external job search campaign is that it can be time consuming and costly.
Appraisal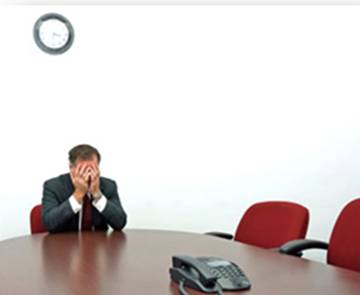 An appraisal is the formal process of assessing an employee's performance and effectiveness. It involves comparing actual performance against goals. This is sometimes conducted through a questionnaire, but more often is a one-to-one discussion between an individual and his or her manager or employer. It is intended to provide an opportunity for employees to raise and discuss concerns they may have as well in a more informal environment. However, the process may be stressful if employees feel that they are being judged, and this is made worse if they do not have a good working relationship with the appraiser.
Appraisal normally follows one of three different forms. These are:
The traits approach - this attaches most weight to the personal qualities connected with the job
The results approach - this examines performance against a pre-agreed set of targets
The job-behaviour approach - this approach attempts to measure behaviour against agreed norms.
A constructive dialogue can be developed during appraisal that offers the individual encouragement and recognition. The process may result in feedback on training opportunities and identify employees who have the potential for promotion. The firm is looking for a positive effect on morale and job satisfaction as a result of the appraisal. Managers also hope that employees see the opportunity to improve their performance against agreed objectives and enjoy the opportunity to discuss their roles and personal development.
When implementing an appraisal programme the organisation needs to be aware of:
Bias
The halo effect - where certain types of people always do well in appraisal regardless of their ability
Stereotyping
Negative information - allowing one poor answer to colour an opinion
Leniency - being over-generous
Playing God - making moral judgments
Training and development
Training
The increasing pressure on firms to improve quality and performance to create competitive advantage, coupled with accelerating technological change and a dynamic external environment, has increased the importance on training and developing the skills of a firm's workforce.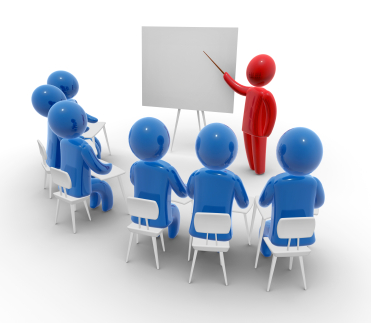 People within many professions and occupations may refer to training as professional development (PD) or human resource development (HRD).
The focus of all aspects of Human Resource Development is on developing an effective and efficient workforce so that the organisation and individual employees can improve the service they offer to their customers.
Any good training programme will start with an assessment of the present skills of the workforce and identify any gaps. This review of the skill and competence base of an organisation needs to be an ongoing process as the markets in which firms operate are constantly changing.
Training will be triggered by changes in work routine or practice, the requirement to acquire a new skill and the need to fit into new teams or organisation structures. Internally, factors such as changing attitudes, responsibilities and the need to improve customer relations will be prompts for a training programme.
As a result of an appraisal, firms may draw up a training programme or contract with each employee detailing the needs of the employee, the aim of any training and the actions required to make the training possible
A worthwhile training programme aims to:
Reduce labour costs by increasing efficiency, lowering recruitment costs and improving the general level of motivation within the staff.
Boost revenues by improving the quality of the workforce and their ability to deliver what is needed by customers. This can lead to long term gains in terms of reputation and customer loyalty.
Improve innovation and flexibility by developing a skilled workforce that thinks of new and better ways of doing things and has the ability to adapt to changing circumstances, work environment and new technologies.
Facilitate the professional development of, and career opportunities for, every employee.
Training can be offered through:
internal/in-house methods
off-the-job methods using external courses/study programmes and open-learning schemes,
Coaching, mentoring and work shadowing.
Internal and external training

If you would prefer to view this interaction in a new web window, then please follow the link below:
Benefits of good training
Good training should add value to both the individual and the company. The business should see the benefits of:
Improved skills and their application
Improved potential
Improved morale, output and quality
Reductions in costs, such as waste
Greater efficiency
Less labour turnover and absenteeism
Better quality goods and services
The individual may feel more fulfilled and motivated at work, because they feel confident in the performance of their job. They may have better career and promotion prospects, which will inevitably lead to a higher salary.
However, a better trained workforce may attract interest from competitors and they may leave the firm, after having received expensive training. In essence, the organisation has paid for training that will benefit another company!
Dismissal and redundancy/lay-off
Although the HRM department is associated mostly with recruitment and training, it has an important function in the termination of employment. Firms will 'let employees go' for a number of reasons:
Dismissal ('firing' or termination)
Redundancy (lay-off/retrenchment)
Resignation
Retirement
It is important that you are able to distinguish between theses terms - particularly between dismissal and redundancy.
1. Dismissal
In most countries there are limited grounds for firing an employee. Essentially the firm must show the employee is:
Negligent or incompetent in carrying out their duties
Guilty of repeated acts of misconduct each worthy of an official warning, such as persistent lateness, unexplained absence, unacceptable behaviour to others and other breaches of contract.
Guilty of gross misconduct justifying immediate dismissal. The employee may have committed an illegal act, such as theft of company property or an assault on another employee or customer. The firm will then want to dismiss them with immediate effect.
Unable to perform the job he was hired to do. For instance, the employee may have lost his driving licence or be imprisoned.
Organisations will have to ensure that they follow all legal requirements before dismissing an employee or they may find that they are accused of Unfair Dismissal. In many countries, the employee can access an industrial tribunal - an independent body that will look at the arguments of both the employer and employee and judge whether the dismissal, or redundancy, was fair. If the employee can prove unfair dismissal, they will be entitled to either their job back, or some financial compensation.
2. Redundancy
The firm may need, or wish, to reduce their workforce, perhaps because of reduced demand or as a cost-saving measure. In this case a job function is no longer required and the firm is not legally allowed to replace a person with someone else doing the same job - it is the job that is 'redundant', not the person.
When laying-off staff, a firm has two main methods:
To ask for voluntary redundancies. Organisations will often offer excellent incentives to staff willing to leave the firm. This could be in the form of immediate financial compensations and/or in the form of enhanced benefits such as an early or larger pension.
To impose compulsory redundancies. The organisation selects those employees/jobs that can be made redundant based on a number of criteria such as length of service or ability.
The employee will generally have legal protection. If made redundant they should be entitled to redundancy pay. The amount is likely to depend on how long they have served and their level of pay.
There are many terms used to describe the reduction in the number of staff in an organisation. Be aware of the meaning, similarities and differences between the following terms:
Redundancy, downsizing, delayering, rationalising, re-engineering

Legal employment rights
The Impact on firms of legal employment rights
Employment rights vary significantly from region to region and country to country. In an IB context it is difficult to be specific about what rules should, or do apply. In some countries, the state itself supports, or promotes, quotas on the ethnic or religious backgrounds of owners and senior managers of businesses, discriminating in favour of certain groups over others. In other countries employment rights are flouted, but the government turns a 'blind eye'.
It would not be correct to say that developed countries always get it right; there are plenty of examples of major firms facing accusations of discrimination and abuses of human rights. Nonetheless, it is true to say that legal protection of employers rights are more extensive in developed economies and employees have greater access to employment protection.
If a country is a member of a trading bloc, it may be subject to the laws and regulations imposed by that bloc. The European Union, for instance, has extensive European wide legislation to which member states must comply. These laws are applied through the use of 'Directives' which direct national governments to change domestic laws to meet new European requirements. All firms operating within the EU are then subject to the same legal framework.
Legislation on employment rights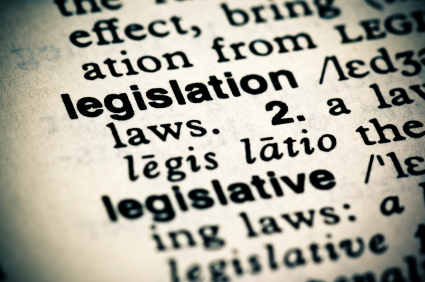 Almost all areas of business are affected by laws and regulations. Employment legislation covers significant areas of business behaviour, with laws focusing on:
Employment protection, including laws on equal pay and discrimination on the grounds of sex, religion, disability, race, ethnicity and age
Health and Safety at work
Minimum wage
What is the impact of such laws on different types of business? It could be argued that multinational companies are less affected by national legislation, because they can avoid some of the consequences by changing location or by lobbying governments to change the laws they dislike. This is not the whole story, however, because many employment laws are aimed at larger corporations and, indeed, have exemptions for smaller businesses.
Laws and regulations inevitably add to the cost base of a firm, and potentially make it less competitive, if other firms in the market place are not obliged to follow similar practices. One way of avoiding these costs is to outsource production or functions to countries where protection is more limited and costs are lower, and then ignoring unethical practices that take place. A number of major multinational corporations have been accused in recent times of doing exactly this, although accusations are normally strenuously denied, or the firms claim they were unaware of breaches and took immediate action when these were brought to their attention. Recent examples have been in the clothing and sportswear industries where companies such as Nike and Puma have been accused of condoning sweatshop operations in their Asian suppliers.
1. Anti-discrimination legislation
Many countries have labour laws which make a range of discriminatory behaviour illegal.
Sex discrimination laws
Sex discrimination laws outlaw discriminatory practices relating to recruitment and selection, promotion and dismissal. Falling foul of these laws can prove very expensive as well as damaging the reputation of the firm with potential employees and in the marketplace.
Two recent examples are the huge US retail giant Wal-Mart and the Swiss pharmaceutical company Novartis AG. Both have been accused of gender bias. Both face potentially massive damages if found guilty of discrimination reported to be $175million for Novartis, and billions of dollars for Wal-Mart

Equal Pay legislation
Equal pay legislation states that both males and females should be paid the same rate when they do work deemed to be of equal value. The European Equal Pay Directive says:
"The principle of equal pay entails, for the same work or for work to which equal value is attributed, the elimination of all discrimination on grounds of sex with regard to all aspects and conditions of remuneration. Where a job classification system is used for determining pay, it must be based on the same criteria for both men and women."
Racial discrimination legislation
Legislation in many countries prohibits racial discrimination in employment, education, health, social protection and access to goods and services.
Disability and Age Discrimination protection
Laws on discrimination based on age and disability in the areas of employment, self-employment, and 'occupation' are patchy and less widespread than some other discrimination provision. There are additional costs on firms to provide reasonable accommodation and access for disabled people. Laws on age discrimination are being examined in the context of increasing retirement age and pension provision.
2. Health and Safety at Work
Maintaining a safe working environment and safe working practices and ensuring that employees' health is not detrimentally affected by their work is a statutory duty on organisations in most developed and newly industrialised countries. Both employers and employees have responsibilities to provide safe conditions at work. Laws cover areas such as:
Safety equipment and clothing
Fire procedures and escape routes
Provision of adequate toilet and washing facilities
Maintenance of facilities and equipment
Adequate lighting and control of temperature
Training to support the implementation of written policies
Handling, transport and use of dangerous substances
Space requirements
Logging of accidents at work
The implementation of processes and procedures to comply with legislation can be very expensive, as can the training and risk assessment required. However, safe firms avoid possible damages claims for accidents and may have reduced sickness and absenteeism.
3. National Minimum Wages
There is considerable argument among economists as to the impact of an imposed national minimum wage. Free market economists argue that wages should be determined by the laws of demand for, and supply of, labour. Minimum wages invariably add to the costs of a business and commentators argue it can lead to unemployment as firms are forced to lay-off employees they can no longer afford. What is most important is the level of the minimum wage and how it relates to the natural market rate. If minimum wage is much higher than the market rate, it is likely to affect business profits significantly. However, there is little solid data that proves that setting of minimum wages in the US and Europe has had a negative impact on employment, possibly because the wage levels set are relatively low compared to average wage levels.
As of 2010 the federal minimum wage in the United States was $7.25 per hour. Some states, such as California, have minimum wages higher than this (see List of U.S. minimum wages per state), and some U.S. territories and types of labour are exempt. In addition, some counties and/or cities within the US states observe a higher minimum wage than the rest of the state in which they are located.
Australia and New Zealand have long histories of establishing minimum wage rates. A 2005 study found that the Australian federal minimum wage was 58% of the average wage, compared to 45% in the UK and 34% in the U.S.
Currently all European countries have some regulation to determine a minimum wage floor. A statutory minimum wage applies to 20 out of 27 EU member states, while in the remaining seven countries minimum wages are determined by collective agreements.
There are large differences in the value of the minimum wages ranging from less than one euro per hour in Bulgaria and Romania to more than nine euros in Luxembourg. While this partly reflects the different costs of living in the various EU countries, there are also significant differences in the value of the national minimum wage in relation to the national wage structure. Minimum wages in Europe vary between 30% and 50% of the respective average wage.
Germany, Europe's largest economy, has no statutory minimum wage. The DGB trade union is lobbying the German government to introduce national minimum wage legislation. Chancellor Angela Merkel's conservatives have resisted the pressure, arguing it would drive some employers out of business and destroy jobs. However, the government has approved the introduction of minimum wages for a certain sectors of the economy.
Achieving workforce planning targets
How recruitment, appraisal, training, dismissal and redundancies enable firms to achieve their workforce planning targets
A business has to assess its needs for people, as it does the requirements for other resources. Human resource management (HRM) is concerned with how many people to employ, and with which skills. This is considered in the context of:
Trends in product demand
Trends in the numbers of people with particular skills
Trends in other internal and external factors
A human resource manager aims to:
Match employee skills to the strategic direction of the business
Develop a competitive advantage by maximising quality and motivating the workforce to perform at their best
Maximise efficiency of the workforce
In previous sections we examined recruitment, selection, appraisal, training, dismissal and redundancy. The combination of all of these is required to produce a workforce that achieves the targets set by the organisation.
For instance, if demand is falling in a recession, the firm will need to consider redundancy and redeployment as a response. Redeployment will have fewer staff consequences and because of compensation requirements, may be the cheaper alternative. However, the question has to be asked as to whether the surplus employees have the skill levels required for their new functions. This is clearly where training and professional development is important.
In boom periods the opposite will apply as the firm will be focusing on recruitment and selection. However, training is even more important here to induct new employees and to provide the information and skills required for the job.
We have already discussed the dynamic nature of the business environment, so appraisal and training form the pillars of ensuring a match between demand patterns and the productive capacity of the firm. New technologies, for instance, will require a reappraisal of human resource requirements.
Measuring success
To measure the success of the firm's HRM performance we need some yardsticks. Many of these will be qualitative (people's views and opinions), but there are also some quantitative (numerical) measures that we can look at as well. HRM performance is normally measured against:
Increased labour productivity - this is the average output per worker over a specific period of time. Increases in this normally, reflect improvements in the skills, attitudes, training and motivation of the workforce.
Labour turnover - this is measured by the following formula:

This gives the percentage of staff who have left the organisation in a particular time period - normally a year. By reducing labour turnover and producing a stable workforce, the firm will reduce disruption and lost output, reduce the cost of recruiting and training new staff, maintain high levels of motivation.
Causes of high labour turnover need to be addressed. Reasons for a high turnover may include; low wages, poor morale, low job satisfaction, poor working conditions, poor recruitment policy, lack of training and development opportunities.
Reduced absenteeism - absenteeism is measured by the following formula:

A good HRM programme aims to reduce absenteeism, as this leads to falling productivity, higher employment costs (new workers will be needed to cover those who are absent) and impacts on worker morale. Absenteeism might be caused by:
inadequate application of health and safety standards and high accidents levels
poor management/employee relationships which stifle originality and can lead to stress-related problems,
boring and repetitive jobs and a lack of financial incentives.
Firms also need to keep:
(a) Accurate records of personnel and what duties they perform
(b) Workforce planning programmes and targets for every department
If a firm gets its planning wrong it will have serious implications. The firm will probably suffer from:
An inability to hire the right people at the right time
Poorly trained staff
Falls in motivation and the quality of output.
Increasing levels of absenteeism.
Higher levels of labour turnover
Increasing costs
All of these will cause productivity and profitability to fall.

Changing employment patterns and practices
Corporate organisations are changing rapidly and in apparently contradictory ways. It is recognised that the most important asset of any organisation is its people. This is because value is added to goods and services by the quality of the individuals producing or supplying them. Excellent employees are aware of the need to respond to customer needs. Well developed human capital is recognised to be as important as up-to-date capital plant.
However, increasingly firms are looking at ways to reduce their human resource cost base to remain competitive, especially with the rise of lower cost firms in the developing world particularly from Asia. Since the 1990s, some of the following trends have taken place in an attempt to reduce and rationalise human resources in an organisation:
Downsizing
Disposal of peripheral activities, perhaps through management buyouts (MBOs)
Outsourcing of support activities to allow concentration on primary (core) activities concerned with the creation or delivery of a product or service.
See: Michael Porter's Value Chain analysis in Competitive Advantage (1985)
Project based management and team working
The creation of a more flexible workforce
Flexible workforces
In recent years there has been a changing pattern to employment and this has helped employers to develop a more flexible working pattern among their employees. These trends are:
Increasing self-employment - this area is increasing in many countries
Reduction in full-time employment - firms now use fewer full time employees and tend to offer more short-term contracts
Part-time working - there has been a growth in the level of part-time employment. This may be a lifestyle choice on the part of many, but firms have encouraged this trend as part-time employment offers more flexibility
Contractors - many firms now use contractors and consultants for a wide range of task. This has led to many previous employees setting up as self-employed contractors.
Temporary employment - increasing numbers of employees have been on temporary working contracts. Again these are used by firms to ensure flexibility - we look at this in more detail below.
Firms like flexible workforces as it enables them to adapt their employee levels to meet fluctuations in demand and to try to maintain their competitive advantage in the face of external changes. To achieve greater flexibility, firms are using more part-time, temporary and external contractors, which allow them to increase or decrease their work teams as required. It may also provide more flexibility to the employees themselves who may work from home, select their own working hours and days.
Shifting social attitudes to work-life balance and improved communications technology have already brought forms of flexible working to 45 per cent of British companies, according to the CBI employment trends survey 2009, with 24 per cent more considering similar changes.
In his 1989 book The Age of Unreason, Charles Handy examined a time when life and the work environment was shaped by us, and for us. Handy foresaw new organisations emerging as well as new working patterns, such as teleworking, outsourcing, and portfolio working. He believed these new working patterns will be reflected in changing patterns of business, with a mix of small enterprises and large conglomerates which will create temporary alliances to deliver particular projects.
Handy suggested three new forms of organisation:
the Shamrock organisation
the Federal organisation
the Triple I organisation
Organisations are increasingly using fewer core staff as these are the most expensive of their available human resources. Full time employees have access to a range of benefits such as pensions, sickness benefit. The Shamrock organisation is based around a core of essential executives and employees, supported by outside contractors and part-time workers.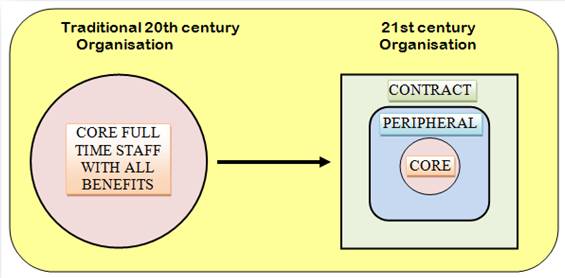 The Federal organisation is a decentralised set-up in which the centre's (HQ's) powers are delegated to regional and outlying organisations. The function of the centre becomes one of co-ordination and advice.
The Triple I organisation represents 'Information, Intelligence and Ideas'. This organisation resembles a university set-up and will seek to add value from knowledge rather than goods and services in a traditional sense.
Technological advances have made Handy's ideas easier to implement and support. Advances in communications and group networks have allowed the office environment to be replicated in part in external locations, including the home. As a result employees can be more mobile.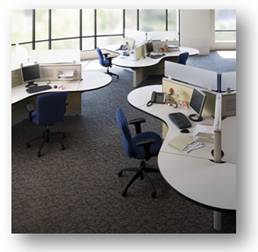 One example of the use of new ideas and technology is hot desking. Hot desking optimises space by allocating workstations according to need. It is used in places where not all the employees are in the office at the same time, or not in the office for very long at all, which means actual personal offices would be often vacant, consuming valuable space and resources. Employees do not have their own desks in the conventional sense.
With the growth of mobile employees or remote working, hot desking can also include the routing of voice and other messaging services to any location where the user is able to log in to their secure corporate network. Organisations like Microsoft offer software that is able to deliver applications to desktops without installing the application, creating a virtual workstation wherever the employee happens to be.
Part-time employment
Part-time employment provides flexibility benefits for both firms and for employees. For firms part-time employees are cheaper to hire and often do not have additional responsibility allowances and benefits that are awarded to full-time staff. They may not have the same level of job security (although the law has been updated in many countries to improve the situation) and tend to be easier to replace when they leave.
However, part-time employees may be less motivated and loyal to the business and are probably less willing to volunteer to work additional time when required to cope with unexpected demand patterns. Part-time staff do not tend to stay with employees for as long as full-time staff.
The Organisation for Economic Co-operation and Development (OECD), formed in 1948, is an international economic organisation with 31 members that offers a forum for member governments to consult and co-operate with each other in order to develop and refine economic and social policy. The population of the OECD countries exceeds one billion.
The OECD's purpose is to stimulate economic progress and world trade and it produces a range of economic and employment data to support its work
This data below shows that part time employment is increasing across the OECD rising from 11.94% of employees in 2000 to 15.51% in 2008. There has been an increase in part time employment in all but one year from 2000 to 2008. Women represent a far larger percentage of part time employees than men (just under a ratio of 3:1).

Temporary employment
A job may be considered temporary if employer and employee agree that its end is determined by objective conditions such as a specific date, the completion of a task or the return of another employee who has been temporarily replaced (usually stated in a work contract of limited duration).
Typical cases are people:
with seasonal employment.
engaged by an agency or employment exchange and hired to a third party to perform a specific task (unless there is a written work contract of unlimited duration).
with specific training contracts.
The significance of temporary working can be clearly seen in chart below, which gives a comparison of temporary working in selected EU countries in 2009.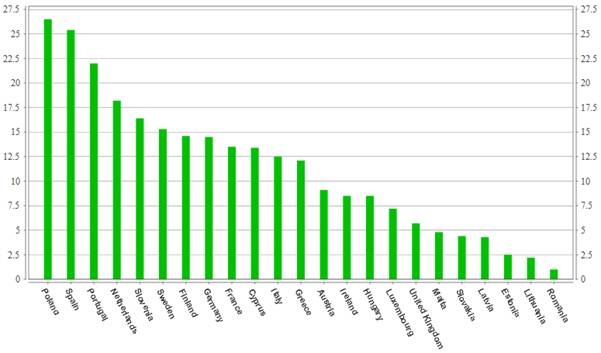 As can be seen from the chart, Portugal and Spain have over a quarter of their workforce in temporary employment. The EU average is 13.5%, which is still a significant number.
Flexitime arrangements
Flexitime covers any variations in working hours from the standard 9.00 a.m. to 5.00 p.m. working day, in the form of:
Flexible working hours
Term-time working
Job sharing
Employments breaks and sabbaticals
Annualised hours
Staff will have some say in the selection of their hours which allows them more freedom to concentrate on their out of work commitments, such as child care.
Advantages:
Recruitment and retention of qualified staff who may not be able to work traditional hours
Equality of opportunity for people who would otherwise be prevented from entering the workforce
Work patterns which can accommodate variations in customer demand patterns
Success in tackling skills shortages
Reduces absenteeism and lateness
Creates a better sense of personal responsibility
Improves efficiency in core time and reduces overtime levels
Disadvantages:
Scheduling work rotas is more time consuming for managers
Can encourage time watching
Full time employees may be resentful
Possible communications difficulties when staff are not there or sharing roles
Portfolio working
Portfolio working will contribute more to a better work/life balance. It is to a method of employment that is not dependant on any one client or company where individuals are paid for a number of different skills, products or services that they offer, often from their own home office using the internet. So a freelance or self-employed person could be called a portfolio worker if they have a variety of clients to whom they offer different services, or a person who works part time at two, three or more different organisations. The term portfolio working also includes people who work for an organisation part-time, but have their own business as well.
Portfolio working increases the flexibility and mobility of a firm's human resources, but may cause problems for the worker who may not be able to rely on a constant source of income resulting in cash flow crises. Indeed, portfolio worker may find it difficult to access dome financial services, such as applying for mortgages, because they cannot guarantee that they can make regular payments.
Teleworking (telecommuting) / Homeworking
If a person working at a distance from their colleagues or base, using communications technology to do their work, they are a teleworker, whatever job they do, and whether they are employed, self employed, or an independent professional.
Advantages for the individual
In most cases the teleworker also works from home. Teleworking improves the output of employees, both in quality and quantity, whilst improving the work-life balance of the individual. It helps to rejuvenate local communities and reduce the waste and pollution of commuting. So at every level, individual, business, industry, society or even the whole economy, it brings benefits. Some of these are highly quantifiable, such as cost savings, whilst others, such as the quality of life, may be less tangible but are certainly no less important.
The individual teleworker is able to eliminate or reduce the inconvenience of commuting saving a significant amount of wasted time and money as well as reducing stress. Being able to pick up the children from school, shop outside peak hours and take a more active role in the local community are other possibilities.
However one of the key benefits of working from home is that people find it much more productive than going in to a conventional workplace. Teleworkers are able to work in surroundings they have chosen without the interruptions often found in the open plan offices of today. With broadband communications and electronic communications they are able to achieve many tasks that have conventionally been done at the office desk and now with web conferencing technology they can have video meetings without having to travel.
Benefits for the employer
Whilst teleworking and other forms of flexible working are often viewed as 'family friendly' rather than 'business friendly' in fact they are both. There is strong research evidence to show that remote and flexible workers are more productive, more reliable and more loyal than their office based counterparts. They have a better work-life balance, waste less time and money on unnecessary travel and have a reduced 'carbon footprint'. In difficult economic times employers are looking for ways to reduce the cost of the workforce and increase efficiency. Encouraging telework does both by reducing the amount of office space required, whilst increasing the output from employees.

Analysing changes
Analysing changes in employment patterns and practices
The only additional responsibility placed on HL students in this section is that you must not only be able to describe changes in employment patterns and practices, but be able to analyse the reasons for these changes. These changes have been included throughout the core, but need to be collected together to form the foundations of an excellent HL examination answer.
The changes have taken place because they have advantages for:
Employers
In an increasingly competitive business environment, flexible work practices help firms react quickly and effectively to changes in their external environments
By reducing the core workforce, organisations can cut costs because they have fewer long term legal responsibilities, use their resources more efficiently and reduce overtime levels
Reduces requirements for office space
Non-core activities can be outsourced to specialist firms who may well produce better quality outcomes
Research indicates that flexible workers are more productive, more reliable and more loyal than their office based counterparts.
Firms can recruit and retain qualified staff who may not be able to work traditional hours and therefore address skill shortages
Work patterns which can accommodate variations in customer demand patterns
Creates a better sense of personal responsibility
Employees
Improves the work-life balance of the individual
Eliminates or reduces the inconvenience of commuting, saving a significant amount of wasted time and money as well as reducing stress
Allows the individual to schedule non-work activities around work commitments, such as childcare
Reduced interruptions may mean the individual can concentrate better on the job
Possible portfolio working options, increasing individual stimuli
Recent research has shown there are health benefits to flexible working where employees rather than employers have control over the hours worked
However, in the analysis, it is necessary to consider some of the drawbacks of flexible working. These may be more specific to certain modes of employment, such as factors applicable to part-time working that may not apply to other methods such as homeworking.
Employers
Irregular use of people reduces effectiveness of communications
Flexibility may make it more difficult to build teams
Problems of co-ordination and consistency
Lack of control over the work practices of the employee or contractor
In part-time employment in particular, there is the possibility of increased labour turnover
Scheduling work rotas is more time consuming for managers
Can encourage time watching
Full time employees may be resentful of the freedom experienced by peripheral workers
Employees
Lack of job security and so difficult to plan financial commitments, creating personal stress
In recessionary periods flexible workers will be the first group of employees to lose their jobs
Fewer benefits, such as sickness pay, pension contributions
Fewer social opportunities and possible isolation
Requirement to upgrade personal skills which can be costly and time consuming - reducing work opportunities
Handy's Shamrock
Management theory - Handy's Shamrock Organisation
The advantage of a flexible organisation is that it can react quickly to a change in its external environment. Since the 1990s, firms have examined their value chain and tried to reduce their workforce to a multi-skilled core, which is concerned with the creation or delivery of a product or service. All other supporting, non-central functions are outsourced wherever possible to the periphery.
Charles Handy suggested, however, that organisations do not consist of just the Core and the Periphery, since the periphery can be subdivided. He calls this a shamrock organisation: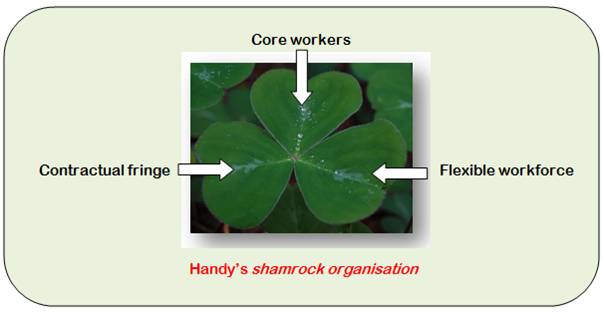 The first leaf of the shamrock represents the multi-skilled core of professional technicians and managers, essential to the continuity of the business
The second leaf Handy calls the contractual fringe, because non central activities are contracted out to firms specialising in activities such as marketing, computing, communications and research
The third leaf consists of a flexible workforce made up of part-time, temporary and seasonal workers.
For more details on Charles Handy and his work, follow the previous link.


1

Flexible workforce

Using a flexible workforce enable a business to:
2

Learning organisation

What is meant by the term a 'learning organisation'?
3

Knowledge management

Which of the following is the best definition of a firm that uses 'knowledge management'?
2.1 Human resource planning - questions
In this section are a series of questions on the topic - Human resource planning. The questions may include various types of questions. For example:
Self-test questions - on-screen questions that give immediate marking and feedback
Short-answer questions - a series of short-answer questions to help you check your understanding of the topic
Case study - a case study with associated questions
In the news - questions based around a topical business news article




Click on the right arrow at the top or bottom of the page to work through the questions.
Human resources - self-test

1

Human resource management

A human resource manager aims to:
2

HRM performance

Which of the following is NOT a measure normally used to measure HRM performance?
3

Workforce planning

Why would an HR manager monitor probable labour requirements of rivals?
4

Workforce planning

Which of the following would NOT be a possible way of overcoming a problem of not finding the correct numbers of people we need for our business?
5

Human resource management

Which of the following might the examiners ask you if they include a HR question in your examination?
6

Internal training

Which of the following is a good definition of internal training?
7

Impact of training

If training is successful the company should see:
Supply of human resources - short answer questions

Question 1
Identify a range of policies to help a firm improve its workforce planning.
Question 2
Explain the benefits of successful workforce planning.
Question 3
Outline the main elements of a workforce plan.
Question 4
Identify the main aims of a Human Resource Management (HRM) programme.
Question 5
Analyse policies to reduce a high labour turnover.
Question 6
Explain why absenteeism is a problem for business.
Question 7
Describe the term 'workforce audit'.
Recruitment - short answer questions

Question 1
Explain why a business may choose to use internal recruitment over external recruitment.
Question 2
Explain the advantages of external recruitment.
Training and development - short answer questions

Question 1
Comment on the advantages of training to a business.
Question 2
Distinguish between on-the-job and off-the-job training.
Hot desking: a hot topic?
Read the article Space invaders (you can do this in the window below or follow the previous link to read the article in a separate window) and then consider answers to the questions below.

Question 1
Describe what is meant by flexible working. Explain why hot desking is a form of flexible working.
Question 2
Explain how hot desking can help a company to reduce costs.
Question 3
Analyse two costs and two benefits to an organisation of introducing hot desking to improve productivity.
Question 4
Discuss the likely impact of the introduction of hot desking on the level of motivation of employees.
Are you a 'morning person'?

View the following videos:
and then consider answers to the questions below.

Question 1
Explain what is meant by 'flexible working'.
Question 2
Discuss the advantages and disadvantages for firms of allowing more flexible working hours for their employees.
Question 3
These reports identify suggests that people would prefer to work from home. Discuss the advantages and disadvantages for firms if they allow a greater proportion of their employees to work from home.
Online job applications

Read the article on Five Mistakes Online Job Hunters Make and produce a summary booklet on applying for jobs online. Include advantages and disadvantages of applying for jobs online. Search the web and see if you can find similar articles or sites that offer further advice that can be incorporated.
Labour shortages in the Oil and Gas Industry
Read the article Tackling oil and gas talent conundrum (you can do this in the window below or follow the previous link to read the article in a separate window) and then consider answers to the questions below.

Question 1
Identify reasons from the article why there are staff shortages in the Oil and Gas industries.
Question 2
Explain what is meant by the terms 'on the job' and 'off the job' training.
Question 3
Analyse the advantages and disadvantages for industrial firms of increasing their spending on training.
Question 4
The article suggests that financial rewards may not be the solution to staff shortages in the industry, Evaluate the role of non-financial rewards in the workplace*.
* You may wish to read the relevant sections in motivation unit before attempting this question
Japan May Limit Hiring of Temporary Workers
Read the article Japan May Limit Hiring of Temporary Workers (follow the previous link to read the article in a separate window) and then consider answers to the questions below.

Question 1
Define the terms:
Temporary workers
Deflation.
Question 2
Explain why the strengthening Yen is eroding Japan's export earnings.
Question 3
Analyse the Japanese government's decision to ban the former government's policy of letting companies hire temporary workers to adjust payroll size in line with production.
Question 4
Evaluate the policy of cutting labour numbers in a recession.
Indian turnover
Read the article Greying of India's call centres and then consider answers to the questions below.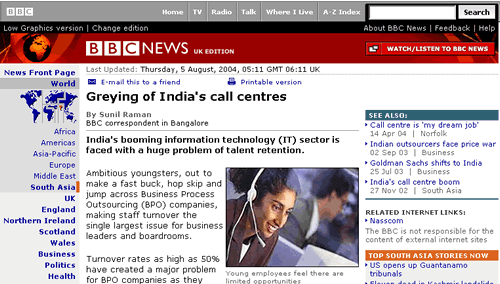 Question 1
Describe how the 'staff turnover' rate is measured.
Question 2
Explain the factors causing the high turnover rates at Indian call centres.
Question 3
Examine the actions taken by the companies to try to reduce the high turnover rates. Suggest other measures they could adopt to reduce turnover rates.
Question 4
Identify the main costs to the call centres of the high labour turnover rates.
2.2 Organisational structure - notes
Introduction
In the previous section we looked at human resource planning. We now move on to look at organisational structure, examining the informal and formal organisation and the organisation of human resources within the structure of the business as represented by the organisation chart.

By the end of this section you should be able to:
Construct different types of organisation charts and describe their nature
Analyse changes in organisational charts and their effects
Identify why firms need to organise employees in particular ways
Analyse methods of organising human resources that are used by different organisations
Analyse how ownership and control differs between different organisations and evaluate the most appropriate form
Analyse the separation of ownership and control
Compare and contrast the objectives of non-profit and profit making organisations and analyse their impact

Explain how organisational structures affect employee motivation, communication and performance
Discuss factors influencing the degree of centralisation and decentralisation
Discuss the development of more flexible organisational structures
Apply the theories of writers such as Mintzberg and Peters
Analyse the reasons behind , and the effects of moving some human resource functions to external organisations located nationally or globally
Evaluate whether firms will benefit from outsourcing, offshoring and the migration of human resource functions
Organisational structure
In this section we look at the ways in which firms organise their human resources. We will learn to construct and describe different types of organisation structure and analyse the effects of changing structure on the firm. We will introduce specific terminology to classify organisation structures and examine how types of structure may influence the motivation and performance of the employees. Finally we will analyse the reasons for moving some of a firm's human resources to external organisations.
Formal and informal organisation
With a small family business, it is unnecessary to have a formal structure. After all everybody should know each other and their individual roles and responsibilities. The business can be run relatively informally, without clearly laid down rules and procedures. The family probably have clear goals which are communicated both at work and outside.
However, as the business grows in size and the number of managers and employees increases, the common goals may begin to be diluted and unclear. At a certain growth point, it becomes necessary to make the organisation of the business more formal. This process will include:
Structuring activities
Allocating roles and positions and identifying responsibility and authority for each role
Establishing rules, procedures and systems
The separation of functions and the coordination of business activities
For large organisations, it is necessary to break down the structure into manageable and discrete groups, departments or functions. It is vital to coordinate activities to ensure that the goals of the business are achieved. However, it is also be necessary to allocate specific roles to individuals within these departments and delegate responsibility to them so they can focus on their specific function.
Organisation charts and structures
When new employees join a firm, they are often given an ORGANISATION CHART - this is a pictorial representation or diagram showing the functions and departments of a firm and the people within them. Organisation charts are normally shaped like a triangle - this is called a hierarchy as it has a clear top, middle and bottom. This is shown in figure 1 below.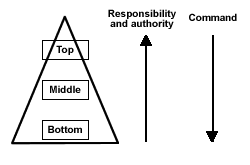 The position of employees within this hierarchy indicates their status and authority. Those at the top are the most important and are paid a larger salary as they have more responsibility. Each layer of authority is called a level of authority (or command). In a hierarchy, the vertical chain of command can be seen. For instance, the accounts clerk reports to the accounts supervisor, who in turn reports to the accounts manager. Information is communicated up the hierarchy through the layers, and orders are communicated downwards along the same channels.
This structure can be shown formally on an organisation chart and an example of an organisation chart is given in figure 2 below.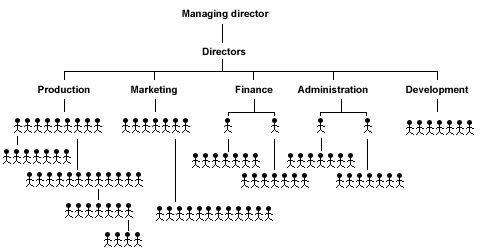 Organisation structures do not show the levels of formality or informality in an organisation. It may be acceptable in some firms to talk more informally and sometimes by-pass the official channels of communication. There are dangers in this as vital information may not reach he appropriate decision maker and they feel marginalised as a result with their authority diminished. In other forms, the structure may be surrounded by rigid rules and procedures and activities are guided by strict rules and procedures laid down in staff manuals. This type of organisation is referred to as a bureaucracy. Precedent is important in making decisions and any situation out of the ordinary will be passed up the hierarchy. Individuals are given little personal initiative. Great regard is paid to a person's position in the hierarchy and their official role.
Flat and tall organisational structure
This can be seen in figure 2 below.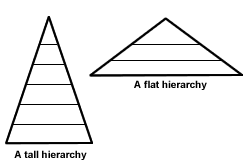 One way of cutting costs is to reduce the numbers of staff. This can be achieved by removing a layer of authority or management in an organisation. In a school for instance, this might entail removing heads of faculties and delegating their responsibilities to heads of departments. This process is referred to as delayering. This is, of course, just another term for getting rid of people!
Delegation
The person who delegated the work, however, must remain accountable for the outcome of the delegated work. Delegation empowers a subordinate to make decisions, i.e. it is a shift of decision-making authority from one organisational level to a lower one.
Delegation can only be effective if there is trust between the manager and the subordinate to whom the work is entrusted and if the boss does not constantly interfere. Delegation, if properly done, is not an abdication of responsibilities, but a more effective use of the firm's resources. Delegation allows the manager to concentrate on the strategic elements of his role and is a form of professional development and motivation for the subordinate, provided the delegated roles are not always mundane and boring, or so complex that the subordinate feels inadequate.
The opposite of effective delegation is micromanagement, where a manager provides too much input, direction, and review of delegated work. Most people in an organisation have some authority over others. For instance a head of department is in charge of a team.
It is important to be able to distinguish between delegation and empowerment. Delegation is the process of giving power or work to someone else but retaining accountability and ultimate responsibility if something goes wrong. Empowerment, on the other hand, is giving someone more control over their own life or situation.
When a person is delegated to do something, he/she has to follow a certain set of rules or protocol to do it. This requires that the individual constantly checks with the person who delegated the task to them. There may not be much room for improvisation if the need arises. Thus the staff might not be able to use his/her initiative and come up with enterprising solutions. With empowerment, the responsibility moves to the individual empowered.
Span of control and levels of hierarchy
The position of employees within a hierarchy indicates their status and authority. Those at the top are the most important and are paid a larger salary as they have more responsibility.
Each person in a level of hierarchy has the same equivalent status and authority. Tall organisation structures have many levels of hierarchy, whereas flatter structures have relatively few. As the number of levels of hierarchy increases, the organisation will face potentially negative consequences:
Inflexibility - it will take a long time for information to move from the top management to those lower down the hierarchy.
A 'them and us' mentality may be create as the people at the bottom of the hierarchy become increasingly remote from those at the top.
The span of control refers to the number of people that each manager is directly responsible for. A large span of control means that a manager has a large number of staff under their direct control, while a small span of control means that each manager looks after a small group of staff. This is an important topic as it is normally agreed that the wider the span of control the fewer levels of hierarchy the business needs. We can see this in figures 3 and 4.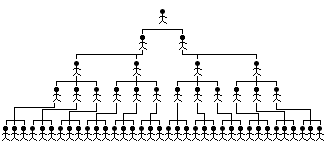 A flat hierarchy, as in figure 3, will have a high span of control, whereas a tall hierarchy, as in figure 4, will have a much lower span of control.
Early management writers argued that any span in excess of six would result in ineffective supervision, but later this was modified to a span of 4 to 8 for managerial functions and 8 to 15 at the lower levels of the organisation.
So why do some management theorists support wide spans of control?
Delegation can be a more important part of how the organisation is managed.
Those at the top of the hierarchy have less obvious control over subordinates.
The distance between layers of management is less and those applying the decisions feel closer to those who originally made them.
The need to be writing/communicating information is reduced as those lower down the hierarchy have the authority to carry out responsibilities.
Costs can be reduced, as certain management functions are no longer needed. De-layering can take place.
The subordinates may be very experienced and require less supervision
However, some theorists argue against this trend, pointing to the following as factors that need to be considered when considering a narrow span of control:
There is less opportunity for delegation and the ultimate empowerment of employees.
Those at the top can keep a tight control over employees.
A distance can become apparent between those at the top and bottom of the organisation.
A narrow span may encourage greater communication between layers of the management structure and clearer lines of communication.
Training opportunities and personnel development can be more easily managed and attached to promotional opportunities
Whichever style is adopted, and probably most organisations develop combinations, the success of a span of control will rest largely on whether management has the ability to manage the situations that arise, motivate and direct employees to maximise their performance and whether the task lends itself to either a tight or relaxed supervision. For example, a small span of control is more likely to be effective in a production situation where close scrutiny of work is required to maintain quality.
Chain of command
If the organisation has a flat structure then there will be short chain of command. Conversely, as the organisation structure becomes taller with more levels of authority, so the chain of command will lengthen. As the chain becomes longer, there is a greater risk of poor communication with some individuals in the chain not passing on information, or misinterpreting or filtering content. The game of 'Chinese whispers' is an example of this in practice.
By referring to the firm's organisation chart, it is usually possible to see which individual managers are responsible for, or accountable to, others. However, chains of command are harder to see in more flexible structures, such as matrix organisation.

Delegation
In modern business more and more managers are being given the task of carrying out strategic activities that have an impact on the entire business. As such they face the need to delegate some of their responsibilities lower down the hierarchy. So, what exactly do we mean by delegation?
Modern management theory suggests managers, should delegate and consult more often. When a manager delegates a task to someone lower down the structure they effectively give him, or her, the authority to carry out a certain function. However, the senior manager remains responsible (accountable) for the function. So how is delegation effective?
It allows for a degree of empowerment to be installed within an organisation and this should help build self-respect amongst employees and allow them to have more control over what they perform.
What is delegated must not be the rubbish jobs or simply those tasks for which the superior considers themselves to be too busy. If this is known to exist within an organisation it can breed resentment.
Any act of delegation requires careful planning and preparation. All concerned must be clear as to what has to be done. If not what is supposed to free the senior member of staff to concentrate on other issues will, in fact, lead to them having to return to the very tasks they delegated.
Employees, to whom tasks have been delegated, must be fully aware of why they are being given them and must be given the full authority to carry out the necessary tasks.
Once tasks have been delegated the senior manager must not interfere.
Those selected for delegated tasks must possess the correct skills, training etc, else they will under-perform and the exercise will have been a failure.
All the necessary resources and support must be given to those charged with carrying out the delegated tasks.
Much of the success of delegation will rest on selecting the right person to carry out the tasks. By consulting employees managers are trying to develop a greater sense of involvement. Opinions are being sought prior to decisions being made and put into operation. However, care must be taken to make all aware that those at the top have ultimate responsibility for policy, though offering consultation and then ignoring it could result in frustrated employees.
Consultation
Another trend within business is that of consultation. Increasingly, employees are being asked for their opinions in a variety of formats. It is worth noting that this is another example of how you, as students of business and management, need to think holistically and make LINKS between sections of your course. This more open and consultative form of management is central to many of the ideas we have taken from what is loosely called Japanese management. Kaizen, for example, is central to lean production and continuous improvement. However, it radiates through all parts of the company. Everyone in the business is concerned with improving productivity and quality. They must therefore be engaged and consulted and managers will need to explain why doing things in a certain way is central to its successful application.
Indeed, in most contemporary management approaches, the need for being open and consultative with employees is central. When you arrive at other issues later in the course think about the importance of consultation to:
Leadership styles and the growing trends of involving and empowering employees
Just-in-time manufacturing and the need to make all involved aware of the need to balance stock flows very carefully
Kanbans and the need to move materials effectively around any production environment
Time-based management and the co-operation needed from every employee to reduce the time from thinking of the idea to having a finished and marketable product
Teamworking and the need of people to work in small and effective groups
Cell production and the need to work on specific products or parts of products
Managers seek acceptance by those affected by strategic developments and open consultation is one way of trying to build acceptance and motivation amongst employees.
Empowerment
Delegation provides power to an employee to carry out a specific task. Empowerment is a much broader concept as it implies a degree of freedom about what to do, and how to do it.
Employees are encouraged to think and make decisions for themselves. The old environment in which the boss 'always knew best', caused conflict and disagreement. Today many firms consider that efficiency will improve if they allow employees the opportunity to be involved in the decision making process and have some autonomy (independence) in their working environment. This should allow employees to become more flexible and adaptable.
To be successful empowerment must:
Have the full backing of management
Have the trust of management
Be seen as a partnership
It may encounter difficulties if it:
Attempts to use people not correctly trained for the job
Is seen by some managers as loss of their authority
If those to whom the authority has been delegated abuse their new power

Bureaucracy

Ironically according to many sociologists, such as Max Weber (1864 - 1924), the development of bureaucratic organisation is necessary for the emergence of any modern civilization. Weber believed that bureaucracy was the most appropriate administrative system for the rational pursuit of organisational goals. Weber identified the following characteristics of a bureaucracy:
A high degree of specialisation
A hierarchy with well defined levels of authority
A system with formal rules and procedures
Written records of decisions made
Authority resting with the office or position in the hierarchy rather than with the individual
Like many concepts, bureaucracy was appropriate at the time when organisations were small. As large scale businesses developed the application of bureaucratic principles began to get in the way of the efficient operation, slowing decision making and creating considerable 'red-tape'. The response to this perceived inefficiency, from the 1980s onwards, was to reduce the bureaucratic nature of an organisation by delayering and downsizing.

1

Effective delegation

Which of the following is NOT a way of ensuring maximum effectiveness of delegation?

Centralised or de-centralised management?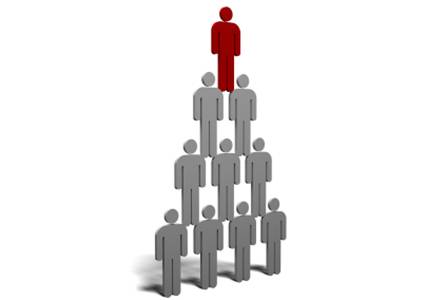 A more centralised structure means that the authority and responsibility for the decision-making process of the organisation rests with those at the top of the internal hierarchy of the business. The central or head office is where all key decisions are made. A more de-centralised structure delegates responsibility to those lower down the chain of command e.g. a branch or department.
So, why adopt a centralised structure? Well, it does give the senior management more control over the decision-making process. This normally aids consistency and predictability. It also concentrates power in the hands of a few and so reduces the need for large numbers of managerial grade employees who will normally command high financial packages.
The de-centralised form should encourage greater empowerment and subsequent motivation amongst those lower down the chain and personal development should be more visible to such employees. It should also increase the speed at which decisions are made and allow decisions to take into account local features of the market or business environment. Local managers may need to adapt policies to meet local demands. However, those at the top, who have access to more facts and figures than those lower down the hierarchy, may better appreciate the wider implications of decisions.

Matrix structure / Project teams

The matrix structure is linked closely to project management.
Project management became popular in the early 1960s, driven by businesses which realised that there were benefits from organising work into separate definable units and from coordinating different kind of skills across department and professions. One of the first major uses of project management was the organisation of the US space programme.
New plants, new methods, new ventures all require dedicated project teams working to strict timetables with a dedicated budget. Managers may spend as much time in cross-functional project teams as they do in their normal posts.
A matrix structure allows for flexibility in operations. By adopting this form of organisational structure the business can draw together experts from several fields to work as a team. The diagram below shows a possible matrix structure.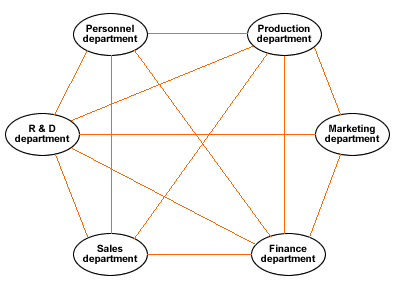 Matrix structures normally involve the creation of project teams. Each project team has specific responsibilities and team managers meet often with each other to look at areas relevant to each other. This type of organisation should widen the range of opinions being considered within the team and the project manager can call on expertise from several business functions, such as marketing and finance. An appointed project manager is responsible for the work of the team. Tasks are delegated to functional experts. At the end of the project, the team often disbands. Teams may employ full time staff who move onto other teams or external members who may move onto jobs with other firms.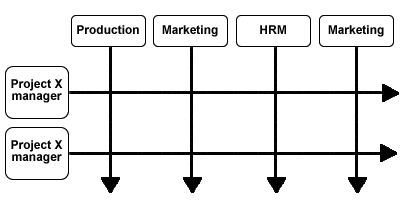 The choice facing many businesses is whether to keep to the older functional style, which has clearly defined hierarchies, that allows clear definitions of responsibility and accountability, or to move to the matrix style, which encourages flexibility. Matrix structures may be more appropriate where firms are considered to be of a 'Theory Y' nature (see section on motivation theory).
The advantages and disadvantages of a matrix structure therefore include:
Advantages
Flexibility
Brings together teams from different disciplines with different skills
Encourages creative thinking
Offers a decentralised form of organisation
Allows managers to focus on strategic planning
Encourages cooperation between different functional areas and divisions
Can be used within more tradition bureaucratic or pyramid structures to encourage creative and flexible approaches
Disadvantages
The structure may lead to power struggles between different departments
Team members may have two managers - the project team manager and their functional line manager. This may lead to conflicts.
May be costly to implement and require a change in corporate culture
May be seen as a 'talking shop' and encourage discussion rather than action
Can lead to slower decision-making because of the requirement for agreement and cooperation
Can create problems of control and authority with overlapping lines of authority

Flexible structures

Henry Mintzberg
Henry Mintzberg is Cleghorn Professor of Management Studies at McGill University. Over several decades, he has examined the processes by which organisational structures and strategies are formed and has examined the extent to which strategy is deliberately created by management and the extent to which it 'emerges' as the result of the relationships between the style of leadership, the organisational structure and the external environment. 'Realised strategy' is a combination of deliberate and emergent strategy. Mintzberg's concept of emergent strategy ties in with the increasing emphasis on flexibility, adaptability, innovation and learning.
Traditionally, the purpose of strategy has been based on perceived need to reduce uncertainty. Mintzberg believes that "uncertainty is a characteristic of the world itself", and therefore strategies designed to reduce or eliminate uncertainty are likely to be ineffective at best and very possibly a risk to organisational survival. Businesses need to remain flexible to external change and their strategies need to adapt rapidly to maintain competitive advantage.
In an increasingly dynamic world, emergent strategy, with its acknowledgement that uncertainty is here to stay, addresses the current challenges of organisations and their management. For example, entrepreneurial organisations increasingly rely upon emergent strategy rather than formal planning processes. Strategy develops 'incrementally' - bit by bit. Mintzberg's reasoning suggests that young organisations with simple, but dynamic environments and technologies will be more effective if they rely on flexible structures and less effective if they rely on bureaucratic and formal organisational structures.
Different structures arise from the different characteristics of these organisations, and from the different forces that shape them. There's no one "right" organisational structure, so it's important to understand how structure relates to the variety of attributes in a company.
Mintzberg - common structures

If you would prefer to view this interaction in a new web window, then please follow the link below:
Tom Peters
Another management guru, Tom Peters has written extensively on excellence in organisations and in his books such as , 'Thriving on Chaos', 'In Pursuit of Wow!' and 'Re-Imagine!', Peters presents a strategy for meeting the uncertainty of the current competitive markets through creating customer responsiveness, pursuing fast-paced innovation, achieving flexibility by empowering people, learning to work in an environment of change, abandoning conventional wisdom, and the development of flexible organisational structures.
Peters advocates flexible and flatter organisations, because they provide opportunities for more delegation and empowerment and are more adaptive to change.

The informal organisation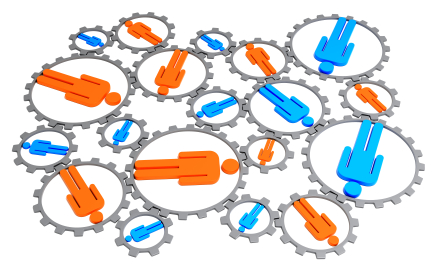 The formal business organisation is shown by the hierarchy of the business and the organisation chart. This shows the formal relationships - the chain of command and the span of control. This indicates clearly who is responsible to whom, and for what. However, many relationships between employees in a business are informal and a term used to refer to this is the informal organisation.
The informal organisation is not a planned one and it will evolve spontaneously as circumstances and work environments change. The informal organisation is based on personal relationships and social networks in contrast to the more formal organisation. Behaviour in the informal organisation is guided by group norms (notions of what is acceptable) rather than by the more formal rules of the organisation.
In a study of informal networks in the banking industry in 1993, Krackhardt and Hanson found three different types of informal relationship. These were:
Trust networks - relationships where employees share information with people they trust and where they back each other up in times of crisis.
Communication networks - these are networks in which employees regularly talk to each other about work-related issues. These communication networks will not generally follow the conventional lines of authority of the firm.
Advice networks - networks of colleagues who people turn to for support and advice.
Informal organisations have several positive roles and functions:
Improving motivation by promoting e a sense of belonging and therefore satisfying Maslow's social needs.
Providing a communication channel that can disseminate information more quickly than the formal organisation. However, the information may be regarded in many cases as unsupported gossip and 'disinformation'.
Creativity may be more evident in informal groups ads individuals feel less constrained by their environment.

Organisation of human resources
Functional organisation
In many businesses jobs are grouped together into functions. Sometimes these are the same as the departmental structure of the organisation. So, the firm will have a marketing department (function) and finance department (function) etc. This style of organisational structure allows the business to have clearly defined channels of communication and a recognised hierarchy. Roles and responsibilities are known and all employees know who is in charge of what. The decision-making can be focused on a few 'at the top' and is therefore known as centralised.
This 'functional organisation' is a form of organisation adopted by many firms and it has a number of advantages:
Accountability - each department will have managers who are responsible for the work of that department.
Clarity -it is clear to all employees who is responsible for each area of activity.
Specialisation - each department has specialist personnel, who help raise the level of productivity of the firm.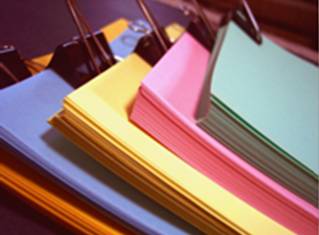 However, there are disadvantages to this form of organisation:
Bureaucracy / lack of flexibility - this form of organisation can be very inflexible as departments have set rules and procedures and may do things the 'department way'.
Communication problems - departments may not communicate well with each other, particularly if the firm's communication is essentially top-down in form.
Inertia - as with lack of flexibility, departments may be resistant to change, preferring to continue with their existing methods.
Other forms of organisational structure
Other possibilities for the organisation of firms are:
Organisation by product - large firms will often have an extensive product range and so they may choose to organise themselves by product or type of product. Each product may even be organised as a separate company all owned by the main holding company. Within each product, the firm may still be organised by function.
Organisation by area - firms may decide to organise themselves by region or geographical area. This may help them to be more responsive to local needs and improve their communication within the region.
Organisation by customer - where firms have large customers, they may (as with organisation by product) choose to organise themselves by customer. They may still have certain elements of functional organisation (accounts department etc.), but organise themselves as project teams for each customer.
Line and staff organisation
A line and staff organisation structure is a combination of functionally based line managers with specialist support staff who have an advisory capacity.
An example of a functional line manager would be the sales manager. Without sales the firm cannot operate, as products and services would not be sold. A specialist staff function is human relations management. Individual line managers could carry out the function of recruitment, but the HRM department has specialists in recruitment and so the function of recruitment may be delegated completely or advice requested as necessary. Support staff form the foundations of the organisation, but do not have a direct role in the production or sale of the product or service
There is potential for conflict between line managers and staff advisors, who may have different interests. The line manager will be focused on the needs of the department or function, whereas the staff advisor may have a wider organisational viewpoint. It is common for the background of these two sets of personnel to be different. Traditional line managers may have worked their way up through the organisation and possess considerable experience and detailed practical knowledge. Staff specialists may be younger and less experienced, having achieved their position through degrees and other professional academic qualifications.

Outsourcing &offshoring
Outsourcing, offshoring and migration of HRM functions

If you would prefer to view this interaction in a new web window, then please follow the link below:

2.2 Organisational structure - questions
In this section are a series of questions on the topic - Organisational structure. The questions may include various types of questions. For example:
Self-test questions - on-screen questions that give immediate marking and feedback
Short-answer questions - a series of short-answer questions to help you check your understanding of the topic
Case study - a case study with associated questions
In the news - questions based around a topical business news article




Click on the right arrow at the top or bottom of the page to work through the questions.
Organisational structure - self-test

1

Functional organisation

Which of the following is NOT an advantage of a functional organisation?
2

Matrix organisation

What characteristic listed below is a major advantage of the matrix system of organisation?
3

Delayering

Of the possible advantages of a narrow span of control listed below which one is likely to lead to greater delayering?
4

Centralisation

One of the main advantages of a more 'centralised' system of management is said to be more control over decision-making. Which of the following is used to support such a claim?
5

Effective delegation

There are several factors that need to be in place so that delegation can be effective. Which of the following needs to be 'active' to promote effective delegation?
Formal and informal organisation - short answer questions

Question 1
Define the term delegation.
Question 2
Explain why the process of empowerment may fail to work within a business.
Question 3
Examine how consultation may influence other areas of the business.
Question 4
Examine the advantages of a matrix structure of management.
Question 5
Outline the disadvantages of matrix management.
Question 6
Explain why de-layering improve the effectiveness of an organisation.
Question 7
Analyse what factors will influence the success of de-layering
Delegation and consultation - case study
The invitation to tender for the new training multimedia package came at just the right time for the business. Sales of existing products had been rather lacklustre recently and it was felt that some of the new entrants to the market had taken away what was previously our strong area of the market. Now, here was an opportunity to move ahead of rivals and develop something with a unique selling appeal.
We had the production capacity and the marketing would follow our well-known ways of developing customer awareness but who would manage the tender and just what would we need to produce in order to win such a lucrative contract?

Question 1
Explain why consultation may assist this business as it develops its reaction to the offer to tender.
Question 2
Discuss whether empowerment can be used to engage employees in this very important exercise.
Organisation of human resources - short answer questions

Question 1
Examine how managers try to build employee involvement within a business.
Telepresence robots handle business travel
Read the article Anybots launches "telepresence robots" to handle your business travel (you can do this in the window below or follow the previous link to read the article in a separate window) and then consider answers to the questions below.

Question 1
Define the term 'robot'.
Question 2
Explain why an organisation might use these robots instead of using human beings.
Question 3
Analyse the advantages and disadvantages of 'telepresence robots'.
Question 4
With the use of examples evaluate the extension of robot use in the workplace.
Microsoft awards multi-year outsourcing contracts to Infosys
Read the article Microsoft awards multi-year outsourcing contract to Infosys Technologies (you can do this in the window below or follow the previous link to read the article in a separate window) and then consider answers to the questions below.

Question 1
Briefly compare Infosys and Microsoft in terms of location, business size and markets.
Question 2
Explain what is meant by the term 'rationalisation'.
Question 3
Examine the reasons for Microsoft and Philips outsourcing administration of their international IT services to Infosys technologies.
Delegation: the key to growth

Read the article Delegation: the key to growth (you can do this in the window below or follow the previous link to read the article in a separate window) and then consider answers to the questions below.

Question 1
Define the term delegation.
Question 2
With reference to appropriate motivation theory, analyse the impact of greater delegation on motivation of employees.
Question 3
Discuss the likely impact of greater delegation on the level of growth of a company.

Get rid of the hierarchies
Read the article Get rid of the hierarchies (you can do this in the window below or follow the previous link to read the article in a separate window) and then consider answers to the questions below.

Question 1
Define what is meant by the terms "command and control" and "hierarchy".
Question 2
Discuss the advantages and disadvantages of creating a flatter organisational structure.
Question 3
Evaluate the impact on employee motivation of putting in place a taller hierarchy.
2.3 Communication - notes
Introduction
In previous sections we looked at human resource planning and organisational structure. We now move on to look at communication, examining how we can classify and identify communication within in an organisation and between organisations and their stakeholders.

By the end of this section you should be able to:
Compare the ways in which communications take place, analyse communication failure and evaluate potential solutions to such failures
Prepare different forms of communication
Identify types of ICT and discuss the effect of new technologies on the effectiveness of communication between organisations and their stakeholders

Explain how types of communication networks influence the effectiveness of communication
Communication
Communication means the exchange of information, opinions, feelings and ideas between two or more parties. Communication is only effective if it is received and understood in the manner intended by the sender and the desired action takes place.
Good communication is vital for a firm if it is to be as productive as possible and ensure the optimum use of the resources. Effective communication enables managers to have a clearer understanding of the business and consequently better control of operations. It also allows the goals of the organisation to be transmitted to the employees.
Communication cycle
Communication can be looked at as a scientific process. It is made up of parts, or stages, in a closed loop, or cycle. A message is sent, it is received and understood there should be the desired result in the form of an answer, an action or a confirmation of receipt. Any failure in this loop will lead to ineffective communication.
The sender. All communication starts here, with the sender. The sender must know exactly the message that is to be sent. If this stage is unclear, the rest of the stages will be ineffective.
The message. This must be in the correct form and language for the recipient - it is no good if the sender understands it, but the language is too complicated for the receiver. The message must be designed with the receiver in mind.
The recipient. A message has to go somewhere. This is the person or place where the message is targeted. The sender must be clear who it is and where the recipient is.
The reaction. Messages are sent for a reason. The recipient has to respond to the message correctly.
The feedback. The response must be confirmed, the sender must be sent a reply or behave in a manner that indicates the message has been received and understood.
Five stages to communication

If you would prefer to view this interaction in a new web window, then please follow the link below:
Successful communication
If communication is successful:
Change is encouraged and transitions are easier
Commitment is developed among staff (and therefore enhances motivation)
Co-ordination within the organisation is more effective (therefore ensuring that the efficient implementation of plans and strategies)
Roles and responsibilities are clarified
If communication is not successful then:
Problems are not identified and addressed
Leaders becoming isolated and follow events rather than shaping them
Department rivalries develop
Motivation and morale may be affected
Bureaucracy becomes endemic and decision making slows
Profit falls
Good communication is usually effective communication. Large organisations which develop inadequate communication (diseconomies of scale) may address this by:
Developing flatter structures of management
Creating a more empowered workforce
Offering better employee training for different cultural and linguistic attitudes
Controlling the volume of communication
Limiting communication to those who need the information rather than copying it widely
Communication classification
Communication can be categorised in various ways. All communication is influenced by the message the sender and the receiver. For example, it may be:
One-way or two-way
Oral, written, visual or non-verbal
Formal or informal
Open or closed
Vertical and/or horizontal
In practice much communication involves combinations of communication methods.
One-way and two-way communication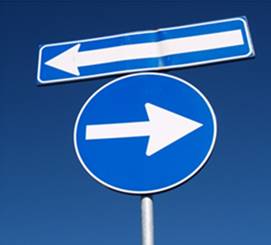 A one-way communication is where there is no facility and/or expectation of a reply or feedback. An advertisement or notice on a board is an example. Its advantages are that is simple, quick and cheap. However, it allows no clarification or opportunity to correct inaccuracies and this may cause frustration in the receiver. It is often associated with authoritarian leadership and downward channels of communication.
Two-way communication is more time-consuming because the receiver has the opportunity to feedback and to question what has been said or written. The receiver is invited to contribute to the process so this kind of communication is often associated with democratic forms of leadership. If the message is complex, two-way communication is far more effective, and probably accurate, than one-way communication.
Verbal / oral communication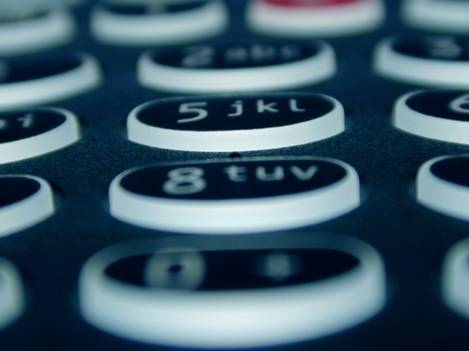 Oral or verbal communication describes any type of interaction between individuals which makes use of words and involves speaking and listening. In oral communication, the sender and receiver exchange their thoughts or ideas verbally either in face-to-face discussion or through any mechanical or electrical device like telephone or VOIP system like Skype. The ability to communicate effectively through speaking is highly valued in business.
Examples of oral communication within an organisation include:
staff meetings, business meetings and other face-to-face meetings
personal discussions
presentations
telephone calls
informal conversation
public presentations such as speeches, lectures and conferences
teleconferences or videoconferences
interviews
Oral communication is effective when it is clear, precise, relevant, tactful, considerate, concise, informative and adapted to the needs of the listener. The delivery of effective communication requires a speaker to consider his or her vocal pitch, rate, and volume. It is important to incorporate changes in vocal pitch to add emphasis and/or avoid monotony.
Non verbal elements such as posture, gestures, and facial expression are also important factors in developing good oral communication skills. Good verbal communicators make frequent eye contact to ensure understanding and to develop rapport with the listener.
This type of communication has certain advantages over written communication:
quick and prompt with the opportunity to both the transmitter and receiver of the message to respond directly
permits plain language
questions can be asked immediately to improve understanding
generally inexpensive
oral communication can be supported by non-verbal communication such as gestures which enhance the message
facilitates close contact and collegiality potentially improving motivation
However, oral communication does have some drawbacks:
unless the conversation is recorded there is no formal record of what was said
it may not be suitable for confidential or personal information
often more time-consuming than say an e-mail
it relies on the presenter's verbal skills
formal presentations are time-consuming to prepare
Non verbal communication
All types of communication that are not verbal fall within the category of non-verbal communication. This includes written and visual communication.
Written communication
Written communication involves any type of interaction that makes use of the written word.
Internal methods include:
memos, reports, bulletins, job descriptions, employee manuals and electronic mail
External methods include:
letters, e-mail, proposals, faxes, contracts, advertisements, brochures and press releases.
Written communication is especially important in customer communication as business proposals, status reports, customer documentation, technical support and e-mail all depend on skilful communication.
The advantages of written communication include:
standardised message appropriate for small or large audiences
a record of what is said
simultaneous communication
However, written communications have some drawbacks:
no guarantee of receipt or understanding
can be ambiguous
tendency to be formal and impersonal
no immediate exchange of ideas
Visual communication
Visual communication is communication through visual aids and is the transmission of ideas and information in forms that can be read or looked upon. Visual communication solely relies on vision, and is primarily presented or expressed with images, it including:
signs, drawings, graphics, illustrations, video, abstracts, colour, photographs, maps, symbols and electronic resources.
Visual communication can be used on its own or in combination with other forms. A visual message accompanying other forms of communication is likely to possess greater power to inform, educate, or persuade a person or audience. Of the total sense receptors in the human body, 70% reside in our eyes. Visual perception delivers the world to our brains at high speeds and with exquisite subtlety.
Visual communication comes in many forms, many of which are designed to inform and entertain through moving images, such as film, television, and video games. Visual technologies have become increasingly sophisticated, such as 3D films and computer generated images (CGI).
Visual communication has several benefits:
the majority of information received by the brain is visual
it is possible to represent ideas, feelings and information
visual communication can convey movement
information can be summarised in graphical representations
provides additional interest and stimulus
it can reinforces oral communication
allows for simulation of reality
However visual communication can be one-way and impersonal and may be difficult to interpret without the written word.
Types of written communication

If you would prefer to view this interaction in a new web window, then please follow the link below:
Formal and informal communication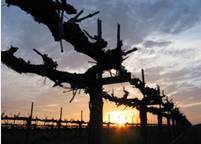 Within each of these types of communication, there may be many methods used. Internal communication may be either:
Formal - this may be through email, memos, company reports, team meetings, letters, strategy documents and so on. These communications are processed through the formal organisation structure and are sanctioned by the organisation itself.
Informal - this may be either verbal or non-verbal. It may be communicated through social / group gatherings, or perhaps, simply through the company 'gossip' or the company 'grapevine'. These channels are regarded as 'unofficial' as they are not established by the organisation.
Barriers to effective communication / noise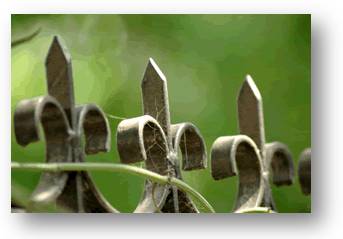 Barriers to effective communication will reduce productivity within the firm and, if serious, may cause diseconomies of scale in a firm. Barriers to communication are often referred to as 'noise'. Noise is anything that gets in the way of effective communication and 'blocks' or distorts the message.
This may be physical noise e.g. a lawnmower outside of the classroom window. However it can be many other factors. Attitudes and beliefs, bigotry and experience will affect the perception of a message. If you believe your boss is always out to 'put you down', and she suggests extra training, this may be perceived as a punishment or threat, even if it is intended simply to make you more effective.
Other factors creating 'Noise' may include:
Distance, different time zones
Language or jargon that is not understood by the recipient
The corporate culture may not promote the sharing of communication
Information overload - receivers cannot cope with the volume
Time e.g. different time zones
Sexism and racism
Stress
Poor resources e.g. limited access to technology
Preconceptions
Past experience
Lack of education and training
Poor selection of medium of communication
Communication difficulties for large organisations
Large organisations are complex and require sophisticated methods and systems for communication if they are to avoid possible problems. This is a good time just to re-visit some of our earlier work together. Let's think how large organisations try to avoid ineffective communications.
They might:
Use a matrix system of management, which is felt to help breakdown some of the conventional barriers that exist within an organisation and reduce communication flows
Design flatter hierarchies, so reducing the distances between the giver and receiver of information.
They might encourage de-layering and so remove some of the layers through which communication has to pass.
They might use management by objectives, so encouraging more communication between those directly involved in getting the task done
Information and communication technology (ICT)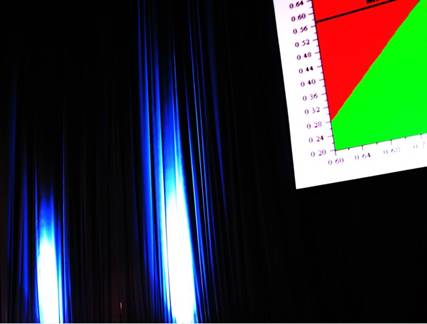 The significant and ongoing development in information and communication technology has created enormous potential for improving the way that organisations communicate.
The new technologies have made it quicker, simpler and cheaper to communicate and opened up new approaches to marketing, as well as personal, communication. It has also facilitated the increase in the number of flexible and home workers by providing the technology to work from a number of locations away from the organisation's main offices. Outsourcing and offshoring are now more viable options, because the new overseas provider can be held more accountable.
There are times when new technologies just seem to happen and shift the marketplace to a new level as if everyone had a new idea at the same time. Twitter is only a few years old, yet already permeates the heart and soul of social networking and communication and is providing opportunities for business to access markets and receive instant feedback on goods and services. Conference presenters are now working against a backdrop of 'tweets' from the audience they are addressing (back channelling) which can alter the nature of the presentation and communication, making it more dynamic and responsive to audience needs.
As equipment becomes more powerful and portable, so employees are able to become increasingly mobile. The latest trends involve the integration of technology functions. No longer is the main purpose of the mobile phones to make telephone calls. As smartphones evolve, so do the functions available from internet access to satellite navigation. In recent times there has been a raft of new e-reader devices potentially revolutionising the way that customers access media.
The message from the 2010 Mobile World Congress in Barcelona was clear, that 'mobile is the future'. Eric Schmidt, the chairman of Google used his keynote address to state that Google is now a 'mobile first' business, developing mobile applications and software before producing desktop versions. The phone, said Schmidt is no longer just a device, "it's your alter ego - it's fundamental to everything you do".
Other impressive smartphone features included in the handsets feature solar panels, pedometer and mapping software to support the obsessive exerciser. These devices are clearly pointing to new market developments which will lead to further business co-operations and integrations, as firm's battle for their share of the lucrative communications market.
There is a range of ICT types including:
Fax (facsimile)
Email (electronic mail)
Intranets
Video conferencing
Telephone conferencing
Mobile phones/Smartphone
World wide web
All of these technologies, individually or in combination, provide the opportunity for organisations to improve the effectiveness of their communications with their stakeholders. However, it is not always accurate to assume that the availability of a technology is automatically advantageous. For example:
Organisations need to purchase new technologies, which are constantly being updated. The cost alone can be beyond the reach of small firms who may find themselves in an uncompetitive position.
Even if the technologies are purchased there are issues of training personnel to use them appropriately and effectively. There are horror stories of new computer systems left in cupboards as staff lacked the expertise to set up and use them.
Once purchased, new technologies need to be maintained and possibly repaired on a regular basis.
There are additional costs around support services such as internet providers, anti-virus software and licence fees.
There is always the risk of information overload.
Personal use of ICT in work time e.g. Facebook, e-mail
The moral to the story based on the experience of firms over the last few decades is that the introduction of ICT needs to be carefully managed and budgeted for. Any gains must be carefully balanced against costs.
The quality and security of communication is more important than the volume. Organisations need to guard themselves against attack from hackers and the consequent loss of confidential data.

Discussion on ICT
What are the advantages and disadvantages of ICT? Discuss this with a partner and then follow the link below to compare your answers with ours.
Communication networks


If you would prefer to view this interaction in a new web window, then please follow the link below:

The communication process

Have a go at the games below to see how well you can classify different types of communication.

1

Group characteristics

Which of the following would NOT be a characteristic of an effective group?
2

Wheel communication system

Which of the following describes a 'wheel' communications system?
3

Effective consultation

Which of the following would NOT be an advantage of effective consultation?
2.3 Communication - questions
In this section are a series of questions on the topic - Communication. The questions may include various types of questions. For example:
Self-test questions - on-screen questions that give immediate marking and feedback
Short-answer questions - a series of short-answer questions to help you check your understanding of the topic
Case study - a case study with associated questions
In the news - questions based around a topical business news article




Click on the right arrow at the top or bottom of the page to work through the questions.
Communication - short answer questions

Question 1
Explain the links between the quality of communication and motivation.
Question 2
Explain how an organisation might re-organise in order to improve communication.
Question 3
Explain why might technology not always result in more efficient communication.
Question 4
Outline the main barriers to effective communication.
Question 5
Outline how improved communication skills affect the performance of a business.
Communication - case study

British Airways has long been a famous and world-renowned airline. However, it recently suffered a series of embarrassing and expensive wild cat strikes. These were carried out by members of staff who seldom earn more than £12,000 a year and who work shifts and flexitime. They do the difficult tasks of booking in passengers and handling baggage and other 'behind the scenes' activities that are essential for the smooth running of any business and especially an airline.
Management wanted to introduce a system of introduction of clocking-on swipecards for clocking in at the start and end of a shift and for the calculation of pay. To most members of the public this may have seemed a rather minor issue, but this was not the case with the employees. A distinctly disruptive reaction was immediately shown and within a few hours thousands of passengers had either not got away to their destinations or had left but without any of their baggage. At one time during the dispute over 80,000 individual pieces of luggage were not with their rightful owners.
After several days of discussions between unions and management the card system was put on 'hold' for a while and the employees went back to work. The stoppage cost BA an initial £40 million pounds and the knock-on effects on customer loyalty may take several years to be fully analysed.

Question 1
Examine whether the situation that arose at BA is largely one of poor communication.
Question 2
To what extent, and in what ways, might BA's size have hindered the effective communication of this change in work practice?
Question 3
Discuss whether there is a 'hidden agenda' behind the BA changes.
What is Wikileaks?
Read the article What is Wikileaks? (you can do this in the window below or follow the previous link to read the article in a separate window).
How web video powers global innovation
Watch the talk by Chris Anderson How web video powers global innovation (you can do this in the window below or follow the previous link to read the article in a separate window) and then consider answers to the questions below.

Question 1
Define the term: Information and Communication Technologies (ICT).
Question 2
Explain the growth of video content on the web.
Question 3
Analyse the advantages and disadvantages of video on the web as a source of information and knowledge.
Question 4
To what extent do you believe that the 'Crowd Accelerated Innovation' discussed by Anderson could be used by both profit making and non-profit making organisations?
2.4 Leadership and management - notes
In the previous sections we looked at human resource planning, examined organisational structures and identified and analysed various types and channels of communication. We now move on to look at leadership and motivation, considering the nature of leadership and management.

By the end of this section you should be able to:
Evaluate the effectiveness of various styles of leadership and their implications for organisations

Discuss whether successful leadership in identified situations is the result of natural skills and abilities, or the consequence of the circumstances faced
Apply to given situations the theories of writers such as Likert, Fiedler, Blake and Mouton and Tannenbaum and Schmidt
Explain the key functions of management, applying the theories of writers such as Fayol, Handy and Drucker
Leadership and management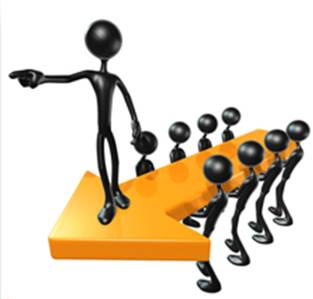 Leadership is exercised not only in the commercial environment, but in virtually every area of life by the primary school head and the prime minister, within the church and the multinational, from the military to the charity. Leadership isn't the exclusive preserve of those at the top - it can be exercised in a myriad of situations. Whatever the environment or organisation, leadership is the art of influencing people so that they do tasks willingly and enthusiastically and more importantly, in an efficient and effective manner. In other words, it is about getting the best from other people. Leadership is vital in inspiring and motivating a workforce. Excellent leadership can see a firm prosper and grow, poor leadership can see it sink and burn!
What is perhaps strange is that it is so difficult to isolate and categorise the key features of leadership and to identify the traits that make for good leaders. Over the centuries and into the modern day, writers and commentators have argued over whether good leaders are born or made, and whether physical skills and traits are more important than intelligence and personality.

The management writer, Warren Bennis identifies four critical aspects of leadership:
Adaptive capacity - For Bennis, this is most essential and central aspect of leadership. It means a sense of resilience and creativity, seizing opportunities and learning to learn.
The capacity to engage followers in shared meaning to align the organisation and its employees around a common, meaningful goal - providing a clear vision of where the organisation is going.
Learning their own voice - Leaders learn how they affect other people and discover emotional intelligence (the capacity to manage one's own emotions and the emotions of others).
A moral compass - Leaders need to develop and maintain a set of principles, a belief system and a set of convictions.
The questions asked by writers on leadership are:
What is the essence of leadership?
What are the characteristics of the effective leader?
Leadership styles

If you would prefer to view this interaction in a new web window, then please follow the link below:
Factors that affect leadership styles
The leader's personality - for many this is set and unlikely to radically alter. So, a dominant individual will tend to be more autocratic than someone who listens carefully to others. If the business wants to change direction, then it will probably have to look for a new leader.
The leader's skills and abilities - much of what a leader can achieve will rest on their ability to illustrate sufficient skill and charisma. Respect and loyalty normally have to be earned and as we have seen in the styles of leadership section different individuals go about achieving these in different ways.
Circumstances - some rise during a crisis, whilst others are better in less chaotic circumstances.
Culture - the ways in which a business is run can also affect what style of leader it works best under. Some prefer a more open, consultative way of doings things, whilst other use a more autocratic way of running affairs.
Task - the nature of the task, such a highly technical one, might also determine who leads and how.
The workforce - if it is prone to laziness or poor standards then a more dictatorial style of leadership may be needed.
Other leadership styles

The IB does not require the SL student to go beyond the identified styles described so far, but you may wish to investigate the following leadership styles:
Bureaucratic
Charismatic
Coercive
Pacesettting
Coaching
Transformative
Trait and situation theory

Situational leadership theory presumes that different styles of leadership will be better in different situations. This implies that leaders need to be flexible enough to adapt their leadership to changing situations.
Trait theory, on the other hand, argues that some individuals are born with traits (personal characteristics) that make them natural leaders. However, these traits will vary from person to person and there is no one particular trait, which on its own, will make a successful leader.
Other leadership writers have their own list of necessary traits. The question is whether these traits are innate or learnt. Warren Bennis argues that the 'born leader' concept is a myth and that leadership skills need to be learned and practised in the same way as any other human skill.
Contingency approach to leadership (Fred Fiedler 1967)
All of the leadership styles identified so far have both strengths and weaknesses. In practice, good managers will vary their style in response to different situations in which they find themselves (Situational Leadership). Good leaders, therefore, are flexible and recognise that no one style can be effective all of the time, even if it has proved to be so in the past.
Fiedler is credited with helping move researchers from concentrating on the traits and personal characteristics of leaders to studying leadership styles and behaviours. Fiedler based his work on observations of leaders in a variety of situations and his analysis of the factors that determined, or contributed to, the success or otherwise of a particular style or approach. Therefore, appropriate leadership style in any situation is dependent, or contingent upon elements unique to that situation.
Fiedler suggested that the appropriate leadership style is contingent upon three main factors:
The characteristics of the leader - whether they are predominantly relationship-driven or task-driven
The situation - the nature of the task such as its difficulty and changeability
The nature of the subordinates - the authority the leader has over them and the level of mutual respect that exists
Fiedler measured leadership style using his 'least preferred co-worker' (LPC) scale, The LPC scale asks a leader to think of all the people with whom they have ever worked and then to describe the person with whom they have worked least well, by reference to a series of bipolar scales of 1 to 8, such as the following:

A high LPC score suggests that the leader has a human relations orientation, while a low LPC score indicates a task orientation. Leaders, who are relationship motivated, tend to describe their least preferred co-workers in a more positive manner. Therefore, they receive higher LPC scores.
This approach may be clearer if you think about your school situation and the leadership style of teachers. When you are young, teachers may appear quite strict and task-oriented. They tend to give more orders and spend more time controlling your behaviour and outlining the task. When the same teacher teaches you for IB, their style is likely to be very different. They know you are willing to learn and are motivated to do so and can be more relationship-oriented. You are now more experienced and need less direction. The style is more relaxed and less directive. Your views are normally requested. The fact that senior classes tend to be smaller in number will also affect the dynamics of the group and the consequent leadership style.
One weakness of Fiedler's approach is that it ignores other factors that influence leadership effectiveness, such as the experience and personality traits of the leader. It is important to remember that individuals cannot always change their natural personality or characteristics. Therefore, even at IB level, some teachers will be more autocratic and some more democratic.
Tannenbaum and Schmidt's leadership model
A criticism of early work on leadership styles is that they show leadership in strictly black and white terms. The autocratic and democratic styles or task-oriented and relationship-oriented styles which they described are extremes, whereas in practice the behaviour of most leaders will be somewhere between the two. Contingency theorists, Robert Tannenbaum and Warren Schmidt (1958, 1973), proposed that leadership behaviour varies along a continuum and that as leaders move away from the autocratic extreme the amount of follower participation and involvement in decision taking increases.
They identified three forces that led to the leader's action: the forces in the situation, the forces in the follower and also forces in the leader. This recognizes that the leader's style is highly variable, and even such distant events as a family argument can lead to the displacement activity of a more aggressive stance in an argument than usual.
They proposed a more detailed approach to defining leadership styles. Their model shows the spectrum of possible styles along a continuum linking autocratic leaders, who tell their staff what to do at one extreme, with those who delegate authority for decision-making to subordinates, at the other. The two extremes represent the ideas characterised by Theory X and Theory Y managers. Managers may move along this continuum as external factors alter and situations change. This is shown in figure 1 below.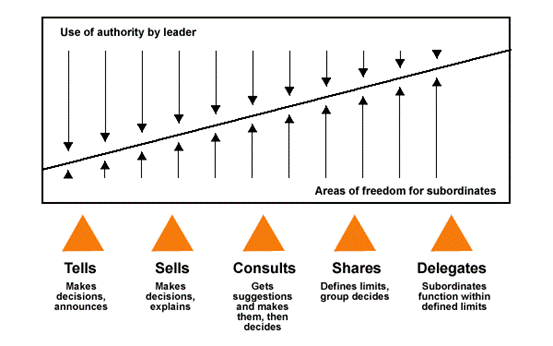 It may seem as if the ideal is a position somewhere between the two extremes, but the truth is that the nature of decision-making an effective leader displays can swing constantly between them.
R. Blake and J. Mouton: The Managerial Grid
It should be clear by now that leadership may be a subtle process and not easily placed in boxes or categories. Some leaders are task-oriented and their focus is getting the job done. Other leaders are people-oriented and thrive in groups; they want their team to be both happy and motivated believing this underpins effective performance. Other leaders exhibit combinations of the two approaches. For fear of repeating the mantra... no one type of leadership style is best for all situations.

If you would prefer to view this interaction in a new web window, then please follow the link below:

Rensis Likert's four management styles (1967)


If you would prefer to view this interaction in a new web window, then please follow the link below:

Difference between leadership and management

The terms leadership and management, like many business terms, are often used interchangeably and in many cases this is unimportant as the terms have clear overlaps. However, there is an important difference between managers and leaders. A manager may be a leader, or a leader may be a manager, but a manager is not necessarily a leader and a leader is not necessarily a manager! Leadership is a specific and difficult task.
Warren Bennis attributes at least 15% of a firm's success directly to its leader, but clearly this leaves the other 85% attributable to other factors - one of which is the quality of the management. Management, like leadership is difficult to define and categorise, which has left the field open for millions of books on the subject. In this section, we will examine some of the more seminal research on the subject. However, as a starting point, we will explore some general differences between the two terms:
The Role of the Manager
Management's function is the effective and efficient deployment of the resources of the firm. A manager is someone who, as a result of appointment to a particular role or position, has legitimate power to carry out that function. Great managers tend to have one thing in common: they possess the ability to turn employee skills and talents into improved performance and the satisfaction of organisational goals. The essence of management is delivering excellent quality and customer service. However, these are measures of management success and outcomes; the real focus of management is transforming employee skills and talents to deliver these outcomes. The coaching instinct is, therefore, a core skill of good managers.
It can be argued that management is more about tactical decisions in an organisation, leaving the vision and strategy to the leader. Management is mostly about processes. Managers establish and/or follow rules and procedures and follow the culture of the organization. This is a simple way to see how leadership is different to management:
The Role of the Leader
Leaders need to win the hearts and minds of their followers to ensure that their vision of the future is understood and followed by everyone. Leadership is mostly about behaviour. It is particularly important at significant change points in the firm's development. When the business is young the founder needs to provide the vision for the organisation and to drive this forward. When large organisations change, leaders need to re-energise the workforce, refocus the vision and set the new strategic direction of the business.
At the core of leadership is an ability to cut through individual differences and focus on common needs. Leadership relies most strongly on less tangible and less measurable things like trust, inspiration, attitude, decision-making, and personal character. Unlike managers, leaders are instigators of change, so they are risk-takers and decision makers. They:
Identify the fundamental elements of an organisation; who it serves and its core strengths
Set the strategic direction of the organisation
Are optimistic, innovative, entrepreneurial and creative
Leadership is centrally concerned with people. The leader focuses on the future and rallies others to this vision. Of course leadership involves decisions and actions relating to all sorts of other things, but leadership is special compared to any other role because of its unique responsibility for people.
Summary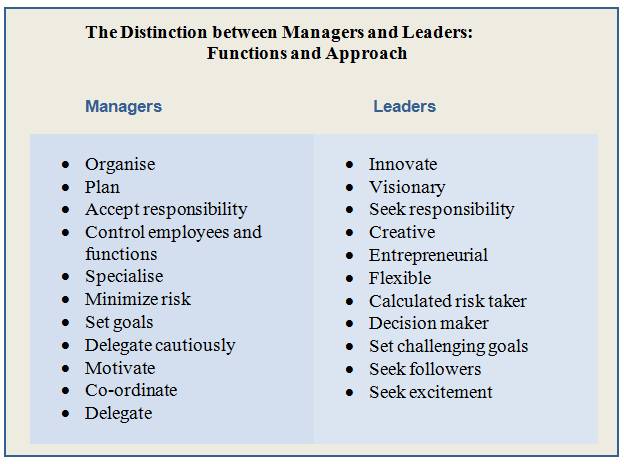 Key functions of management

What do managers do?
They:
Set objectives
Organise how things are to be done
Command, co-ordinate and communicate with others
Develop and motivate employees
Measure and evaluate performance against objectives
They normally show certain qualities, which include:
A vision and sense of direction as to where the business should be going
Innovation and the creation of new ways of doing things
Dedication and commitment
Ability, self-belief and qualities that promote support from others.
Henri Fayol - Functions of management

If you would prefer to view this interaction in a new web window, then please follow the link below:
Fayol believed that effective management was the result of knowledge of the business and the ability to motivate employees and manage resources effectively. He set down 14 principles of management which include:
Division of labour allowing for specialisation and continuous improvement of skills
Authority to carry out the job with a clear downward chain of command
Unity of Command ensuring that every employee knows exactly who their line manager is so facilitating clear channels of communication
Unity of direction where a single mind creates a single plan
Appropriate reward for effort
Centralisation of the management functions to ensure unity of purpose
Equal treatment of all employees to ensure commitment to the organisation and its goals
Esprit de corps through the building of teams and the creation of harmony and shared values
Fayol provided a language to communicate management theory and establish a foundation for management training. However, most of these activities identified by Fayol are task-oriented, rather than people-oriented. His work is often associated with that of Taylor and described as complementary as they both applied scientific techniques to the problems of management.
Fayol's principles describe a vision rather than reality and are based on his own experience not on empirical research. Later studies by Mintzberg and Kotter found that successful managers spend little time carrying out Fayol's activities and rely more on cultivating networks and personal contacts.
Peter Drucker: Management by objectives (MbO)
Peter Drucker is one of the most influential writers on management and is considered as the founder of modern management approaches. Unlike earlier management theorists like Fayol, Drucker saw people as a resource, not a cost, and believed that the workforce should be empowered to create better motivation and customer satisfaction. His research was prolific and he published 33 management books during his working life. His early books made a significant contribution to establishing what constitutes management practice. His later books concentrated on the complexities of management and on themes of change, uncertainty and turbulence post 1980.
Part of Drucker's success was his ability to identify and write about business trends before others recognised them and to make accurate forecasts about organisational change. For example, in Managing in Turbulent Times (1980), Drucker analysed the rise of the 'knowledge worker' who should be allowed freedom by managers to develop their skills and expertise. He wrote
The Practice of Management was Drucker's second book on management and it established his reputation as a great management thinker. In the book, Drucker states that there is only one valid purpose for the existence of management: that is to create a customer. It is the customer who pays and decides what is important. The book, later updated, identified key tasks of management. The manager must be able to:
manage by objectives
allow risk taking at all levels of the organisation
make strategic decisions and organise tasks and people
build teams and measure performance against organisational objectives
communicate information quickly and clearly and motivate employees to gain participation and commitment
see the business as a whole and integrate his or her function within it
to relate the product and industry to the external environment and see economic, political and social developments on a global scale
The Practice of Management is probably best remembered for setting out the principles of 'management by objectives and self control' based on Drucker's work at General Electric. Management by Objectives (MBO) refers to the process of managers and employees agreeing on objectives for the organisation, which Drucker considered to be the only effective way of delegating authority in a large organisation. Drucker urged that targets should be agreed after discussion, not imposed from above. This ensures employees understand and are committed to the organisation's objectives.
Drucker argued that a business survives on profit and that corporate goals should be built according to this. He thought that the work of Taylor played a seminal role, identifying, as it did, that work could be broken down, measured and improved. Drucker's belief that targets for performance must be specific and quantifiable led him to develop the concept of SMART objectives.
SMART objectives

If you would prefer to view this interaction in a new web window, then please follow the link below:
Charles Handy
Charles Handy is one of the great management thinkers. We have already considered some of his work earlier in this topic, when we examined his ideas on flexible workers and the Shamrock organisation.
Handy believes that it is not a valuable activity to try to define management, but it is more meaningful to examine what they do. Handy wants managers to think like leaders and believes they can.

Exam tips
Leadership and management styles - exam tips

Always try to think about examples of each and be prepared to discuss WHY you would favour one style as against another. Also, be prepared to accept that just one style may not suit a company and that a mixture might be the best decision.
Think WHAT it is that affects the style of leadership adopted by a firm. It might be influenced by:
The corporate culture of the business
The type of task being undertaken
What skills are available to you and also the type of labour that needs to be led
The skills and personality of the appointed leader
The management structure and the span of control
What is needed to be done and what others would like to be done - they are often NOT the same.
Always look at the TASK being undertaken, remember leaders are not there to be popular. Study the case material to understand the PERSONALITY of the leader and see how long they have been with the firm. Always be aware of the owner-founder, or newly arrived university graduate - they tend to have styles that might not be greatly admired by some members of the workforce.
Exam skills
When ANALYSING you will be asked to apply a certain style to a particular situation. Look out for a clash of personalities or company cultures (say after a takeover or merger). Look at the NATURE of the market in which the business operates. Creative people seldom like authoritative leadership, whilst a more repetitive task might require more stick than carrot.
When EVALUATING remember what we said earlier and note that most styles are both original and somewhat organic. They seldom fit one classification precisely, some alterations have been made - so you need to say WHY. Also, look for CONSTRAINTS, both internal and external. Examiners often make things more complicated. Again you will need to say WHY and WHAT you would do about it. Again look at TASKS, PERSONALITIES and the changes that take place over TIME.
As we have said before always be aware of opportunities to LINK. Seldom is leadership mentioned without motivation, communication and human resource management being in there somewhere as well.
Please do not suggest that the leader should change their personality and go from being autocratic to democratic - it will NOT happen.
2.4 Leadership and management - questions
In this section are a series of questions on the topic - Leadership and management. The questions may include various types of questions. For example:
Self-test questions - on-screen questions that give immediate marking and feedback
Short-answer questions - a series of short-answer questions to help you check your understanding of the topic
Case study - a case study with associated questions
In the news - questions based around a topical business news article




Click on the right arrow at the top or bottom of the page to work through the questions.
The loneliness of management
Read the article Rebecca Jordan: The Boss (you can do this in the window below or follow the previous link to read the article in a separate window) and then consider answers to the questions below.

Question 1
Identify two characteristics of a good manager from the article.
Question 2
Explain the difference between management and leadership.
Question 3
Analyse two key functions of management.
Question 4
To what extent will a good manager also be a good leader?
Genghis Khan style management
Read the article Guide to management, the Genghis Khan way (you can do this in the window below or follow the previous link to read the article in a separate window) and then consider answers to the questions below.

Question 1
Describe the measures available to a firm to measure its quality of management.
Question 2
Using examples from the article, explain the persistence of poor management.
Question 3
Assess which of the management techniques used by Genghis Khan would be appropriate to help improve the quality of management.
Question 4
Discuss the problems that a firm may face in trying to measure the quality of management accurately.
Professionalizing Family Businesses
Read the article Professionalizing Family Businesses (you can do this in the window below or follow the previous link to read the article in a separate window) and then consider answers to the questions below.

Question 1
Define the terms:
Culture clash
Strategic planning
Question 2
Explain what is meant by professionalizing a family business.
Question 3
Analyse why the process of professionalization may cause conflict between family members.
Question 4
Evaluate strategies that family firms could adopt to improve their quality of management.
Management by objectives
The news
Management by Objectives is still alive and kicking?
Management by Objectives (MbO) is almost not a theory anymore, to hear many managers talk. It has become accepted as the only way to manage. In fact, what is taken to be MbO in most companies, is a very watered down version of what was once put forward as the ultimate break-through in running organisations.
The idea that clear objectives could be set and agreed, monitored, trained for, measured and rewarded seemed to bring together both the classical school of management (measurement, process - Taylor and others) and the human relations school (involvement, enrichment - Herzberg and others). Whatever its benefits it seemed to become out of date.
However, George Obidone, one of the most astute users and critics of MbO, now holds that it is applicable mainly to those jobs which can be measured in numerical outputs - profit, sales figures and so on. Even then, the best sales people argue that it is easy to get good sales figures for one year. It is developing relationships with customers so that one can repeat them year over year that matters. Like many aspects of management, the applicability of MbO depends upon the situation.
MbO is essentially top down. That is to say, the objectives are set, even when agreed, by a boss and a subordinate, so that the subordinate knows what to do. The boss's job is either to set the objectives or at least to ensure that they are consistent with the objectives of the team, his or her own jobs, the department and company at large.
The theory
MbO aims to increase organisational performance by aligning goals and subordinate objectives throughout the organisation. Ideally, employees get strong input to identifying their objectives, timelines for completion etc. MbO includes ongoing tracking and feedback in the process to reach objectives. Follow the link below to see more detail on objectives.

Questions
What is meant by the term 'management by objectives'?
Outline the main characteristics of effective objectives.
Explain the process for the setting of objectives.
Examine whether there is a connection between management by objectives and other forms of encouraging employees.
Leadership styles - short answer questions

Question 1
Outline the characteristics of an autocratic leadership style.
Question 2
Identify the style of a democratic leader.
Question 3
Explain the differences between a Theory X worker and a Y worker as described by McGregor.
Question 4
Examine the factors which determine a leadership style.
Question 5
Analyse the reasons why it is difficult for a leader to change their existing leadership style.
Leadership and management styles - case study

Is everyone now a player manager?
Though this term is normally associated with sport and especially football it is beginning to become common parlance in the world of business. With leaner management systems now the norm and with employees being developed to have highly valued skills the day of the 'manager' might be numbered.
Those with the skills to perform specialist functions within a business are also expected to acquire the ability to manage. What are being called 'player managers' are having to perform both their production-based responsibilities and illustrate management capabilities as well. With time constraints and the need to put shareholder value at the top of their list of priorities many are adopting an autocratic style. They might want to be consultative, but time simply won't allow it.
Within an increasing number of organisations the move is for groups of 'knowledge workers' to be responsible to a player manager. Perhaps one day they will be left alone to manage their own affairs?

Question 1
Explain the term 'consultative'.
Question 2
Analyse the reasons why the consultative style may be giving way to a more autocratic way of managing.
Question 3
Discuss the benefits that might arise from adopting more team-based ways of working.
2.5 Motivation - notes
Introduction
In the previous sections we looked at human resource planning, examined organisational structures, identified and analysed various types and channels of communication and considered the nature of leadership and management. In this section we will analyse and evaluate the various techniques employed by managers to motivate individuals and teams.

By the end of this section you should be able to:
Analyse the intrinsic ad extrinsic needs that have to be satisfied at work and the rewards that motivate individuals in given situations
Evaluate alternative financial reward packages and the impact of these on job satisfaction, motivation and productivity
Explain how non-financial rewards can affect job satisfaction, motivation and productivity

Apply the content theories of Mayo and McClelland
Analyse the effect of thought processes and expectations on individual motivation
Apply the theories of writers such as Vroom and Adams
Evaluate alternative methods of non-financial rewards in different circumstances in the workplace.
Motivation
A crucial role of management is to motivate and develop their workforce to ensure that they are as productive and creative as possible. Professor Herzberg defined motivation as:
Motivation is what influences individuals to behave in a certain way and combined with individual skill and ability results in performance. Motivation helps people:
achieve their goals
gain a positive perspective on their private and working lives
create the power to change
manage their own development
build self esteem and positive self-esteem
Motivation can be classified as intrinsic or extrinsic. Employees are usually motivated by a combination of both intrinsic and extrinsic motivation
Intrinsic Motivation
Intrinsic motivation comes from within the person themselves. People engage in an activity because they receive satisfaction from it, not because they are rewarded for doing it or punished for not doing it. Employees may be intrinsically motivated if:
the job is challenging, stimulating and interesting
they can see the result of their efforts
they can control the way they work
they see that their work helps others
Extrinsic motivation
Extrinsic motivation comes from outside of the person. Good performance is rewarded with benefits and/or recognition. Pay and bonuses are obvious examples of rewards and may compensate for any lack of satisfaction from the work itself. Extrinsic motivation may not be positive, it may also be the result of threats such as redundancy or reduced rewards.
Motivational theories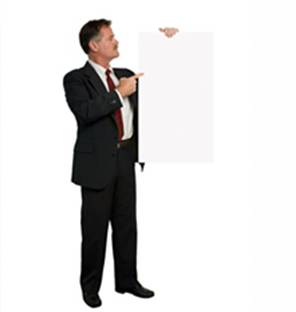 The art of getting people to work well and consistently is a difficult one to get right. We are all the result of genes, ethics, values and other factors that make us difficult to predict. Directing the actions of others is not a simple process.
A theory of motivation is a general explanation of human behaviour which seeks to explain why human beings respond to stimuli in particular ways. These theories may be developed by reasoning (deduction) or empirically (by experiment).
There are two basic types of motivation theory:
Content theories - what is it that motivates people?
Process theories - how do you motivate another person?
Motivation theories - A timeline

If you would prefer to view this interaction in a new web window, then please follow the link below:
Content theories
Content theories focus on what motivates people, namely a need that must be satisfied, which is either intrinsic or extrinsic.
Frederick Winslow Taylor: Scientific Management.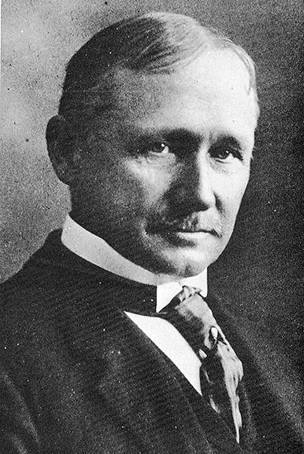 The prosperity of a country depends upon its productivity; how it uses its manpower, land, machines, raw materials and other resource effectively. However, no one had considered analysing human beings at work until Frederick Winslow Taylor (1856 - 1917). Taylor was an American engineer who sought to improve industrial efficiency. He qualified as an engineer and his first attempt at reorganising management was at the Bethlehem Steel Company.
Taylor's god was efficiency. Even as a young man he redesigned the tennis racket and used it to win the national championship. Taylor's seminal work, the Principles of Scientific Management was published six years before his death. In this publication he put forward his ideas of 'scientific management' (sometimes called 'Taylorism'). Scientific management means rigorous analysis of input, output and costs. It demands meticulous planning and systematic execution. There are four overriding principles to scientific management:
Each part of a job should be analysed scientifically and the most efficient method of achieving it is devised
The most suitable person to undertake the job is selected and is taught to do the job in the exact way devised
Managers should cooperate with workers to ensure the job is done in a scientific way
There is a clear 'division' of work and responsibility between management and workforce
Taylor equated men with machines, to be made efficient by removing unnecessary or wasted effort. He described workers as "machines with the shadowy entity of a mind attached". Machines work best when well-maintained and lubricated. Workers, therefore, should be provided with good working conditions and rewarded for higher performance. Reflecting the attitudes of his day, Taylor had a low opinion of the quality of the workers, believing they were inherently lazy and only motivated by money and greed.
Taylor's arguments began from his observation that, in general, workers in repetitive jobs work at the slowest rate that goes unpunished. He believed this slow rate of work (which he called "soldiering", but might nowadays be termed "loafing"), was a combination of the laziness of people and the observation that, when paid the same amount, workers will tend to do the amount of work of the slowest. He thought workers were innately unintelligent.
When one worker suggested changes to the pre-planned method of doing a job, Taylor told him that he was not asked to think, that there were others paid to do that work. As can be imagined, he was neither popular with workers, nor with other managers, who were threatened by his approach, as it challenged the way they managed.
He argued that a scientific approach to all work will improve efficiency. Taylorism is often mentioned along with Fordism, because it is associated with mass production methods and the division of labour in manufacturing factories. Scientific management relies upon time and motion study to find the "one best method" to achieve a goal, i.e., one that requires no unnecessary movements and that if it was taught to workers, productivity would increase. Taylor began the process by creating a control group and observing the behaviour of the group over an extended period.
Taylor introduced many concepts that were not widely accepted at the time. For example, he decided that the working day should include rest breaks so that the worker can recover from fatigue. Today's army uses it during forced marches - the soldiers are ordered to take a break of 10 minutes for every hour of marching. This allows for a much longer forced march than continuous walking.
Whilst Taylor's principles have logic and are still used today to improve efficiency, many strict applications of scientific management fail to account for two problems:
individual differences: the most efficient way of working for one person may be inefficient for another
the fact that the economic interests of workers and management are rarely identical, so that both the measurement processes and the retraining are opposed by the workforce.
Taylor's approach ignores the complications introduced because workers are necessarily human: personal needs, interpersonal difficulties, and the very real difficulties introduced by making jobs so efficient that workers have no time to relax. As a result, workers worked harder, but became dissatisfied with the work environment. Some have argued that this discounting of worker personalities led to the rise of trade unions.
Abraham Maslow: Hierarchy of Needs
Early classical management theorists such as Taylor saw humans as rational economic animals, motivated by extrinsic reward such as money. The rational approach, therefore, was to link reward to output. If the reward was increased, output would also increase. This simplistic view was challenged later by theorists who became classified as the Human Relations School.
Maslow was a social psychologist who was interested in the influences on human behaviour in the widest sense, not just in the work environment. His hypothesis was that unsatisfied needs act as motivators. He argued that humans are influenced by a series of needs, some biological and others less tangible. It must be remembered that for Maslow it is possible to satisfy needs both in the workplace and outside. This means that employers must have a holistic approach to motivation recognising that motivation may come from a satisfactory work/life balance.

If you would prefer to view this interaction in a new web window, then please follow the link below:
However, Maslow's ideas have been criticised:
Do all humans have the same needs?
People often place different importance on different needs. Do people have different degrees of needs? Some will long for power; others for security. A good manager will recognise the differing needs of employees
People move through the hierarchy at different rates
It is possible to experience several needs together
Money may be used to purchase higher order needs like ego possessions
Can anybody's needs be fully satisfied? Should the top of the hierarchy be open, suggesting limitless desire for achievement?
Herzberg: Motivation-Hygiene or 'two factor' theory
Frederick Herzberg's celebrated theory was developed in his book Work and Nature of Man [1966]. Herzberg recognised Maslow's analysis and developed it further. His hypothesis is that removing factors causing dissatisfaction in the workplace, does not automatically cause satisfaction. He believes that employers need to seek out factors which positively increase satisfaction. His work developed out of research he conducted in the 1950s with two hundred engineers and accountants. He asked the two groups the simple question:
An analysis of their replies showed that their feelings or satisfaction had something to do with the work itself, such as times they solved problems or when their contribution was appreciated. Their satisfaction did not stem from extrinsic factors such as an increase in salary or promotion. These things were easily forgotten, but achievements in work remained. From his experiment, Herzberg postulated that humans have two sets of needs:
Lower level needs as an animal to avoid pain and deprivation
Higher level needs as a human being to grow psychologically
These needs have to be satisfied at work as much as in any other sphere of life.
As we can see from the two definitions above the first group of factors are hygiene factors, which focus on salary, security, working conditions and general company policy towards employees. Such conditions might remove dissatisfaction, but they will not improve staff morale and motivation.
The second group of factors is known as motivators or growth factors centre on recognition, responsibility, the nature of the work (e.g. health professionals) and opportunities for promotion. It is by improving these that motivation is increased.
These two factors are summarised in figure 2 below.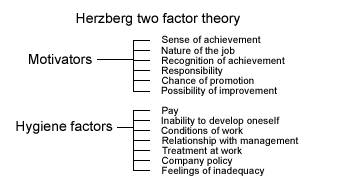 The combination of hygiene and motivation factors can result in four conditions:
High Hygiene / High Motivation: The ideal situation where employees are highly motivated and have few complaints.
High Hygiene / Low Motivation: Employees have few complaints, but are not highly motivated.
Low Hygiene / High Motivation: Employees are motivated but have many complaints. The job is exciting and challenging, but salaries and work conditions are not acceptable.
Low Hygiene / Low Motivation: The worst situation where employees are unmotivated and have many complaints about their working conditions.
Herzberg replicated his findings in several other investigations in several countries, such as Japan and Russia. Most of Herzberg's research is uncontested in a general sense, but there is still debate on the role of salary, which appears to be in both groups. Herzberg placed it as a hygiene factor, however salary appears to be a short-term, but not long-term motivator.
Herzberg's work had an impact on reward systems with firms moving away from payment-by-results systems. As people work better when the work is intrinsically interesting, work should provide the opportunity for psychological growth. To improve performance, employers should provide the opportunity for job enrichment, job enlargement and job rotation - all concepts introduced by Herzberg.
Douglas McGregor: Theory X and Theory Y
In 1960, Douglas McGregor published the Human Side of Enterprise. In this work he attempted to apply the implications of the work of Maslow, Taylor and Herzberg to what businesses do. He contrasted two sets of assumptions about employee's attitudes to work and responsibility. He argued that mangers fall into two categories: they are either Theory X or Theory Y.
Theory X
Theory X managers believe that employees are essentially lazy, work just for money and depict 'the economic man' characteristics of Taylor's scientific management. If this is the case then they need to be strictly controlled (using a more dictatorial or autocratic style of leadership). Theory X managers categorise employees as:
Lazy and dislike work
Motivated mainly by money
Lacking ambition
Selfish - their own needs are more important than those of the organisation
In need of close control by management
McGregor feels that the Theory X approach is incorrect and misleading with negative consequences for the organisation. Acceptance of the Theory X view of workers leads to:
Autocratic leadership
Traditional tall organisation structures with narrow spans of control
Centralisation of decision making
Scientific management and standardisation
A stress on extrinsic factors of motivation
Theory Y
In contrast to Theory X, Theory Y managers believe employees are motivated by the higher level needs on Maslow's hierarchy. They essentially enjoy work and are committed and enjoy responsibility. Theory Y managers categorise employees as:
Well motivated and enjoy work
Able to take responsibility and organise themselves
Creative in the right working environment
Independent and flexible
If managers accept Theory Y then this is likely to result in:
More democratic leadership styles
More flexible organisation structures
A willingness to accept decentralised organisation and decision making
A stress on intrinsic factors of motivation

William Ouchi: Theory Z
Professor William Ouchi (1981) developed the concept of 'Theory Z', blending Japanese and American approaches to management. McGregor gave us Theory X and Theory Y. In Theory Z, Ouchi claims that it is irrelevant to classify people independent of their working environment. People change their priorities based on the situation in which they find themselves.
The central assumption of the theory is that workers should find the meaning of their lives in work. Corporations are the central unit of society and should take responsibility for employees' happiness. For employees, they wish their productive time to be rewarding and want to contribute to the success of whatever enterprise, which they may be associated. In practice, in the US, this approach translated into lots of benefits that allow workers to work longer hours!

Mayo and McClelland
Elton Mayo: The Hawthorne Studies
Elton Mayo was the founder of the Human Relations Movement. Mayo was initially a believer in F W Taylor's scientific management and indeed had been lectured by Taylor. He was asked to look at poor productivity at the Hawthorne Works of the Western Electric Company in Chicago.
Hawthorne Experiment
These studies were carried out between 1924 and 1932 at a factory called the Hawthorne Works. The plant was owned and operated by Western Electric Company in Chicago in the United States. At its height, the plant employed 45,000 workers.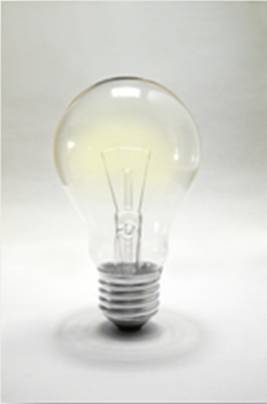 Following Taylor's scientific management approach, Mayo and his team of researchers took a group of six women of the main factory as a control group and to allow easier observation. He tested his hypothesis that working conditions significantly affect the motivation of the workforce. He believed that the poor productivity must be the result of the environment, such as noise or poor lighting conditions. Starting with lighting conditions, Mayo and his team altered conditions of work in a number of ways over a five year period, and observed the effects on production and the morale of the control group. Over the period, changes such as new payment systems, rest breaks of different sorts and lengths, varying the length of the working day, and offering food and refreshments were tried. In almost all cases, productivity improved.
At the end of the experiment, Mayo felt that he had proven his point and closed it down, returning the women to their original conditions, a six day week, with long hours and no rest breaks or refreshments. Surprisingly, productivity in the group rose to their highest levels and Mayo had to rethink his conclusions. This effect became known as the 'Hawthorne Effect'.
He questioned the women and discovered that they:
felt important because they had been singled out for attention.
had developed good relationships amongst each other, which often extended outside of the workplace - they formed a close working group.
felt empowered as they had been allowed to set their own work patterns.
believed their relationships made for a much more pleasant working environment, which included the fact that the researchers were prepared to answer their questions.
Mayo decided that work satisfaction must depend, to a large extent, upon the informal social relationships between workers in a group and upon the social relationships between workers and their bosses. Classical theory had focused exclusively on the organisation structure and the formal relationships that existed. Mayo focused on the informal organisation that developed out of the interactions between individuals. He concluded that the power of the working group (both formal and informal) should never be underestimated.
David McClelland
Over the years behavioural scientists have observed that some people have an intense need to achieve; others, perhaps the majority, do not seem to be as concerned about achievement. This phenomenon fascinated David McClelland and for over twenty years he and his associates at Harvard University studied this urge to achieve. He was concerned more with differences between individuals than understanding common factors in motivations.
McClelland's research led him to believe that the need for achievement is a distinct human motive that can be distinguished from other needs. More important, the achievement motive can be isolated and assessed in any group. He developed a content theory of motivation based around people's needs. He identified three needs that influenced motivation:
Achievement (N-Ach) - the n-ach person is motivated primarily by achievement and is therefore looking for realistic goals and targets that they can achieve. They will be strongly motivated by a desire to progress and be promoted within the organisation. McClelland argued that n-ach is not inherited, but is determined by environmental influences. People with a high n-ach are likely to have a low level of n-aff.
Affiliation (N-Aff) - the affiliation motivated person is driven by a need for social relationships and is driven by their interaction with other people. People with a high level of n-aff are likely to be good team players.
Authority and power (N-Pow) - people with a high need for authority and power are very driven by status. They want to lead and will want their ideas to prevail. They are likely to be motivated by personal status and prestige.
The dominance of any of these needs influences the behaviour of the individual. N-Ach is a key feature of human motivation and is developed by environmental factors such as parents, schooling and peer groups. Management, therefore, can foster high achievement motivation through appropriate training programmes.
People with high achievement motivation are interested in excellence for its own sake, rather than for rewards such as money, prestige or power. Achievement gives them a sense of intense inner satisfaction and fulfilment.
High achievement-motivated people have certain shared characteristics including;
the capacity to set challenging personal, but obtainable goals,
the concern for personal achievement rather than the rewards of success
the desire for job-relevant feedback (how well am I doing?) rather than for attitudinal feedback (how well do you like me?).
Achievement-motivated people as managers
Achievement-motivated people can be the backbone of most organisations, because as individuals they get things done.
However, when they are promoted, when their success depends not only on their own work but on the activities of others, they may be less effective. Since they are highly job-oriented and work to their capacity, they tend to expect others to do the same. As a result, they sometimes lack the human skills and patience necessary for being effective managers of people who are competent, but have a higher need for affiliation than they do. In this situation, their overemphasis on producing frustrates these people and prevents them from maximizing their own potential.
Thus, while achievement-motivated people are needed in organizations, they do not always make the best managers, unless they also develop their human skills.
McClelland's concept of achievement motivation is also related to Herzberg's motivation-hygiene theory. People with high achievement motivation tend to be interested in the motivators and are less demotivated by hygiene factors.

Process theories of motivation

We can also have process theories, which are concerned with the thought processes that influence our behaviour. Two such theories can be identified:
Expectancy theory
Equity theory
Expectancy theory: Victor Vroom
Expectancy theory is a theory first developed by Victor Vroom in 1964 and later developed by Porter and Lawlor in 1968. This theory states that workers will only act when they have a reasonable expectation that their work will lead to the desired outcome. They need to believe that they possess the necessary ability and skill to achieve the given goal.
Expectancy theory predicts that employees in an organisation will be motivated when they believe that:
putting in more effort will yield better job performance
better job performance will lead to organisational rewards, such as an increase in salary or benefits
these predicted organisational rewards are valued by the employee in question
Vroom suggested that the relationship between people's behaviour at work and their goals was not as simple as was first imagined by other scientists. Vroom realised that an employee's performance is based on individual factors such as personality, skills, knowledge, experience and abilities.
In order to enhance performance managers should use reward systems that tie rewards very closely to performance.
Equity theory: John Stacey Adams
John Stacey Adams, workplace and behavioural psychologist, put forward his Equity Theory on job motivation in 1963. There are similarities with previous theories of Maslow and Herzberg in that the theory acknowledges that subtle and variable factors affect each individual's assessment and perception of their relationship with their work, and their employer.
In this particular model, there is emphasis on 'what is fair and reasonable'. As individuals, we seek a fair balance between what we put into our job and what we get out of it. Adams calls these inputs and outputs. Individuals form perceptions of what constitutes a fair balance or trade of inputs and outputs by comparing their own situation with colleagues, friends and partners in establishing benchmarks and their own responses to them.
Adams used the term 'referent' others to describe the reference points or people with whom we compare our own situation, which is the pivotal part of the theory. Equity theory thus helps explain why pay and conditions alone do not determine motivation. Equity does not depend on our input-to-output ratio alone, but also on comparison between an individual's ratio and the ratio of others.
In practice, this helps to explain why people are so strongly affected by the situations (and views and gossip) of colleagues, friends, partners etc., in establishing their own personal sense of fairness or equity in their work situations.
If employees feel are that inputs are fairly and adequately rewarded by outputs (the fairness benchmark being subjectively perceived from market norms and other comparables references) then they are happy in our work and motivated to continue inputting at the same level.
If they feel that our inputs out-weigh the outputs then they become demotivated in relation to their job and employer and may feel a strong sense of injustice. People respond to this feeling in different ways: generally the extent of demotivation is proportional to the perceived disparity between inputs and expected outputs. Some people reduce effort and application and become inwardly disgruntled, or outwardly difficult, recalcitrant or even disruptive. Other people seek to improve the outputs by making claims or demands for more reward, or seeking an alternative job.

Exam advice - motivation
Exam advice - how might motivation appear in an examination?

The most common scenario that you are likely to confront in an exam question, or case study, will be a drop in morale and often output (both quantitative and qualitative). You will then be asked to put forward ways of solving these problems. Other factors that might appear in a question are:
Increasing levels of absenteeism
Increasing labour turnover
Rising costs of production
Falling productivity
Falling order books
All point to problems with motivation, BUT remember that you will be asked WHY has this happened and WHAT would you do about it. When answering questions on motivation, or problems associated with it, why not think about the following issues:
Has the business got a strong corporate culture and team spirit?
Are the systems for deciding on pay and fringe benefits considered to be fair?
Do the majority of workers feel that their jobs are challenging and satisfying?
Could the decision-making process be taken further down the organisation? If so, where and why?
Is management giving enough recognition, praise etc. to employees for their efforts and achievements?
Are communication flows as effective as they could be?
What to include when answering questions about motivation
Empowerment and the modern approach of giving more workers some control over their working environment. This autonomy could improve motivation and with it quality and other problems listed above. If the quality of output improves, then the value of the output should also rise. That should make the company more competitive.
You might also want to suggest the benefits of team or group work. This enshrines some of the older working practices that were once used - such as job rotation, enrichment and some delegation of tasks.
You must never forget to look and see if simple financial rewards might help boost motivation. Whatever the task being undertaken some increased reward have a positive impact, although you need to consider whether this is practical given the firm's existing financial position.
You will also need to think about financial and non-financial incentives and re-visit the motivation theorists.
Exam skills
When they set questions, examiners are looking to test particular skills and below we look at some of these skills and how they may be tested in a question on motivation.
Application
Application means selecting what is relevant to the questions asked and not the chance to LIST everything you know about every one of the above motivation theorists!
Analysis
LINKS with other areas of the course are important here. Explain WHY you would suggest a certain theory and WHAT are the advantages and disadvantages, costs and benefits, to the company being discussed. Remember that happy people are more than just well paid individuals. Think what makes you work hard and why. It can be as simple as having a nice chat with someone. However, also be aware that happy people are NOT always productive - they may be satisfied and content, because there is little pressure on them to perform. As in all things, the response should be BALANCED andrelated to the CONTEXT given.
Evaluation
Evaluation is about reaching supported conclusions using the evidence you have gathered and presented, and applying relevant business theory.
This is when our old friend TIME might enter the equation. Things do change and what was once the best way of doing something no longer is. Also, always look for hints about past EXPERIENCES and how these impact on people today and tomorrow.
An essential requirement, when asked to evaluate, is that you reach SUPPORTED and BALANCED CONCLUSIONS and JUDGMENTS. You will need to find evidence from your analysis - data, trends, theories that support your JUDGMENTS. Always examine BOTH sides to an argument or proposition and illustrate why one side is stronger than the other.
If you can combine all of these skills and keep one eye firmly on the fact that most of us are complex beasts and react to a range of different incentives then you should do well. Oh, and always look for useful examples hidden in the text.

So, think about the following as you work on this very important part of your course:
Can I link the various theories together to show how thinking on motivation has evolved?
Can I set them in context?
Is it only money that increases job satisfaction?
Where else, and how else, do people gain satisfaction within their lives?
Does a 'one size' approach to motivation fit all workers?
How do changing circumstances affect motivation within the workplace?
Does personality, experience and other attitudes, such as leadership style influence the success or otherwise of motivation theories and their application?
Can I set motivation in a wider context and include other factors that now influence people in their place of work, e.g. the role of women or the changes in contracts?
If you practice putting motivation into certain contexts and thinking about how you would react to changing circumstances, then you are following the best revision route to what will appear in your examinations.
Motivation in practice
Employee Rewards is a broader concept than pay. It is a portfolio of financial and non-financial benefits that provide a competitive package to motivate staff, increase job satisfaction and therefore improve retention and performance.
Employee reward is the combination of elements:
Basic pay expressed as an annual salary, weekly wage or an hourly pay rate
Additions to basic pay which take many forms, such as bonuses, performance related pay and sales commission.
Employee benefits such as pension, health insurance, company car which form a source of indirect pay
Non financial rewards which are designed to focus on human needs such as recognition, responsibility, personal development and opportunities for achievement.
It is from the combination of rewards that flexibility can be established.
Motivation in Practice: Financial motivation
In this section we will examine a range of financial rewards available to firms. The combination of a firm's pay structure is designed to:
Ensure the ability to recruit in a competitive market
Ensure a balance between costs and the value of sales revenue
Motivate employees to improve performance by providing a system that is fair, transparent and linked to contribution
Pay and salary strategy should be determined at the highest level of an organisation and should reflect the organisation's mission and culture. The structure needs to be reviewed regularly as part of workforce planning, because the external environment is constantly changing. What might have been a competitive salary in the past may no longer be so and staff shortages may be the result of maintaining this level. In addition, firms must review the pattern of differentials between jobs (the difference between wage grades across an organisation) to ensure that all grades receive returns that reflect their efforts and the value of their output. Salaries and wages should be part of job evaluation and reflect any changes in job descriptions.
Methods of payment

If you would prefer to view this interaction in a new web window, then please follow the link below:
Motivation in practice: Non-financial motivation
Non-financial motivation

If you would prefer to view this interaction in a new web window, then please follow the link below:
Team theory
Characteristics of Effective Teams
A number of writers have studied teams, looking for the characteristics that make some successful. Larson and LaFasto looked at high-performance groups as diverse as a championship football team and a heart transplant team and found eight characteristics that are always present. They believe:
The team must have a clear goal.
The team must have a results-driven structure.
The team must have competent team members.
The team must have unified commitment.
The team must have a collaborative climate.
The team must have high standards that are understood by all.
The team must receive external support and encouragement.
The team must have principled leadership.
Larson and LaFasto in Teamwork: What Must Go Right/What Can Go Wrong (Sage Publications 1989).
There are some significant difference between an individual working as part of a group and an individual working as part of a team. Below is a list of the differences that exist between these categories.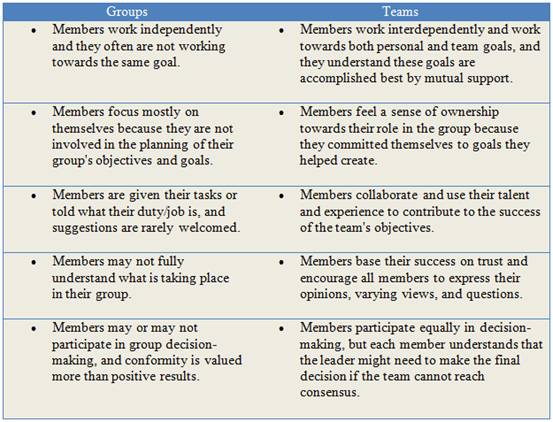 Stages of Team Development

If you would prefer to view this interaction in a new web window, then please follow the link below:
R. Meredith Belbin is acknowledged as the father of team-role theory. He identified eight (later extended to nine) useful roles that are necessary for successful teams. His work gained in significance during the 1980s and 1990s with the widespread adoption of teamworking.
Teamworking is seen as a means of:
Providing greater worker flexibility and co-operation
Helping to achieve cultural shifts within an organisation
Improving problem solving and project management
Tapping the talents of everyone in the organisation.
There are many types of teams including cross-functional teams, top management teams, self-directed teams. Belbin's work concentrated on teams of managers. The essence of his theory developed in Team Roles at Work is that, given knowledge of the abilities and characteristics of individual team members, success or failure can be predicted within certain limits. As a result unsuccessful teams can be improved by training and changing roles.
A Team Role came to be defined as:
Additional forms of non-financial motivation

If you would prefer to view this interaction in a new web window, then please follow the link below:
2.5 Motivation - questions
In this section are a series of questions on the topic - Motivation. The questions may include various types of questions. For example:
Self-test questions - on-screen questions that give immediate marking and feedback
Short-answer questions - a series of short-answer questions to help you check your understanding of the topic
Case study - a case study with associated questions
In the news - questions based around a topical business news article




Click on the right arrow at the top or bottom of the page to work through the questions.
Motivation theory - self-test

1

Self actualisation

Which of the following is a definition of self-actualisation needs?
2

Herzberg - hygiene factors

Which of the following is a precise definition of what Herzberg called hygiene factors?
3

Mayo - motivating factors

Distinguish which of the following is not one of Mayo's motivating factors.
4

F W Taylor theories

What is the name under which F W Taylor's theories are best known?
Motivation & leadership styles - self-test

1

Performance-related pay

Which of the following is the correct definition of performance-related pay?
2

Non-financial motivation methods

Which of the following is NOT a non-financial method of motivation?
3

Motivation

Deciding on whether poor motivation is a factor within a company can be complicated. Of the following which is NOT a way of noting poor motivation within a business?
4

Leadership styles

Autocratic or authoritarian leadership is normally thought to include:
5

Leadership styles

Which of the other factors listed below would NOT influence the style of leadership adopted by a firm?
Motivation and leadership - short answer questions

Question 1
Explain why an increase in labour turnover might be a concern for management.
Question 2
Examine the factors that could cause a fall in labour productivity.
Question 3
Discuss why health and safety issues may become a major problem for management.
Motivational theories

Question 1
Illustrate how Herzberg's ideas differ from those of Maslow.
Question 2
Explain why an employer would use job enlargement or job enrichment to motivate employees.
Question 3
Describe why Mayo considered groups to be influential in the motivation of employees.
Question 4
Explain what is meant by (a) equity theory and (b) expectancy theory.
Question 5
Examine methods to address a motivational problem within a business.
Motivation - case study
'Fat Cats'
Following the recession and the negative roles bank were seen to have played, the media have been full of stories about senior executives earning huge salaries and bonuses even when their companies have appeared to do less well than investors had expected.
A closer look at how some of these 'high-flyers' are paid shows that many are subject to a complicated mixture of PRP schemes, share options and lock-ins. Their actual salary may only form a small part of the total package to which they are entitled. The average earnings of the top directors in the US have now passed $6 million, but in the majority of cases the base salary is barely a quarter of this sum.

Question 1
Outline how a share option differs from PRP and a profit related bonus.
Question 2
Explain why such a large amount of an executives' final pay agreement is linked to performance.
Question 3
Examine the reasons why some shareholder groups and politicians are now questioning such large pay packages for executives.
Question 4
To what extent would you recommend paying executives more in share options and profit related schemes than salary?
Happiness: the key to motivation?
Read the article Happiness: the key to motivation (you can do this in the window below or follow the previous link to read the article in a separate window) and then consider answers to the questions below.

Question 1
Identify three non-financial incentives that the companies mentioned in the article are using to try to motivate their employees.
Question 2
Analyse the advantages and disadvantages of using non-financial incentives as the principal tool to raise levels of motivation.
Question 3
Discuss, with reference to appropriate motivation theory, the extent to which happier employees are more motivated.
Financial bonuses
Read the article John Lewis staff share £151m in bonuses (you can do this in the window below or follow the previous link to read the article in a separate window) and then consider answers to the questions below.

Question 1
Define the terms 'financial incentives' and 'non-financial incentives'.
Question 2
Analyse, with the use of appropriate motivation theory, the impact of the John Lewis bonuses on staff motivation at John Lewis.
Question 3
Evaluate one further financial and one further non-financial incentive that John Lewis could offer their staff.
Professional footballers gain higher wages from their talents
Read the article Professional footballers are able to appropriate the rents from their scarce talent (you can do this in the window below or follow the previous link to read the article in a separate window) and then consider answers to the questions below.

Question 1
Define the terms:
Wages
Performance related pay.
Question 2
Explain the factors that determine the level of wage rates in an industry.
Question 3
Evaluate the impact of financial reward packages on sport's performance, motivation and productivity.
Blackwell hands ownership to employees
Read the article Blackwell book chain owner plans to hand firm over to staff (you can do this in the window below or follow the previous link to read the article in a separate window) and then consider answers to the questions below.

Question 1
Define the terms:
Recession
Co-owned business.
Question 2
Explain the problems that traditional booksellers like Blackwell are experiencing.
Question 3
Evaluate whether moving to a co-owned business model can help address Blackwell's problems.
Motivated not to work?
The news
What motivates us at work?
The Chartered Institute of Personnel and Development's 2009 Absence Management survey, found 56% of organisations use flexible working to manage long-term absence, and 44% use it to manage short-term absence.
The Work Foundation indicate that managers believe that flexible working can stop rising employee absence, by allowing workers the time off to deal with personal emotional and family issues such as stress and childcare, without having to resort to calling in sick.
One-fifth of respondents to the CIPD survey reported seeing an increase in the number of people coming into work ill over the past year, which could be attributed to employees' concerns about losing their job during the recession.
James Baker, a consultant in The Work Foundation's health and wellbeing programme, says: "There are lots of approaches to flexible working that may suit organisations, but not necessarily individual employees. We are seeing some of that in the current recession, where organisations are going to a four-day week, for example."
In practice
Marcia took up homeworking last year. She says: "I've been home working for eight months and it's wonderful. It fits around my children. I'm a lone parent with a teenager and I felt I needed more presence at home. I needed to keep an eye on things. I've also got two young children at school and I'm a school governor as well. I'm able to fit in all my commitments around my work. I work better at home. I now log on to my computer at 7.45am each day, whereas I would have been at my desk at ten. I work harder and longer at home. I also don't shout at the children as much!"
Richard coaches engineers: "I have two children aged five and seven and I'm getting married this year to my partner who also has two children. Childcare issues are incredibly important to me and so flexibility is paramount. I also had a heart attack last year, so I need to keep my stress levels as low as possible. Flexible working means that I don't have to worry about my children, I am not stressed at all in the way I was in the past. I know that I can work at home when I need to. In fact I work harder at home. Flexible working has been brilliant."
Tony is a customer service engineer who now works his full hours over four days. He says: "Working a four-day week allows me to go to my son's school plays and be a proper parent. I win because I get the time off when it's needed and the company benefits because they get engineers in general to work a longer day and complete tasks considered unfeasible in the past."
Source: http://www.theworkfoundation.com/Assets/Docs/Publications/BritishTelecom.pdf

Read the article Health & Wellbeing: Flexible working can reduce staff absence (you can do this in the window below or follow the previous link to read the article in a separate window) and then consider answers to the questions below.
Included in the article is an excellent case study about how Kellogg's deal with absence issues.
The theory
This article considers the area of motivation and you need to be aware of how to use this important topic in the context of the questions asked. First, we need to think about what we should know about the theorists who have tried to put down on paper just how people perform in a work environment. Follow the links below to consider the various motivation theories in more detail.

Motivation questions
Explain why an employer needs to think about the work of Maslow when thinking about the motivation of employees
Outline some of the non-financial incentives the Work Foundation mention in the above extract.
Examine how the adoption of Herzberg's ideas improve employee motivation
To what extent do we over-estimate the importance of financial incentives when motivating employees?
Motivation at M&S
Read the article Guru fires up M&S staff in bid to lift sales (you can do this in the window below or follow the previous link to read the article in a separate window) and then consider answers to the questions below.

Question 1
With reference to the work of Abraham Maslow, assess the likely impact of the M&S motivation sessions carried out by Mary Gober.
Question 2
Discuss the advantages and disadvantages of mass motivation sessions such as those carried out by M&S.
Question 3
Suggest other suitable strategies for M&S to improve motivation.
Job design - short answer questions

Question 1
Explain the advantages of the introduction of teamworking within an organisation.
Question 2
Outline some important features of empowerment.
Question 3
Explain what is meant by goal setting.
Question 4
Outline the advantages to employees of quality circles.
2.5 Motivation - simulations and activities
In this section are a series of simulations and activities on the topic - Motivation.
DragIT - Build Maslow's hierarchy
In the diagram below, drag the labels in to build Maslow's hierarchy. Once you have done that, you may like to try the questions below.

DragIT - Build a Herzberg diagram
In the diagram below, choose whether each item given is a "Motivator" or "Hygiene factor". Drag them into the appropriate place on the diagram and then see if you are correct. Once you have done that, you may like to try the questions below.

TryIT - Human resource management at Maze Green Yachts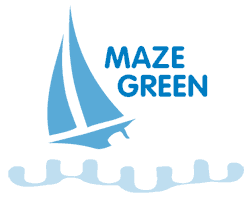 Now that you have considered some of the key issues relating to human resource management, you may like to see how effectively you can motivate staff in a major yachts manufacturer.
In the window below is the Maze Green Yachts online business simulation. In this, you get to see how well you can run a major international yacht manufacturer.
To test how well you can motivate their staff, go to the Maze Green business simulation (you can either do this in the window below or you can open it in a separate window by following the previous link).
In the simulation you can change the levels of pay for the various different staff (administration, production and marketing staff). You can also invest in factory improvements and other capital equipment that will help to create a better working environment and therefore better motivated workforce. Try running the simulation for a few quarters and then consider the following questions.

Question 1
Identify three examples of 'motivators' and 'hygiene factors' (as identified by Herzberg in his two-factor theory) at Maze Green Yachts.
Question 2
Run the simulation for four quarters without increasing the level of wages and salaries at all. What was the impact on productivity of the workforce? Analyse the reasons why.
Question 3
When looking at their pay packets, the staff at Maze Green Yachts, tend to look at the 'real wage'. What is meant by the 'real wage'? Explain the reasons this is more important than their 'money wage'?
Question 4
Run the simulation for four quarters while increasing the amount spent on investment. What impact would you expect this to have on productivity? Did what you expected happen? If not, explain the possible reasons.
Question 5
Analyse the problems that Maze Green Yachts are likely to face if they fail to plan ahead and recruit new staff in advance of increases in demand.
Question 6
Evaluate the most appropriate training strategy for Maze Green Yachts to adopt for training their production staff.
Question 7
Discuss any additional motivational factors that you would like to introduce in addition to those available in the simulation?
2.6 Organisational and corporate cultures - notes (HL only)
Introduction

In the previous sections we looked at human resource planning, examined organisational structures, identified and analysed various types and channels of communication and considered the nature of leadership and management and the motivation methods they employ to motivate individuals and teams. In this section we will describe organisational cultures and explain what influences corporate culture. We will analyse cultural clashes after mergers and leadership styles change.

By the end of this section you should be able to:
Explain the influences on organisational culture
Describe different cultures and explain the influences on organizational culture and analyse the effects of corporate culture on motivation and organizational structures
Analyse the consequences of cultural clashes within and between organizations, for example when organisations merge and leadership styles change.
Organisational and corporate cultures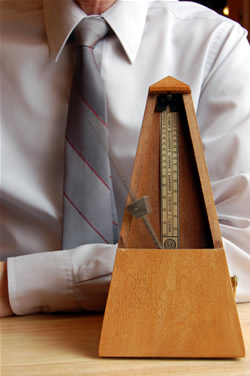 Culture in organisations is often described as the set of values, beliefs and attitudes of both employees and management that helps influence decision-making and guides behaviour. At its most basic, corporate culture describes the personality of an organization, or simply as "how things are done around here." It guides how employees think, act, and feel. Each organisation has a unique culture, which defines how that organisation works. Culture is not static. It can change as personnel do or as the aims and objectives of the firm evolve or the competitive forces in the market alter.
Clearly the style adopted by the management will be highly influential on the culture of an organisation. The strength and longevity of an organisational culture will depend upon the degree of unity of the staff behind the values, beliefs and attitudes of the organisation. A strong culture exists and will endure if it has the backing of those who work for the organisation.
Think about the culture within your own school or college. Where does it come from? Is tradition important? Is the head teacher or principal a driver of new ideas or the protector of older values? Is competition driving change, or are the demands of the curriculum responsible for alterations in the structure of the school or college? How important are the other stakeholders, such as the parents, governors and students? Are all views equally valued or is the culture more autocratic? Is there a student council, and does it have major influence? Will the culture of the school remain even when all the present students leave and a replaced with others; if so, why?

Corporate / organisational culture

The term 'corporate cultures' was introduced by Deal and Kennedy in Corporate Cultures: Rites and Rituals of Corporate Life (1982). Their book received mixed reactions with detractors saying it was a superficial application of the discipline of anthropology to management. However, since this time, the term has become an accepted part of business language and forms a key element of corporate strategy.
A number of studies have been undertaken to identify business culture types. Some are highlighted in figure 1 below.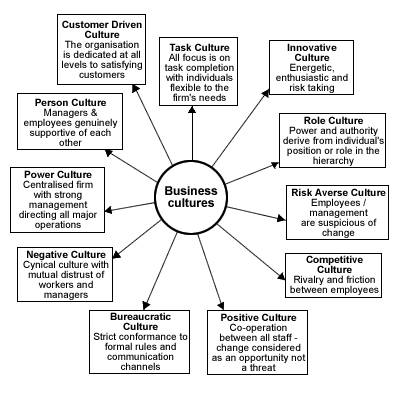 There is normally a clear link between the type of corporate culture and the nature of organisational structures adopted in the firm. A power culture, for instance, requires senior managers to exercise strict control and to operate centralised decision-making. The organisation structure is likely to be tall with small spans of control.
Innovative cultures, and those that promote the role of individuals, are likely to employ flatter hierarchies with individuals within the organisation empowered to take more important decisions and to work on their own initiative.
Clearly there are also links here with motivation, selection and training. It is unlikely that individuals will be able to satisfy their higher order needs, such as their ego or social needs, in an organisation where suspicion and mistrust is endemic. Senior managers may not appoint individuals whom they perceive as long-term threats to their positions or reputations, and it may be the feeling that training is a waste of money when all major decisions are taken at the top anyway. Even more junior employees may accept the status quo when it reduces their responsibilities and where they lack confidence in approaching new tasks. If salaries are low, they may also feel that they are not paid to take important decisions.
Often a certain culture is self-perpetuating, once established. If it is accepted that management are appointed to be in control and, if autocratic management styles are expected, then even individuals newly appointed to management positions, who may not naturally possess this leadership approach may feel pressure to adapt to the demands of their new role.
However, cultures do alter over time. As the external environment changes and markets become more competitive and global, managers are forced to delegate more of their function and authority. 'New blood' brings new ideas and cultural, legal and social changes may demand the corporate culture adapts and grows.
Cultures may also change when organisations merge or when one organisation, is acquired by another. Mergers are often driven by the desire to obtain synergies and economies of scale. However, some mergers, which appear on paper to be 'made in heaven' fail in practice. Reasons often include a clash of management styles and corporate cultures. If one organisation, for instance, with a role culture merges with another with a task culture, there may be problems with expectations and with the operation of teams. Individuals may feel threatened where their traditional authority is challenged, or where they are expected to be more flexible and take on new responsibilities and challenges. What tends to happen in practice is that a new hybrid culture evolves and those who cannot adapt leave the new organisation. Alternatively, the business may crash spectacularly, or the management may feel compelled, for commercial reasons, to separate back into their component organisations.
Charles Handy: Organisational culture

If you would prefer to view this interaction in a new web window, then please follow the link below:
Conflicts inevitably arise when the cultures are mixed in inappropriate ways. For instance Handy describes the situation where newly formed, but quickly expanding enterprises become more Apollonian as they grow, pitting Zeus and the founders' club against a middle management dedicated to preserving order. Athenian organizations also become more rules-based as they grow, alienating employees, who would rather be judged by outcomes on specific projects than evaluated by formal appraisal procedures. Dionysians are often unmanageable by conventional means, such as perks, promotions, or the threat of dismissal; they also prefer to sell their services to a succession of highest bidders rather than accept the apparent security of a stable wage.
Handy believes that success will be found in the triumph of Athens and the formation of the of adaptable, flexible and decentralised organisation that he labelled the shamrock organisation, with the three leaves representing different groups of people with various goals, tasks, and rewards.

2.6 Organisational and corporate cultures - questions

In this section are questions on the topic - Organisational and corporate cultures. The questions may include various types of questions. For example:
Self-test questions - on-screen questions that give immediate marking and feedback
Short-answer questions - a series of short-answer questions to help you check your understanding of the topic
Case study - a case study with associated questions
In the news - questions based around a topical business news article




Click on the right arrow at the top or bottom of the page to work through the questions.
Having a clear cut vision for your business
Read the article Having a clear cut vision for your business (you can do this in the window below or follow the previous link to read the article in a separate window) and then consider answers to the questions below.

Question 1
Define the terms:
labour-intensive
appraisal.
Question 2
Explain what Tom Byng means when he points out that 'it is essential to have a very clear-cut vision for your business'.
Question 3
Analyse the concerns that Bulldog has as it considers expansion into Japan and the US.
Question 4
Discuss the importance and role of recruitment and training in maintaining quality as small restaurants, like Byron and Canteen grow.

2.7 Employer and employee relations - notes (HL only)
Introduction

In the previous sections we looked at human resource planning, examined organisational structures, identified and analysed various types and channels of communication and considered the nature of leadership and management and the motivation methods they employ to motivate individuals and teams. We have described organisational cultures and explained influences on it including mergers and leadership styles changes. In this section we will examine employer and employee relations.

By the end of this section you should be able to:
Analyse the dynamic nature of relationships between employees, employers and their representatives
Examine the methods used by employees and their representatives in pursuit of their objectives
Examine the methods used by employers to put pressure on employees
Evaluate the effect of such actions on the individual employee, employee representatives and the employers
Identify the sources of conflict in the workplace and evaluate alternative approaches to conflict resolution

Employer and employee relations
In this section, we move on to look at the nature of the relationship between employer and employee and the methods used by each group to promote their interests. Employers and employees have the same long-term interest; the success of the business, but each groups has short-term interests that may lead to conflict and jeopardise that success.
Managers need to balance the interests of all the firm's stakeholders, of which employees are only one. In topic one, we discussed the possible conflict situations that may arise between each stakeholder group. The largest cost in any business is usually its labour, so controlling pay levels is necessary for firms wanting to earn high profits to reward their shareholders through higher dividends. However, conflict between employees and management risks these profits, so business success usually comes down to how skilfully employers and employees can negotiate the terms and conditions of employment.

Negotiations and collective bargaining

To negotiate separate agreements between each employer and each employee would be hugely time-consuming and inefficient and possibly result in some unfair outcomes. Agreements made on a collective basis are usually preferred by both sides. Individuals may be in a very weak position negotiating alone, so may seek to act together with others and be represented collectively by intermediaries such as trade unions or agents. Employers are likely to be represented by specialists from the HR department or may band together to negotiate at an industry level.
Samuel Gompers developed its common use during his leadership of the American Federation of Labor. Collective agreements are probably least significant in developing countries that have large labour populations.
There are many subjects for collective bargaining, but the question of pay and conditions is the most central. Negotiations are likely to centre on remuneration including basic pay and other financial rewards, hours of work, working conditions and security of employment.
Trade unions
Trade unions are a form of employee association. They are organisations of employees that are set up to protect and represent their members in their day-to-day work. Their roles may include:
Giving legal advice and representation for their members
Ensuring a safe and secure working environment for their members
Negotiating pay and other employment rights on behalf of their members
Participating in the decision-making process (perhaps through worker representation, Works Councils or other means)
Other possible employee associations include:
Staff associations - these may fulfil some of the roles of trade unions, but are generally internal to the firm. They may therefore represent the employees in negotiations with the firm.
Professional associations - these are also employee associations and are very similar to trade unions, but may represent a particular 'profession'. They may also act a regulatory body for the profession and may perhaps set entry standards for the 'profession'. Professions like accountancy and doctors are often organised in this way.
The nature and structure of trade unions has had to adapt to modern markets, dynamic external environments and social attitudes and changing aspirations of members. Like all corporations, trade unions have grown in recent years through mergers and amalgamations with the purpose of improving their efficiency and increasing their bargaining strength when negotiating with huge conglomerates and multinational companies. However, at the same time negotiations have become more localised and flexible to account for specific local conditions (such as the supply and demand for labour) and for differing costs of living.
Employer associations
In the same way that there are organisations that represent employee's interests, there are collective groups representing employers. These may exist to support employers in lobbying government; they may offer technical support and advice to firms and a range of other services. As with employee associations they exist to further their members' interests.
Employer-employee relations - industrial relations
Employer-employee relations refer to how well employers and employees are getting on and the ways in which they are communicating and inter-relating with each other. Relations tend to be influenced by:
Pay negotiations
Negotiations about other terms and conditions
Involvement of employees in decisions that affect them
The degree of trust that exists between the two parties
How each is represented
The general atmosphere within the organisation

1

Trade union membership

Why might an employee join a trades union?
2

Negotiation

Why have factory or plant-based negotiations increased in recent years?

Achieving individual and group objectives - employees
Methods used by employees to achieve individual and group objectives

Employees are likely to have one, or a combination of the following objectives:
Increased pay rates or protection against pay cuts
Improved employment packages, such as fringe payments
Better working conditions
Increased job security
Better training opportunities
Recognition of trade union rights
Personal protection form harassment at work
Improved communication and greater participation in the decision making process
Protected grievance procedures
Flexible working practices, e.g. flexible working hours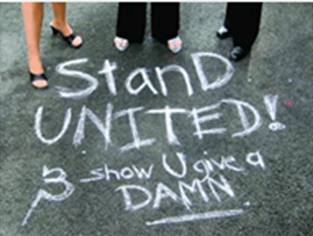 If trade unions or employee representatives are unable to reach agreement with employers in their negotiations, then they may enter into an industrial dispute. In this case, they have a number of sanctions they may use to try to put employers under pressure. These include:
Negotiations - Employees and employers may enter prolonged negotiations on pay and conditions. Employees may be able to put pressure on employers to improve their existing offer, especially if the employees are represented by a trade union or accomplished negotiator, such as an experienced agent. It is rare in any negotiation for either side to put forward their least acceptable position. For example, in a bargaining process, employers will normally offer pay increases below the level that they are prepared to pay. Similarly, trade unions are likely to ask for large improvements in pay and conditions, but be willing to accept lower improvements. Both sides may be prepared to compromise and reach agreement without threats.
Go slow - Employees deliberately use strategies to work slower and reduce productivity and total output. They may do this in a number of ways, such as paying specific attention to every health and safety requirement or simply taking longer over every task.
Work to rule - employees follow exact rules and procedures to the letter. For example, they refuse to undertake any activity not directly specified in their contract of employment and ensure they arrive at work exactly on time and leave immediately their shift is complete. This will also reduce productivity and therefore total production.
Overtime bans - workers refuse to do overtime. In some industries, such as communications, this action may be extremely disruptive as employees frequently work overtime to maintain acceptable levels of service. Once again, this will reduce productivity and therefore total production.
Strikes - Employees fully withdraw their labour and refuse to work. This is usually in response to the breakdown of collective bargaining or to an action by management that is seen as provocative or threatening to the employees' rights. The strike may be for a fixed period (e.g. one-day strikes), rolling (in that there are a sequence of strikes) or full-time until the dispute with the employers is resolved. Strikes are official if sanctioned by the union after consultation with the workforce, or unofficial when a group of employees decides to withdraw their labour without official sanction.

Achieving individual and group objectives - employers
Methods used by employers to achieve individual and group objectives

Employers are likely to have one, or a combination of the following objectives:
Improved levels of productivity
Reductions in the cost base as the result of staff reductions
Lower rates of absenteeism and staff turnover
Job flexibility, such as the willingness of employees to cover for absent colleagues
Reduction in union power and influence
Remuneration linked to performance
Employers often have the advantage of employing highly skilled and specialist staff to conduct negotiations. Their training and development ensures they are up-to-date in their knowledge of employment practices and legislation. They may be able to call on the support of additional specialists, such as employment lawyers, to prevent or delay industrial action by employees if the union has not complied completely with all the legal requirements for calling a strike or initiating other forms of disruptive action.
Employers use some of the following methods to put pressure on employees:
Negotiations - just like employees, employers will seek to maximise their position through the use of skilled negotiation techniques. They may for example, set trade unions deadlines for accepting changes in conditions of employment and threaten unilateral or more draconian action if the deadline is exceeded.
Public relations - Public relations is concerned with gaining public understanding and acceptance and putting forward the firm's position through press releases and media interview. It is also used to counter bad news or negative publicity often by appealing to the general public for their support. When management are in dispute with their workforce and some disruption to services results, it is common for employers to blame employees for the situation through 'official channels'.
Threat of redundancies - It is a common practice for employers to threaten a workforce with compulsory redundancies if they do not agree with management proposals, such as low pay increases or even pay cuts. However, whatever action is threatened, employers need to ensure that it is not in breach of employment law.
Changes of contract - employers may not renew contracts unless employees accept different, and probably inferior, terms and conditions or employment.
Closure - employers may issue an ultimatum to employees that unless they accept the employers' terms or stop industrial action that they will close the business resulting in redundancies. The threat may be one the management are prepared to follow through with or may be an example of brinkmanship.
Lock-outs - This is where employers, rather than employees, prevent work from happening. The employers prevent the employers from entering the premises and conducting their duties. In effect, it is a strike by the management to compel a settlement to a labour dispute on terms favourable to the employer. The lock-out means that employees may not receive any wages.

Conflict

The ability to accomplish goals and objectives depends on the cooperation and assistance of others, which increases the opportunity for conflict. No one person can do the job without the input of someone else. When the other person is late, misunderstands directions, has different priorities or is playing office politics, conflicts are created. The workplace is fertile ground for conflict because of the dynamics and the breadth of relationships that exist.
Conflict can be helpful in making necessary changes within the work environment. However, unresolved or unmanaged conflict can quickly escalate and halt an organisation's progress as people spend time worrying more about conflict than their goals.

Communication is both the cause of and the remedy for conflict. However, communication and conflict resolution skills must be learned. Poor communication drives conflict underground and can create a downward spiral of misunderstanding and hostility. Unresolved conflict can result in feelings of dissatisfaction and unhappiness. It can result in physical or emotional withdrawal, resignation from the job, break down of personal relations, aggression, and even violence.
Sources of conflict

If you would prefer to view this interaction in a new web window, then please follow the link below:
Conflict resolution
Conciliation (mediation) and arbitration
Conciliation and arbitration are methods of resolving collective disputes in industrial relations. If the parties to a dispute cannot solve it alone, they may use the services of an independent mediator. Most countries will have an organisation (often sponsored or supported by government), which will act as an independent conciliators and arbitrator to resolve disputes.
The advantages of conciliation and arbitration are:
Making negotiations less confrontational
Improving communications between the parties
Defusing disagreements as early as possible
Accepting external assistance to solve the dispute
With conciliation, an independent and impartial outsider discusses the issues in dispute with the parties involved. This is sometimes done separately, sometimes together, with a view to coming up with a solution that both can accept. If the parties can be persuaded to meet and talk, they may find a resolution to their dispute. Conciliation is voluntary. Sides to the dispute have to agree to conciliation before it can happen. The conciliator has no power to impose a solution, but aims to assist the parties to reach a settlement of the dispute.
With arbitration the disputing parties agree to the appointment of an independent arbitrator and accept that the arbitrator's decision will be final. Indeed both parties normally accept that the judgment is legally binding and sign a contract to that effect. The arbitrator acts like a judge, listening to the arguments from both sides, accepting written and oral and written evidence and hearing forms of testimony. The following types of arbitration exist:
Binding arbitration: This may be part of a disputes procedure, where the parties have stated that in the event of a failure to agree, they will appoint an arbitrator as a means of settling the dispute.
Compulsory arbitration: This is generally associated with state involvement in dispute settlement. The government may provide that in the case of disputes in certain essential industries, the parties may not take any form of industrial action, but must accept arbitration.
Pendulum arbitration: Here, the arbitrator is restricted to find totally in favour of one of the disputing parties with no option of finding a compromise. An essential hypothesis underpinning this form of arbitration is that, being an "all or nothing" situation, the parties will adopt more realistic positions, rather than setting out a more extreme position. Since the parties should be brought close by this process that they may prefer to settle rather than be seen to lose at arbitration. This form of arbitration is most commonly associated with single union agreements, no-strike agreements and aspects of flexibility.
Unilateral arbitration: This is a mechanism which allows one or other party to request arbitration without there being a requirement that the other party must agree.
Employee participation and industrial democracy
Employee participation is a generic term for all forms of employee involvement in decision-making within an enterprise or institution and is part of empowerment in the workplace.
Individual employees are encouraged to take responsibility for quality in terms of carrying out activities, which meet the requirements of their customers. Employees are trusted to make decisions for themselves and the organisation, which as we have seen from our examination of higher order needs is a key motivational tool.
Employee participation can take many forms:
Project teams or quality circles in which employees work on projects or tasks with considerable responsibility being delegated to the team.
Suggestion schemes where employees are given the opportunity to suggest new ideas and improvements to managers. In return they may receive a reward if their suggestion is adopted and the organisation makes savings. Every year since the 1970s, Toyota has received over a million suggestions from its employees. Over 80% of these ideas were implemented.
Consultation exercises and meetings where employees are encouraged to share ideas.
Delegation of responsibility within the organisation.
Multi-channel decision making processes. In such situations decisions are not only made in a downward direction, they also result from communications upwards, sideways, and in many other directions within the organisation.
Kaizen or continuous improvement programmes.
No-strike deals
Traditionally this term used to describe a collective agreement which specified that industrial action, such as a strike, should not take place unless the disputes procedure had been fully exhausted.
More recently the term has taken on a more literal meaning. A no-strike agreement is now often taken to refer to an agreement which completely rules out the taking of industrial action. In its place there is usually a suggested method of dispute resolution, such as arbitration. Japanese organisations pioneered this approach and 'exported' it when they set up branches and subsidiaries in other countries. Such agreements are still comparatively rare, but there are increasing in number.
Single union agreements
A single-union agreement gives one trade union sole bargaining rights in respect of all employees in an organisation. That trade union is the only one recognised by the employer in question. Procedures such as those relating to discipline and grievance may also be agreed at the same time and may be associated with no-strike agreements.
A single union deal offers managerial advantages in terms of a simplifying collective bargaining because managers only have to negotiate with the representatives of a single union. It also reduces competition between different unions, which can result in demarcation disputes, where unions try to protect their member's jobs by insisting other union members cannot carry out the functions associated with the job.
A number of unions have signed single union deals although competitor unions are often unhappy about loss of actual or potential negotiating rights.

1

Unorganised action

Unorganised action by employees might show itself as all the following EXCEPT:
2

Internal dissatisfaction

A firm facing internal dissatisfaction would probably NOT:

2.7 Employer and employee relations - questions

In this section are a series of questions on the topic - Employer and employee relations. The questions may include various types of questions. For example:
Self-test questions - on-screen questions that give immediate marking and feedback
Short-answer questions - a series of short-answer questions to help you check your understanding of the topic
Case study - a case study with associated questions
In the news - questions based around a topical business news article




Click on the right arrow at the top or bottom of the page to work through the questions.

Employee and employer associations - case study 1


Bolt On Fit exhausts and tyres
Bolt on have a reasonable and growing market share. Profits have been increasing at above the rate of inflation, yet employees have seen their wages pegged. After several weeks of negotiations the employees decided that industrial action was necessary. A strike was threatened and the union agreed to take the action through all the appropriate channels and make any stoppage legal.
Meanwhile a new Human Resources Director had been appointed and he felt that there was still a possibility of stopping a serious industrial dispute from arising.

Question 1
Outline other forms of industrial action that the employees take to make their case for a reasonable wage increase.
Question 2
Analyse methods the new HR Director can use to ease tensions within the organisation and find a solution to the problem.

Employee and employer associations - case study 2


The UK Post Office
The Post Office is the mail delivery company for the UK. They have a monopoly over letter delivery. However, management have recently been in dispute with their workers. The Post Office Workers Union has organised strike action against the level of pay earned by sorting and delivery staff and proposed changes in working conditions and terms of their contracts that may lead to redundancies.
Read the following articles which highlight the issues in the dispute and then answer the questions below:

Question 1
Explain why stakeholder conflicts exist in this dispute.
Question 2
Examine the ways in which those employees who remain with the Post Office will have to change their work practices.
Question 3
Analyse the results of the industrial dispute on both the Post Office and employees and its likely impact on motivation, performance and efficiency.
Question 4
To what extent does the monopoly position of the Post Office affect its relationship with its employees?

Honda dispute in China

Read the article Striking Honda China workers hold out for pay, union
(you can do this in the window below or follow the previous link to read the article in a separate window) and then consider answers to the questions below.

Question 1
Outline the main issues that have led to conflict in Honda factories in China.
Question 2
Explain the concept of just-in-time manufacturing and why " the chain is vulnerable to disruption".
Question 3
Analyse the methods used by Honda's employees in pursuit of their objectives
Question 4
To what extent do the present industrial disputes threaten economic growth in China?

Conflict at the University of NSW, Australia

Read the article Industrial dispute delays uni exam results (you can do this in the window below or follow the previous link to read the article in a separate window) and then consider answers to the questions below.

Question 1
Examine the main sources of conflict at the University of NSW
Question 2
Analyse the potential impact of the conflict on the university's image, operations and effectiveness.
Question 3
Evaluate strategies that the university could adopt to try to reduce the level of conflict.
Women bosses in Norway

Read the article Norway in women bosses ultimatum (you can do this in the window below or follow the previous link to read the article in a separate window) and then consider answers to the questions below.

Question 1
Describe the policies adopted in the country where you live to try to reduce sex discrimination in the workplace.
Question 2
Discuss the advantages and disadvantages of the Norwegian approach to reducing inequality.
Question 3
Evaluate alternative strategies for increasing the participation of women in the workforce.

Age discrimination

Read the article Europeans fear age discrimination: poll (you can do this in the window below or follow the previous link to read the article in a separate window) and then consider answers to the questions below.

Question 1
Identify the main pieces of legislation aimed at reducing age discrimination in the country where you live.
Question 2
Analyse the advantages and disadvantages to a firm of employing a predominantly younger workforce.
Question 3
Evaluate potential government policies to reduce age discrimination.

2.8 Crisis management and contingency planning - notes
Introduction

In the previous sections we looked at human resource planning, examined organisational structures, identified and analysed various types and channels of communication and considered the nature of leadership and management and the motivation methods they employ to motivate individuals and teams. We have described organisational cultures and explained influences on it including mergers and leadership styles changes. We have examined employer and employee relations.

By the end of this section you should be able to:
Explain the differences between crisis management and contingency planning
Evaluate the costs and benefits of contingency planning
Discuss how far it is possible to plan for a crisis
Crisis management and contingency planning
Crisis management is reactive rather than proactive. Managers respond to events, which threaten the business and could even lead to its closure. The managers can do little but minimise the potential damage to the business and it is likely to result in a rather autocratic approach. Every employee including the managers will have to be flexible and to accept that radical measures may be required.
There are three elements are common to most definitions of crisis:
A threat to the organization
The element of surprise
A short decision time.
Crises such as fire, damage to stock, illness of key staff or IT system failure can make it difficult or even impossible to carry out an organisation's normal day-to-day activities. The crisis may see the organisation losing important customers and at its worst, even forced to cease trading.
Crisis management often includes a strong focus on public relations to recover any damage to the organisation's public image and to assure stakeholders that recovery is underway. Unplanned events can have a devastating effect on small businesses.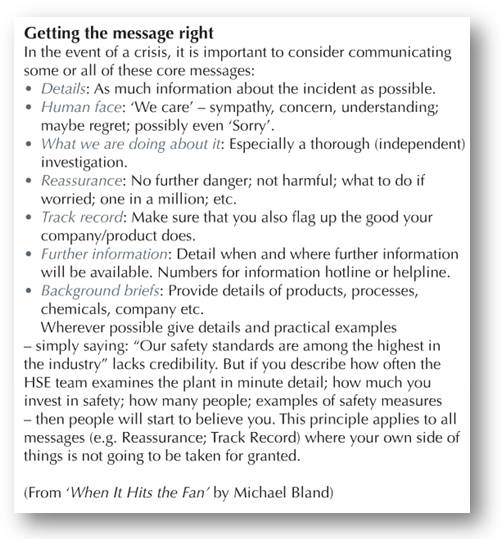 Contingency planning - Crisis management and business continuity planning
Looking to the future can never be accurate. Things may be different to that which is expected. To reduce the risk of encountering a serious shock, firms carry out contingency planning. Contingency planning is a set of procedures applied in handling, containment, and resolution of an emergency in planned and coordinated steps. The organisation questions what might happen, identifies alternatives and examine what effects these may have in resolving the problem or minimising its effects. The purpose of contingency planning is to ensure that an organisation can continue with its activities, which is why contingency planning is often referred to a continuity planning.
Contingency planning prepares for:
predictable and quantifiable situations
situations for which there is advanced notice
unexpected and often unwanted events.
Contingency planning uses simulations and computer models asking 'what happens if' questions. Firms may ask some of the following questions:
What happens if:
sales are more or less than planned?
costs are higher or lower than planned?
salaries and wages are greater or lower than expected?
our computer or energy system fails?
there is a flood or a fire?
...and so on, the list may be endless!
The organisation has contingency plans for as many eventualities as it has examined. Surprises will still occur, but the chances of one occurring are reduced.
Firms need to constantly assess and reassess current methods and assumptions. They have to watch closely what is happening within the firm and outside in the market place and general external environment.

2.8 Crisis management and contingency planning - questions

In this section are a series of questions on the topic - Crisis management and contingency planning. The questions may include various types of questions. For example:
Self-test questions - on-screen questions that give immediate marking and feedback
Short-answer questions - a series of short-answer questions to help you check your understanding of the topic
Case study - a case study with associated questions
In the news - questions based around a topical business news article




Click on the right arrow at the top or bottom of the page to work through the questions.

NI firms urged to plan for swine flu

Read the article NI firms urged to plan for swine flu (you can do this in the window below or follow the previous link to read the article in a separate window) and then consider answers to the questions below.

Question 1
Define the term absenteeism and provide the formula for measuring this.
Question 2
Explain what the difference between crisis management and a continuity (contingency) plan.
Question 3
Using examples from the article, discuss how far it is possible, and necessary, to plan for a flu pandemic.

When disaster strikes

Read the article When disaster strikes ....... (you can do this in the window below or follow the previous link to read the article in a separate window) and then consider answers to the questions below.

Question 1
Define the term 'contingency planning'.
Question 2
Analyse three ways in which business can reduce the risks they face from the external environment.
Question 3
Assess the extent to which technology can help reduce the risks faced by businesses from the external environment.
Question 4
Have a look at the 10 minute assessment of business risk. What are the main risks identified?

Contingency planning

The news
The United States regularly launches simulated radiological and biological attacks on cities to test its disaster preparedness. In 2000, when the domestic terrorism threat was not viewed as a top priority, very few top officials participated in these drills. Since the deadly September 11, 2001 attacks on America, the attention paid to these exercises has taken on a new urgency as cities realise their vulnerability to terror attacks. The exercises are designed to expose any communications and co-ordination problems between federal, state and local officials.
Twenty five federal agencies are now involved in these exercises as well as numerous state and local agencies and departments. Government agencies at all levels have invested more money to improve response time, streamline communications and improve the ability of hospitals to handle a disaster.
The theory
Business likes certainty and tries to plan ahead to reduce risk and uncertainty by as much as it can. However, things do arise that catch any business lacking. Some firms seem to struggle through and practise what is known as crisis management. That might suit some but the majority does try to look ahead and plan for what might happen. To be fair some issues that arise can be predicted with some certainty. The pound sterling will fluctuate on foreign markets and doubtless we will have a water shortage sometime this summer but what of those events that happen with little, if any warning? We can insure against them and though that costs money it does reduce the risks involved in business. Indeed, it is risk analysis and assessment that we are looking at in this part of business studies. Follow the links below to see information on related theoretical topics.

Questions
Describe what is meant by the term 'contingency planning'.
Outline the steps in drawing up a contingency plan.
Examine the advantages to the US government of its decision to increase its preparedness for possible terrorist attacks.
Explain how contingency planning differs from crisis led management.