Efficient allocation of resources
Economists are concerned about the efficiency of markets, and ensuring that resources are allocated efficiently.
Perfect competition is considered to be efficient because:
Supernormal profits are not made by any firm in perfect competition in the long-run.
MC = price, so both parties, suppliers and customers, get exactly what they want.
No wasteful advertising.
Firms are allocatively and productively efficient.
The major assumption behind this analysis and evaluation is that firms cannot produce products cheaper if they were bigger. It assumes that there are no economies of scale available in the market.

Allocative efficiency
Allocative efficiency occurs when the value consumers put on the good or service equals the cost of producing the product or service. In other words, when price = marginal cost.

Productive efficiency
Productive efficiency occurs when output is achieved at the minimum average cost.
We can see from Figure 1 below that when it is in long-run equilibrium, perfect competition achieves allocative and productive efficiency as MC = MR = AC = AR. This means that they are maximising profits (MC = MR) but only making normal profit (AC = AR).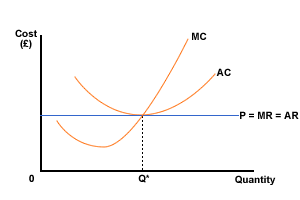 So, perfect competition looks good, but is it always so? Problems with perfect competition are:
There are no reasons to do anything better, or research new products. As soon as you do, everybody else would step in and copy. Wait and let somebody else do it.
Consumer has no choice. There is just one unbranded product on the market.
Some economies of scale always exist.
Perfect competition is not competitive in the fullest sense of the word!
Barriers to entry will always exist. Even street traders will usually be required to apply for and, usually, buy a trading licence.
Look at economies of scale. Some are always likely to exist. Financial economies apply - the better your reputation the cheaper the loans, bulk-buying economies are there as well. Economies of scale are there, like gravity. It is up to the firm to take advantage of them. Competition encourages their application and exploitation.
Perfect competition may well operate efficiently, as far as economists are concerned. The consumer, however, may get an ordinary product or service at a high price. Is it worth it?

1

Productive efficiency

At what point will the firm be productively efficient?
2

Allocative efficiency

At what point will the firm be allocatively efficient?