Crisis management and contingency planning

Crisis management
Crisis management refers to actions taken by an organisation to maintain its credibility and good reputation after a situation has occurred that may affect it in a negative manner and therefore reduce sales its products or services.

Contingency planning
Contingency planning is an approach seeking to anticipate future events that are not expected to occur, but are possible. Should those future events occur, a plan of action to respond effectively is already in place. The concept of civilian defence is based on contingency planning.
Crisis management is reactive rather than proactive. Managers respond to events, which threaten the business and could even lead to its closure. The managers can do little but minimise the potential damage to the business and it is likely to result in a rather autocratic approach. Every employee including the managers will have to be flexible and to accept that radical measures may be required.

Counting the cost of the unpredictable
Ryanair has reported a 24% fall in net profits for the first three months of its financial year because of flight disruptions caused by the volcanic ash cloud from Iceland and the carrier is still counting the cost of compensation to passengers. Hundreds of thousands of airline passengers had their travel plans thrown into chaos due to flight disruptions and airport closures caused by the ash cloud.
Its net profit for the period from March to the end of June was €93.7 million, with a cost of €50m for almost 10,000 flights cancelled in April and May.
"Our first-quarter profits were adversely impacted by the unnecessary closure of European airspace," chief executive Michael O'Leary said.
Ryanair angered many passengers in the early stages of the ash cloud disruption by offering refunds of only the ticket price- a blatant refusal to abide by strict EU consumer rules. The company refused to comply with what it called an "unfair" European law requiring airlines to pay the hotel and food costs of people stranded without flights, and was later fined by Brussels. However, it was forced to make full compensation after passengers and consumer groups complained. Ryanair set up dedicated Volcanic Ash Disruption team to handle refunds and claims from passengers.
There are three elements are common to most definitions of crisis:
A threat to the organization
The element of surprise
A short decision time.
Crises such as fire, damage to stock, illness of key staff or IT system failure can make it difficult or even impossible to carry out an organisation's normal day-to-day activities. The crisis may see the organisation losing important customers and at its worst, even forced to cease trading.
Crisis management often includes a strong focus on public relations to recover any damage to the organisation's public image and to assure stakeholders that recovery is underway. Unplanned events can have a devastating effect on small businesses.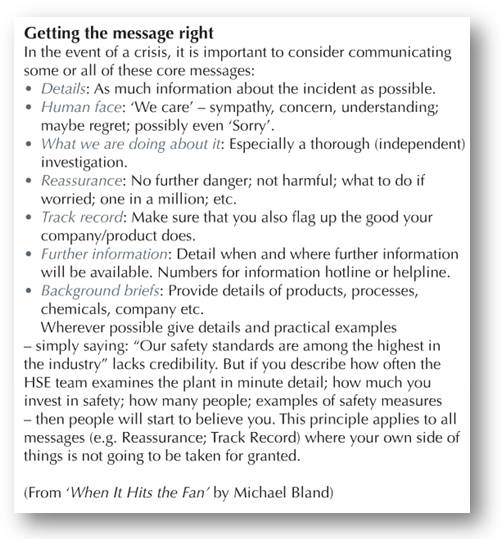 Contingency planning - Crisis management and business continuity planning
Looking to the future can never be accurate. Things may be different to that which is expected. To reduce the risk of encountering a serious shock, firms carry out contingency planning. Contingency planning is a set of procedures applied in handling, containment, and resolution of an emergency in planned and coordinated steps. The organisation questions what might happen, identifies alternatives and examine what effects these may have in resolving the problem or minimising its effects. The purpose of contingency planning is to ensure that an organisation can continue with its activities, which is why contingency planning is often referred to a continuity planning.
Contingency planning prepares for:
predictable and quantifiable situations
situations for which there is advanced notice
unexpected and often unwanted events.
Contingency planning uses simulations and computer models asking 'what happens if' questions. Firms may ask some of the following questions:
What happens if:
sales are more or less than planned?
costs are higher or lower than planned?
salaries and wages are greater or lower than expected?
our computer or energy system fails?
there is a flood or a fire?
...and so on, the list may be endless!
The organisation has contingency plans for as many eventualities as it has examined. Surprises will still occur, but the chances of one occurring are reduced.
Firms need to constantly assess and reassess current methods and assumptions. They have to watch closely what is happening within the firm and outside in the market place and general external environment.

The Business Link website has a series of advice sheets for dealing with a crisis and contingency planning ahead and includes interactive tools for assessing risks.
London has an excellent contingency planning assessment for organisations operating in the UK capital. Carry out the 10 minute assessment for your school/college to see how well they are prepared for a possible crisis where you live. You can do the 10 minute assessment in the window below, or you can follow the previous link to open it in a new window. You may wish to consult with your site/works manager at your school or college to discover what contingency plans exist.

The article, How to manage a crisis, lays out the basic principles of effective crisis management.

Listen to the podcast: Can firms recover from bad PR?
Can Toyota recover its damaged reputation? When firms and celebrities experience a crisis the damage control must be limited for them to survive.
Stephen Cheliotis, chief executive of the Centre for Brand Analysis, and Martin Langford, who has advised brands on crisis management, examine how brands should manage a crisis.

The following online journals or magazines focus on issues concerned with crisis management and contingency planning:
Disaster Recovery Journal - registration is free and gives access to news items and online magazine
Continuity Magazine - published by the Business Continuity Institute there are excellent articles and case studies on crises, crisis management and contingency planning. Online access is free and the magazine can be downloaded.