A dependent population
We saw in Section 4.1 that that the size and growth of the population and the labour force would have an impact on a country's economic growth and development. Age is also an important consideration when looking at the population and its structure and it affects the dependency ratio - the proportion of those of working age to those who are dependent on them. The dependent population will include those of school age and those over the age of retirement. The dependent population will, by definition, need to be supported by those who are actively working, but in the longer term, economic development will be crucially determined by the quality of education and training received by the younger element of the dependent population. In many developing countries, children do not receive an appropriate education on account of the following:
Inadequate education systems
The need to keep children away from school to work on the land
A lack of adequate jobs for those who have received a more formal education, which may lead to crime and increasing drug abuse, and an unwillingness to attend school in the first place.

Dependency ratio
The dependency ratio is an age-population ratio of those typically not in the labour force (the dependent part) and those typically in the labour force (the productive part). It is used to measure the pressure on productive population.
In published international statistics, the dependent part usually includes those under the age of 15, and over the age of 64. The productive part makes up the population in between, ages 15 - 64.
Source: Wikipedia
The dependency ratio is normally expressed as a decimal or a percentage:
How do the dependency ratios of less developed countries compare with those of the developed world?
There is also a static version of this chart available.
You will see that the dependency ratio of Tanzania and similar less developed countries such as Malawi are very high in comparison to developed countries such as the UK indicating that their economies have got to support a significant dependent population in terms of health care and educational provision.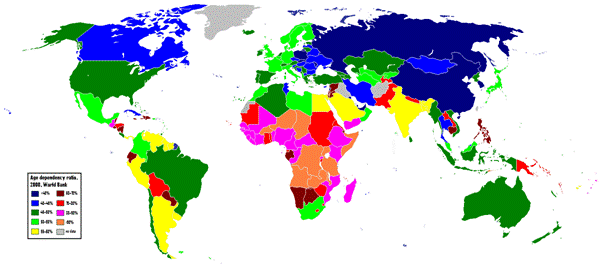 Further details on the trends in the age dependency ratio in Tanzania can be found on the trading economics site. You can read these in the web window below, or follow the previous link to open the article in a new web window.