External influences and market structure

Is business simply getting bigger?
British Airways and Iberia sign merger agreement
British Airways and Spanish airline Iberia have signed a deal to merge and create one of the world's biggest airline groups. The airlines first began working together in 1999 following the privatisation of the Spanish flag-carrier. BA and Iberia are expected to complete the merger by December, subject to approval from regulators and shareholders. In a statement, the two companies said the merger would benefit shareholders, employees and customers.
The new company will be called International Airlines Group, but the BA and Iberia brands will continue to operate as normal. The company will have its headquarters in London, with BA shareholders retaining 55% ownership of the company. In total, the group will operate 419 aircraft, flying to more than 200 destinations, and carry a total of 62 million passengers a year.
BA chief executive Willie Walsh said the merger would be good for customers.
"The merged company will provide customers with a larger combined network. This is an important step in the process towards creating one of the world's leading global airlines that will be better equipped to compete with other major airlines and participate in future industry consolidation."
Analysts welcomed the move in light of the current economic environment in which global airlines are struggling. Both BA and Iberia are expected to report heavy losses this year, with BA predicted to announce its biggest annual loss since privatisation. The merger is seen as a chance for the two airlines to cut costs following two very tough years for the airline industry. It is expected to save the airlines 400m Euros a year. The Unite union, which represents thousands of BA workers, said
"Mergers mean synergies, and synergies usually mean job losses and the levelling down of terms and conditions."
The merger will also allow the company to compete more effectively with other European giants including Air France-KLM and Germany's Lufthansa and with US-based United Airlines and Continental Airlines whose recent agreement to merge will create the world's biggest carrier. It is also seen as a stepping stone towards a transatlantic alliance with American Airlines.

You may also like to read the article:
The theory
This news story clearly indicates significant consolidation taking place in the airline industry. The nature of the market is an important factor for business as it will be a key determinant of their pricing and other marketing strategies.
External influences - types of markets
Businesses operate in different economic markets. The structure of those markets influences the way in which the business behaves. In the airline industry, for example, a relatively widespread market structure is becoming more concentrated in the hands of a few multinational oligopolies. How will this affect the businesses in that market and those that supply to the airlines?
There are a number of market structures, although some are theoretical. Market structures exist along a continuum from a single firm at one end to many, many firms at the other end.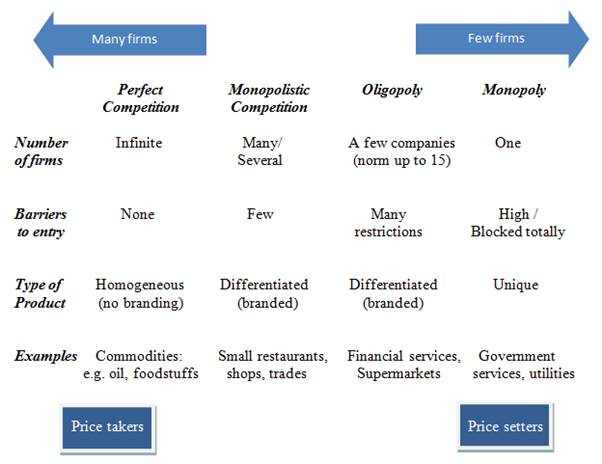 Perfect competition cannot exist in reality as it assumes customers have perfect knowledge of all products and prices. However, there are markets where products are undifferentiated and there are thousands of small firms competing. Examples of these are found mostly in the commodity sector, such as the market for rice, coffee, copper etc. Here the products are unbranded and prices are set in world markets. Individual growers or producers cannot set their own prices, but have to accept the market rate.
At the other end of the market, a pure monopoly exists when there is only one seller. There are examples of true monopolies but these are almost entirely in the public sector where government prohibits competition in sectors it perceives as strategic e.g. utilities, transport and communications. Legally, however, governments start to investigate 'monopoly power' in the private sector when firms have significant market share. Under EU law, a very large market share raises a presumption that a firm is 'dominant'. In a legal case bought by Virgin Atlantic Airways in 1999, British Airways was considered to be overly powerful with a 40% market share on certain routes in Europe. Virgin Airlines argued successfully that this created an 'unfair market'.
The market structure under which a firm operates will determine its behaviour. Firms under perfect competition will behave differently from firms, which are monopolies. This behaviour or conduct will in turn affect the firm's performance, profits, prices and efficiency.
In the case of airline there is an attempt to create global coverage through strategic alliances.
Alliances provide a network of connectivity and convenience for international passengers and international packages. Alliances also provide convenient marketing branding to support passengers making inter-airline connections within countries. This branding even includes unified aircraft liveries among member airlines.
The market is dominated by three leading alliances: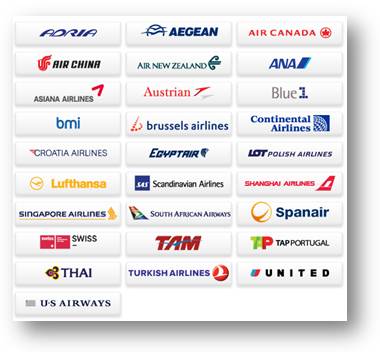 By establishing these joint arrangements the member airlines are trying to create a situation where a passenger requiring a number of flights is always able to connect with a flight offered by another member. Costs may be reduced by sharing facilities and administration, thus allowing for lower prices.
The three largest networks are creating an oligopolistic market structure and are, therefore, restricted by laws and monopoly regulations. Anti-trust (anti-monopoly) actions are always possible when one company is dominant in a market:

Microsoft suffers stunning EU antitrust defeat: Sept 2007

Microsoft suffered a stunning defeat when a European Union court backed a European Commission ruling that the U.S. software giant illegally abused its market power to crush competitors. The court said Microsoft, the world's largest software maker, was unjustified in tying new applications to its Windows operating system in a way that harmed consumer choice. The verdict could force Microsoft to change its business practices.
"Microsoft must now comply fully with its legal obligations to desist from engaging in anti-competitive conduct. The Commission will do its utmost to ensure that Microsoft complies swiftly".
The court upheld a record 497 million euro ($689.9 million) fine imposed on the company as part of the original decision. More importantly, it endorsed Commission sanctions against Microsoft's tying together of software and refusal to give rival makers of office servers information to enable their products to work smoothly with Windows, used by 95 percent of computers.
"The Court upholds the Commission's decision finding that Microsoft abused its dominant position. Microsoft has not demonstrated the existence of objective justification for the bundling, and ... the remedy imposed by the Commission is proportionate," the court statement said.
The Commission ordered the company to sell a version of Windows without the Windows Media Player application used for video and music, which few have bought, and to share information allowing rivals' office servers to work smoothly with Windows. The Commission fined Microsoft a further 280.5 million Euros for not complying with the earlier judgment.
The company has weathered a series of defeats in antitrust cases in the last decade and sees legal setbacks as almost part of its business model and a price for its near-monopoly.