MNCs from Emerging Nations AO3 only
AO3 You need to be able to: Demonstrate synthesis and evaluation. Command terms these terms require you to rearrange component ideas into a new whole and make judgments based on evidence or a set of criteria. Compare, Compare and contrast, Contrast, Discuss, Evaluate, Examine, Justify, Recommend, To what extent
There has been more to globalisation than just a rise in world trade. There has also been a significant increase in foreign direct investment (FDI) by companies from emerging nations too.

Fortune 500 Global Report
Global business is back! After limping through a worldwide financial crisis and economic slowdown, the 500 largest companies ranked by revenues shattered all sorts of performance records in 2013: They racked up combined revenues of $31.1 trillion, up 2.5% from 2012, and profits soared 27% to nearly $2 trillion. China's 95 companies (up from 89 last year) posted $5.8 trillion in revenues. The U.S. has four fewer companies on the list than last year but remains (for now) the country leader, with 128 corporations on the list—including No. 1 Wal-Mart Stores—reporting $8.6 trillion in revenues.
—Stephanie N. Mehta
http://fortune.com/global500/

The advance of globalisation is reflected in the number of companies establishing a presence in other nations. The easing of trade barriers and tariffs and the ICT revolution has underpinned globalisation.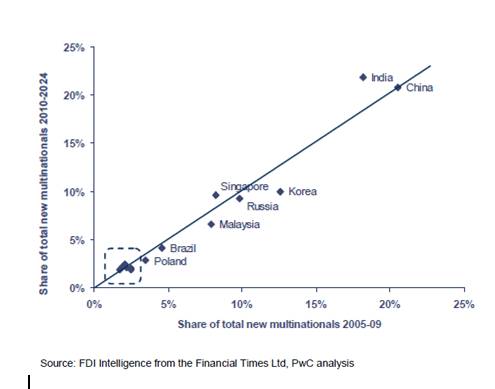 1

Globalisation

What is meant by the term 'globalisation'?
2

Multinational Corporations

How might an MNC influence technology and expertise in the countries in which it works?